Roof Rack vs Hitch Rack – which one is ideal for you?
That's something we all are curious to know about as we all have to haul necessary equipment by our vehicle.
Sometimes we haul large and heavy items, and sometimes additional baggage or equipment and whatnot!
In all these situations, we need either a hitch rack or a roof rack.
When you have the choice between the two, then you will need to decide which one to prefer.
So, allow us to guide you in making your selection.
Roof Rack vs Hitch Rack: An Inside into the debate
To conclude the roof rack vs hitch rack debate in a most-comprehensive way, we cannot just reach a straight verdict.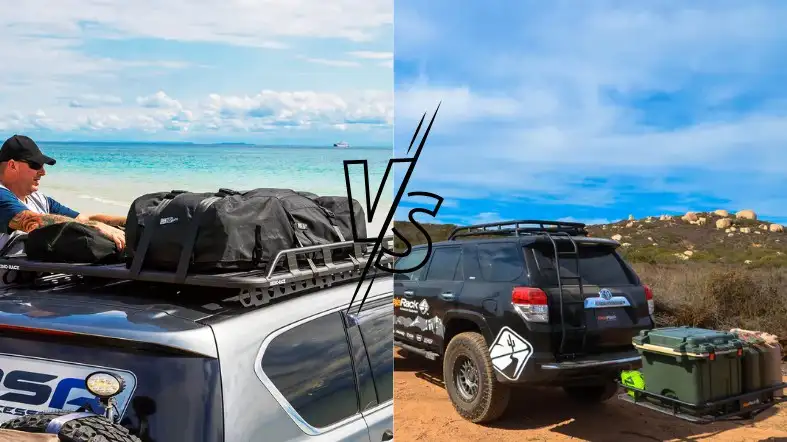 Rather, we need to know what these racks are, how they operate, and what pros and cons they have.
Knowing the ins and outs of both racks can help you pick the one that suits best your needs.
The functions of a roof rack:
The crossbar and the foundation or base – this is basically all about a roof rack.
These two pieces of equipment make it possible to safely store a wide variety of items.
Factory-Furnished Roof Rack:
Factory-furnished roof racks have been very common ever since we started transporting using our vehicles.
A good number of vehicles now have the factory-furnished roof rack that consists of the roof as the base and the elevated side rails.
One can modify the rails to meet the requirements of the driver and passengers.
Additional Foot Packs: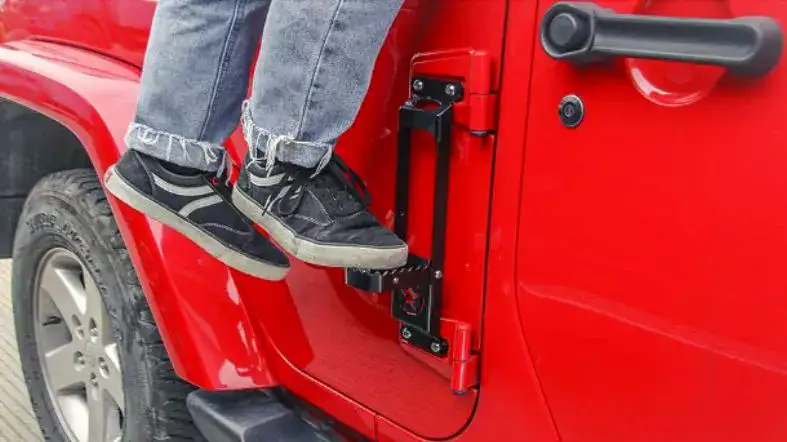 If your vehicle doesn't have one or you don't like the one you have, you can go for 'foot packs'.
Many vehicles do have some fixed attachment points where you can attach the 'foot packs'.
You can even attach one using the rain gutters.
Vehicle-Compatible Racks:
You can buy foot racks from any brand or manufacturer.
But the racks have to be compatible not just with your automobile but also with the crossbar system that you intend to employ.
You may add mounts for all sorts of equipment to the crossbars.
In this case, you have to attach the crossbars to the foot of the rack or the side rails in a perpendicular.
This will ensure a smooth and comfortable hauling experience for sure.
The functions of a hitch rack:
You may have heard that hitch racks are called bike racks.
Yes, this is a type of rack that we use to haul bikes mostly.
Hitch racks are designed to hook to the hitch on the rear of a car.
Although used popularly for hauling bikes, these racks can haul your luggage or other equipment as well.
Sits On The Back Of The Vehicle: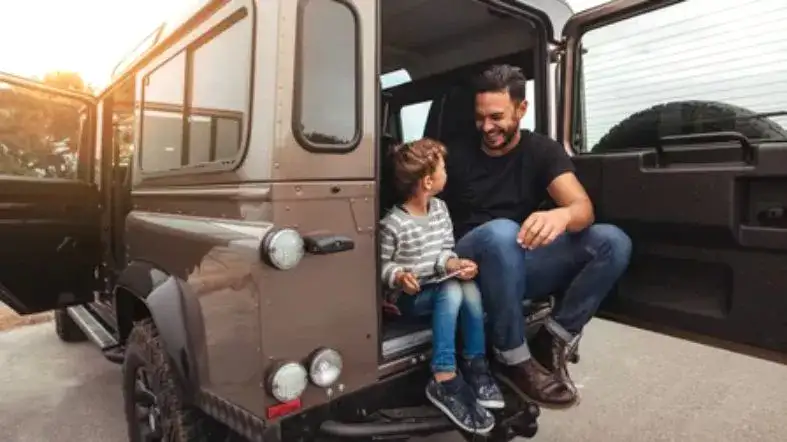 You can attach this rack to the back of the vehicle.
So, you have easy access to the cargo or equipment.
But it can mess with the balance of the vehicle if you don't drive the vehicle with the utmost precision.
Bike hauling:
Hitch racks can normally carry anywhere from two to five bicycles at a time.
In most cases, you will see a platform-style hitch rack.
However, nowadays the hanging cradle style seems to get a lot of attention for easy accessibility.
Both of these designs have distinct characteristics that make them advantageous and unpleasant in certain contexts.
Which one is ideal for you?
When attempting to pick between a hitch rack and a roof rack, the following are the three things you should ask yourself.
The Amount Of Cargo: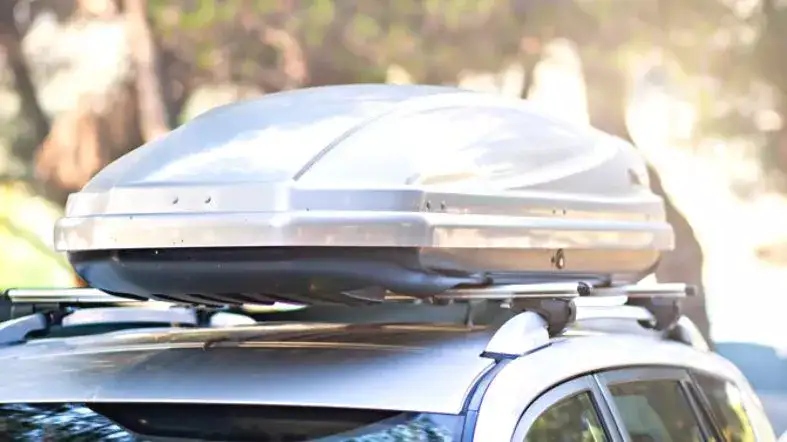 The amount and kind of baggage or cargo that each type of rack is able to transport is the basic difference here.
So, this is the first question you have to ask yourself to arrive at the most important consideration.
Consider a situation when you are just going to be away for a short period and need to carry some extra items with you.
A hitch rack can be the ideal answer for you here.
It isn't that much big, or heavy, yet lets you carry a small amount of cargo for short trips.
Again, let's put you in another situation.
Now, you have to transport a significant quantity of goods.
Side by side, there are some large and heavy outdoor items.
You have to pick some heavy camping gear as well.
This time, only a roof rack can save the day for you.
Roof racks provide you with the ability to transport almost anything you desire in a safe and secure manner.
As long as you have the appropriate attachments, you can haul everything from kayaks, paddleboards, bicycles, cargo baskets, snowboards, and all.
Access to the rack:
When it comes to adaptability or versatility, the roof racks are simply amazing.
But if you consider easy accessibility, then, roof racks may not be the ideal pick for you.
They are not the most convenient solution for accessibility.
On the other side, a hitch rack is simple to utilize and reach.
While you are driving, you always have easy-peasy access to a hitch rack.
If you realize that you need anything from the hitch rack, you effortlessly get out of the vehicle and fetch it.
In addition, remember that if you want to load your things onto a roof rack, you will have a hard time with heavy items.
You will need to bring all the belongings and items up and over your head.
Instead of going this route, you might think about getting a rack that attaches to your vehicle's hitch receiver.
The process of loading and unloading a hitch rack is significantly simpler.
Access To The Rear Hatch Or Trunk: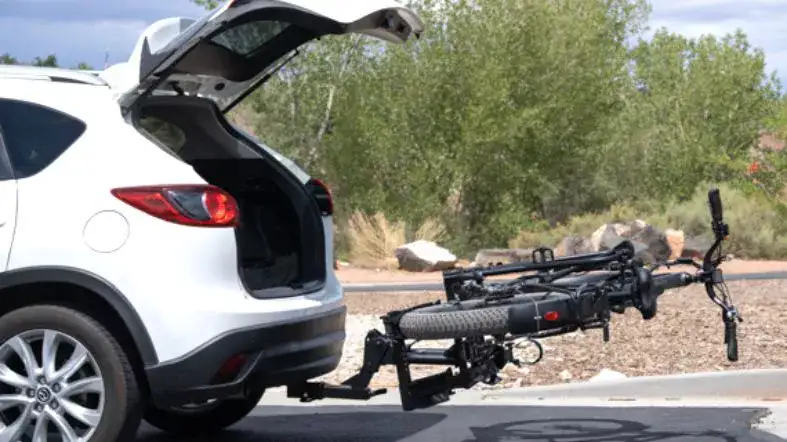 The hitch racks sit on the back of the vehicle.
So, you can imagine the possible trouble of accessing the trunk in the back.
Due to this positioning at the rear, they won't let you access the back hitch as conveniently as a roof rack.
Nowadays there are certain hitch racks that you can angle out of the way. You can even swing some of them.
Yet, they present a slight obstacle.
Some other types of hitch racks completely block access.
If you need or like to have quick access to the back hatch of the vehicle, there is nothing better than a roof rack.
Because it is mounted on the top of your car, it won't be a hindrance to you as you try to access the trunk or back hatch.
It won't be able to get in the way of whatever you need to do.
Concluding remarks:
Each type of rack has its advantages and disadvantages.
However, they are both fantastic storage choices.
When you are traveling, you should ensure that you are familiar with how to employ each.
Considering the circumstances, you shall also select the option that is most appropriate for the circumstances.
You can use both racks simultaneously:
Exclude the safety concerns, you can have both racks on your vehicle simultaneously.
You can utilize their advantages of them at the same time.
Nevertheless, doing so requires extreme caution.
When you move on to use them at the same time, there is a possibility that your car will not be balanced correctly.
So, selecting either of the racks is a recommended course of action.
Always consider the safety options first.
So, having only one of them at a time offer full safety for the vehicle, the cargo, and most importantly the driver and passengers.
FAQs about roof rack And hitch rack:
Do Roof Racks Or Hitch Racks Hurt Gas Mileage?
Yes, they are very likely to have a significant negative influence on overall fuel efficiency.
When a user is not going to be utilizing the roof rack or the rooftop carrier, experts advise that they take them off the vehicle.
Is A Roof Rack Worth It?
Yes, it offers the utmost value for the money.
You can travel with oversized items safely and make your trips convenient.
Do Roof Racks Damage Your Car?
To put it simply, no.
You should not worry about any sort of harm to your automobile from using a roof rack.
However, negligence, sloppiness, and improper usage will.
Are Hitch Racks Worth It?
Hitch racks are one of the most convenient ways to carry small cargo, especially bicycles or bikes.
They fasten safely to your car's receiver hitch and provide unparalleled convenience.
Final Words:
The verdict from a "roof rack vs hitch rack" debate is not a straightforward one but an obvious one for you now.
You just have to take an accurate assessment of your requirements with the information provided in this article.
However, if you are still confused, there is no need for concern. We are just a comment away from you and feel free to leave one.