Have you ever wondered how much weight a hitch pin can handle? Let's dive into the world of trailer towing and find out!
From size and grade to hitch class, we'll unlock the secrets to choosing the perfect pin for your trailer.
How Much Weight Can A Hitch Pin Hold?
For Class I and II hitches, a 1/2-inch diameter pin has a capacity of up to 3,500 pounds.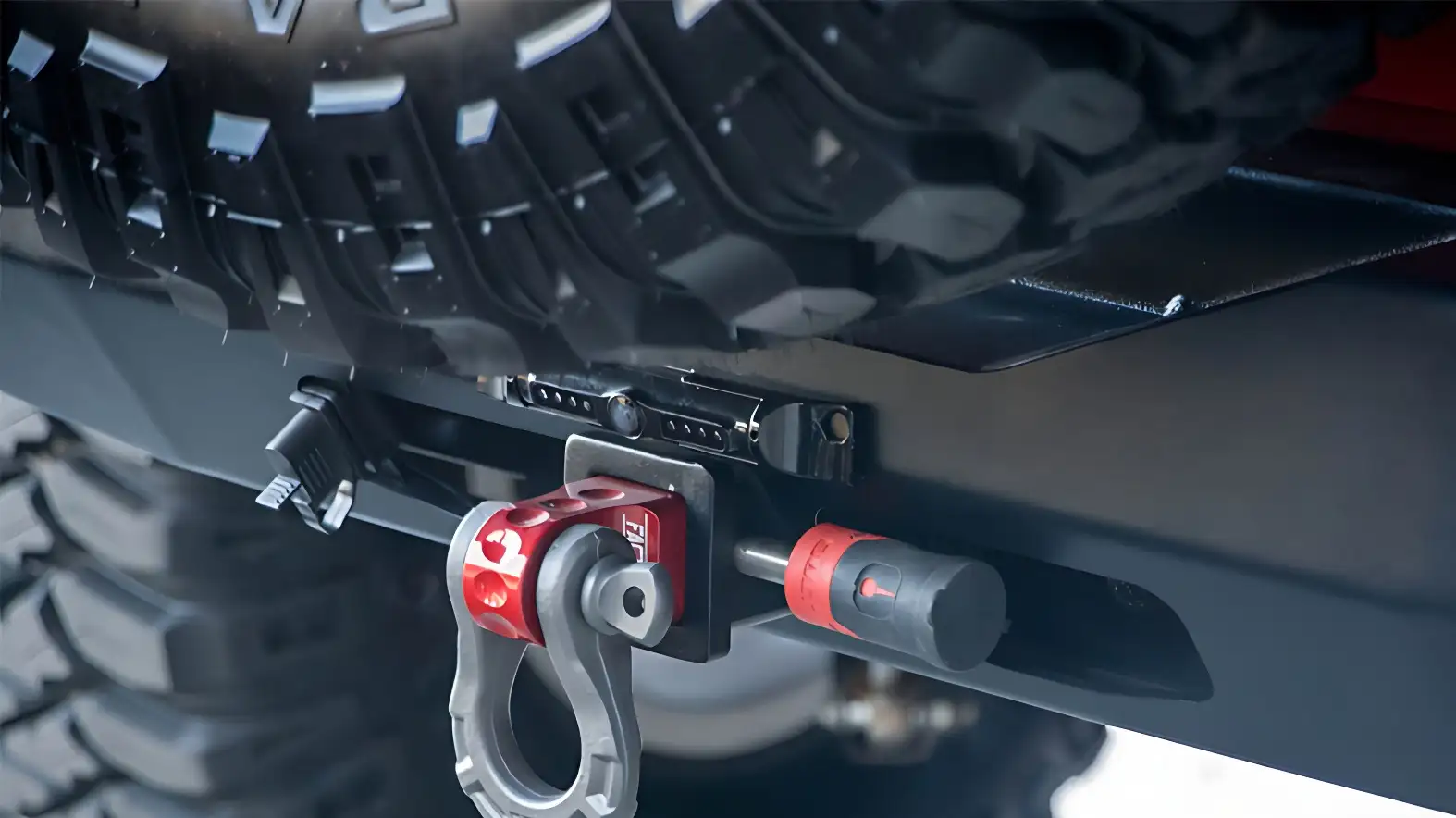 For Class III, IV, and V hitches, a 5/8 inch diameter pin has a capacity of up to 17,000 pounds.
It is important to note that the weight capacity also depends on the rating and design of the hitch itself.
| Aspects | Pin Diameter | Receiver Size | GTW Capacity (lbs.) | TW Capacity (lbs.) | WD Capacity (lbs.) | WDTW Capacity (lbs.) |
| --- | --- | --- | --- | --- | --- | --- |
| Class 1 | ½ " | 1-1/4-inch | Up to 2,000 | Up to 200 | — | — |
| Class 2 | ½ " | 1-1/4-inch | Up to 3,500 | Up to 350 | — | — |
| Class 3 | ½ " | 2-inch | Up to 8,000 | Up to 800 | Up to 12,000 | Up to 1,200 |
| Class 4 | ⅝ " | 2-inch | Up to 10,000 | Up to 1,000 | Up to 12,000 | Up to 1,200 |
| Class 5 – Xtra Duty | ⅝ " | 2-inch | 16,000 to 17,000 | 2,400 to 2,550 | 17,000 | 2,400 to 2,550 |
| Class 5 – Commercial Duty | ⅝ " | 2-1/2-inch | 18,000 to 20,000 | 2,700 | 18,000 to 20,000 | 2,700 |
Note:
GTW stands for Gross Trailer Weight, which is the total weight of the trailer and its contents.
TW stands for Tongue Weight, which is the downward force exerted on the hitch ball by the trailer coupler.
WD stands for Weight Distribution capacity, which refers to the maximum weight that can be evenly distributed between the towing vehicle and the trailer.
WDTW stands for Weight Distribution Tongue Weight capacity, which is the maximum tongue weight allowed when using weight distribution equipment.
Steps To Find The Correct size hitch pin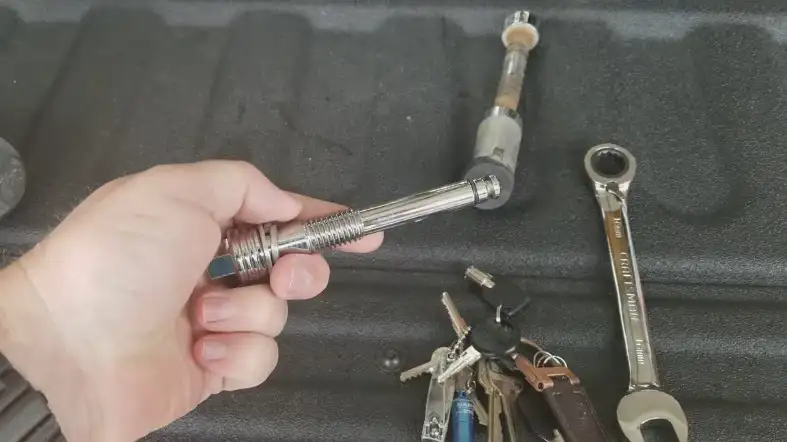 To find the correct hitch pin size, you'll need to consider the size of your receiver hitch.
The hitch pin's diameter must match the hole on the side of the receiver, and its length should be sufficient to pass entirely through the receiver and out the other side.
Step 1: Check Receiver Hitch Class
First, identify the class of your receiver hitch. Look for a label or stamp that indicates the class, usually located on the hitch itself.
Receiver hitches come in different classes, such as Class I, Class II, Class III, Class IV, and so on.
Step 2: Measure the Hitch Pin Hole
Using a measuring tape or a caliper, determine the diameter of the hole on the side of your receiver. It's crucial to get an accurate measurement as this will be the basis for selecting the right hitch pin.
Step 3: Measure the Receiver Width
Measure the width of your receiver, which is the distance from one side of the hitch to the other. This measurement will help you determine the appropriate length of the hitch pin needed.
Step 4: Determine the Pin Size
Now that you have the receiver's class and the hole diameter refer to a hitch pin size chart or consult with a reputable trailer or automotive store.
They can guide you in finding the suitable hitch pin size based on your measurements and receiver class.
Step 5: Consider Pin Material and Locking Mechanism
Apart from size, consider the material of the hitch pin. Common materials include stainless steel and zinc-coated steel, both of which offer good durability and corrosion resistance.
Additionally, some hitch pins come with locking mechanisms for added security, which might be a valuable feature to consider.
Step 6: Purchase the Correct Hitch Pin
With all the information gathered, head to a reliable store and purchase the hitch pin that matches your receiver hitch's size and your specific needs.
Note
Choosing the right hitch pin size is crucial for safe towing, so take your time to measure accurately and select the appropriate pin for your trailer hitch.
If you're uncertain, don't hesitate to ask for assistance from experts at the store. Now you're all set to connect your trailer to your vehicle safely and securely!
Benefits of Using a Hitch Pin for Towing and Hauling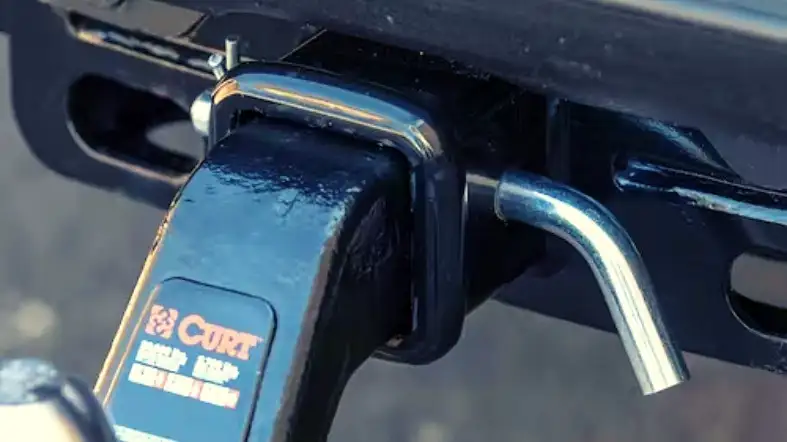 Security:
A hitch pin provides essential security for towing and hauling tasks. When you connect your hitch accessories, such as trailers or cargo carriers, using a hitch pin, it ensures they stay firmly attached to your vehicle.
This prevents any risk of these accessories coming loose during your journey, which could lead to a serious accident or damage to your belongings.
With a secure connection, you can have peace of mind knowing that your cargo will remain stable and safe throughout your trip.
Versatility:
Hitch pins are incredibly versatile, as they can be used with a wide range of hitch accessories.
Whether you're towing a trailer for a family camping trip or using a cargo carrier for extra storage during a road trip, a hitch pin will reliably secure these accessories to your vehicle's hitch receiver.
Their adaptability makes them a valuable tool for individuals who frequently transport heavy or bulky loads, offering a practical solution for various hauling needs.
Ease Of Use:
One of the major benefits of using a hitch pin is its ease of use. Installing and removing a hitch pin is a straightforward process, requiring minimal effort and no specialized tools.
This convenience is especially valuable for people who frequently attach and detach their hitch accessories.
Whether you're connecting or disconnecting a trailer, bike rack, or other hitch-mounted equipment, the hitch pin simplifies the process, saving you time and effort.
Affordability:
Hitch pins are affordable, making them a cost-effective solution for securing your hitch accessories.
Compared to more complex hitch locking systems, hitch pins are a budget-friendly option that doesn't compromise on safety. 
This accessibility means that anyone who engages in towing or hauling can easily invest in a hitch pin to enhance their overall driving experience.
Reduces Rattling:
Hitch accessories can sometimes create annoying rattling noises during travel. However, with a hitch pin in place, this issue can be minimized.
The snug fit provided by the hitch pin reduces the amount of movement and play between your vehicle's hitch receiver and the attached accessory.
This not only improves driving comfort by reducing noise, but it also decreases wear and tear on both your hitch and the accessory itself.
Protects Your Hitch:
Using a hitch pin not only safeguards your cargo but also protects your hitch from potential damage.
As the hitch pin prevents the hitch accessory from shifting or coming loose, it reduces stress on the hitch receiver and the surrounding components. 
This added protection extends the lifespan of your hitch, reducing the likelihood of costly repairs or replacements in the future.
Ensuring Safety: Tips for Properly Using Hitch Pin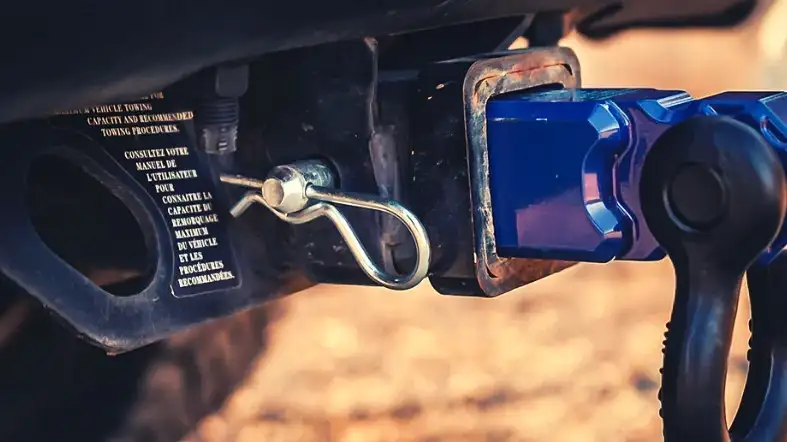 Secure Your Haul with Confidence
Choose the Right Hitch Pin: Select a hitch pin that fits your hitch receiver properly and matches the size of your accessories. Double-check compatibility to avoid any loose connections.
Inspect for Wear and Damage: Before each use, examine the hitch pin for signs of wear, rust, or damage. A well-maintained hitch pin ensures a reliable and safe towing experience.
Insert the Hitch Pin Correctly: Slide the hitch pin through the hitch receiver hole and the accessory's mounting hole. Ensure it's fully inserted and the locking mechanism is engaged.
Use a Locking Clip or Cotter Pin: If your hitch pin has a hole at the end, secure it with a locking clip or cotter pin. This additional step prevents accidental disengagement during transit.
Extra Precautions for Heavy Loads
Consider a Weight Distribution Hitch: For heavy loads, a weight distribution hitch helps evenly distribute the weight, reducing strain on your vehicle's rear axle and enhancing stability.
Inspect Hitch and Accessories Periodically: Regularly check the hitch receiver, hitch pin, and accessories for any signs of stress or wear. Address any issues promptly to maintain safety.
Tips for Hauling Trailers
Practice Safe Loading: Distribute the weight evenly inside the trailer and secure the cargo properly. A well-balanced load minimizes swaying and enhances towing stability.
Check Trailer Lights and Brakes: Before hitting the road, inspect the trailer's lights and brakes. Ensure they are functioning correctly to maximize safety during your journey.
Tips for Using a Cargo Carrier
Follow Weight Capacity Guidelines: Adhere to the cargo carrier's weight capacity to avoid overloading. Overloading can compromise the hitch pin and lead to accidents.
Secure Your Cargo Tightly: Tie down your belongings securely to the cargo carrier using reliable straps or ropes. Prevent any shifting or loosening during transport.
General Safety Tips
Drive with Caution: Adjust your driving habits when towing or hauling. Increase following distance, reduce speed, and take wider turns to maintain control.
Inspect Regularly: Periodically check all towing and hauling components, including the hitch pin, for wear, damage, or signs of loosening.
Stay Within Tow Ratings: Abide by your vehicle's towing capacity and never exceed the manufacturer's recommended limits.
How Do I Pick the Ideal Hitch Pin for My Requirements?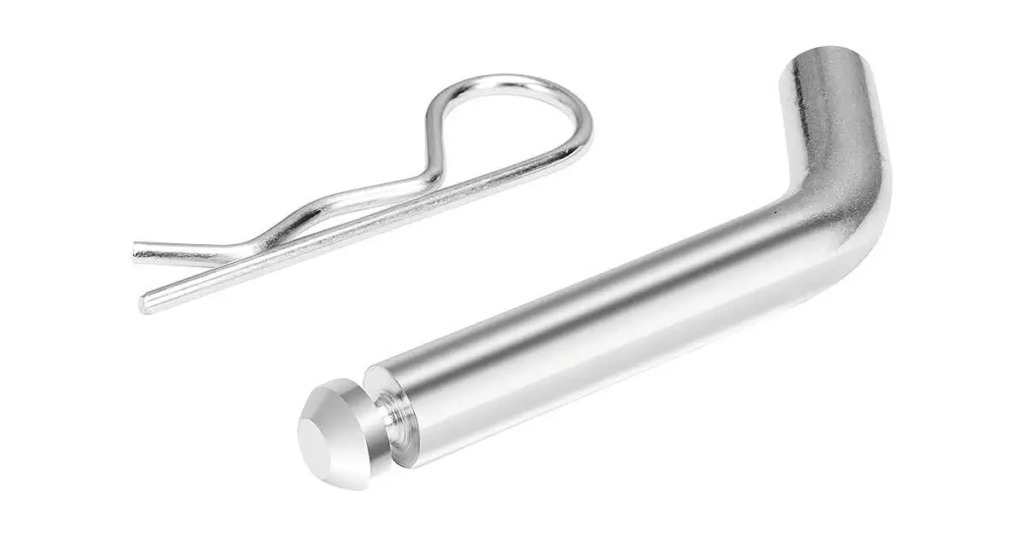 Choosing the right hitch pin is essential to ensure a safe and secure towing experience. With various options available, let's explore how you can pick the ideal hitch pin that perfectly suits your requirements.
Know Your Hitch Receiver Size:
Measure your hitch receiver's size accurately before selecting a hitch pin. Common sizes are 1.25 inches and 2 inches. Choosing the correct size ensures a snug fit.
Consider Your Hitch Accessories:
Different hitch accessories, like trailers or bike racks, may require specific hitch pin types. Be sure to check the manufacturer's recommendations for compatibility.
Exploring Different Hitch Pin Types
Standard Hitch Pins:
Standard hitch pins are the most common and straightforward option. They feature a simple design, usually with a clip or cotter pin to secure the connection. If you need a reliable, cost-effective solution for basic towing needs, a standard hitch pin may be the right choice for you.
Locking Hitch Pins:
For added security, locking hitch pins are a great option. These pins come with an integrated lock, preventing easy removal. Locking hitch pins are ideal when you want extra protection against theft or accidental detachment.
Anti-Rattle Hitch Pins:
If you're bothered by annoying rattling noises during your trips, an anti-rattle hitch pin can solve the problem. These pins have additional features, such as rubber grommets or threaded bolts, to reduce movement and minimize noise.
Receiver Hitch Locks:
Receiver hitch locks are heavy-duty security devices designed to prevent theft of your hitch accessories. These locks encase the hitch receiver, making it challenging for thieves to tamper with your towing setup.
Considering Hitch Pin Materials
Steel Hitch Pins:
Steel hitch pins are sturdy and durable, capable of handling heavy loads. They are a popular choice for many towing enthusiasts due to their reliability and strength.
Stainless Steel Hitch Pins:
If you frequently tow in wet or humid conditions, stainless steel hitch pins are an excellent option. They are corrosion-resistant, providing added longevity and a polished appearance.
Aluminum Hitch Pins:
For lightweight towing accessories, aluminum hitch pins offer a corrosion-resistant and lightweight alternative to steel pins. They are a great choice for recreational vehicles like bikes and kayaks.
Your Budget and Hitch Pin Prices
Consider Your Budget:
Determine how much you are willing to spend on a hitch pin. Prices can vary based on the type of pin and the material used.
Quality vs. Cost:
While it's tempting to opt for the cheapest option, consider the quality and security it provides. Investing in a reliable hitch pin ensures safer towing experiences in the long run.
Final Decision and Testing
Make an Informed Decision:
After considering your requirements, the hitch accessories you'll be using, and your budget, make an informed decision about the hitch pin that best suits your needs.
Test the Hitch Pin:
Before hitting the road, test the hitch pin and ensure it fits snugly and securely. Double-check that the locking mechanism, if applicable, functions correctly.
Picking the ideal hitch pin may seem overwhelming at first, but by understanding your options, considering your specific requirements, and testing the chosen pin, you can confidently tow with safety and peace of mind. Now you're ready to embark on your towing adventures hassle-free!
How Do I Install A New Hitch Pin?
Install the new hitch pin by aligning it with the holes in the receiver and attaching it to the retaining clip. Be sure to check that the pin is correctly secured before towing.
Most hitch pins are rated to hold a maximum of 200 pounds.
However, it's always best to check your specific pin's rating. If you have questions, ask the manufacturer for clarification.
When installing a new hitch pin, align it with the holes in the receiver. Once it's in place, attach the retaining clip to keep it secure.
As always, double-check that the pin is properly secured before towing.
How do I remove a stuck hitch pin?
If your hitch pin is stuck, you can remove it by soaking it in WD-40 or another lubricant for several hours.
You can also try using a hammer and chisel to tap the pin out of the receiver gently.
You might need to use a saw or power tool to cut the pin if everything else fails.
How To Know If Your Hitch Pin Needs Replacing?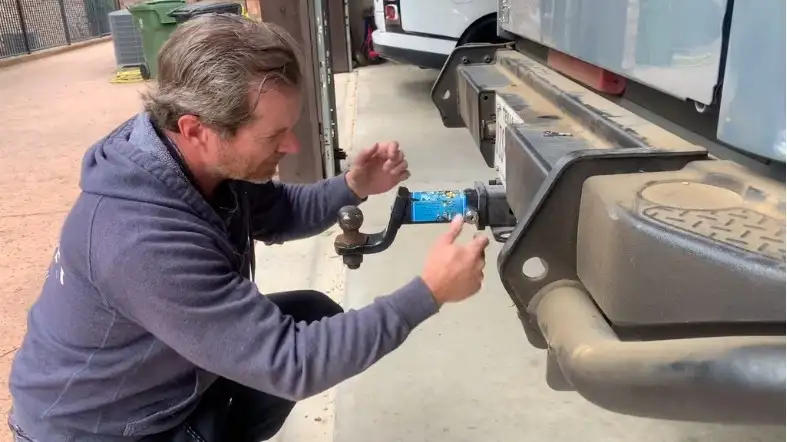 If you've been using your hitch pin for a while, it's important to inspect it regularly for wear and tear.
If you notice any damage, such as bends, cracks, or breaks, it's time to replace your hitch pin.
Also, it must be replaced if the pin no longer fits snugly in the hole or is difficult to insert or remove.
Don't take chances with a damaged or worn hitch pin. A new one is inexpensive and could save you from a costly accident.
FAQs about the weight of a hitch pin holds
How Often Should You Check Your Hitch Pin?
Inspect your hitch pin before towing and at regular intervals afterwards.
Checking for wear and tear is important, as a damaged or weakened hitch pin can fail while you're on the road.
If you notice any damage, replace your hitch pin as soon as possible.
How To Store Or Keep Your Hitch Pin?
To store your hitch pin safely, clean off any dirt or debris and keep it in a dry, secure place.
A small container or dedicated storage compartment in your vehicle ensures easy access and prevents loss.
Regularly inspect the pin for wear and replace if needed to maintain optimal towing security.
What Happens If My Hitch Pin Fails?
If your hitch pin fails, the trailer can detach from the vehicle. This can be extremely dangerous and could result in an accident.
The final thoughts
At last, we conclude our little inquiry about how much weight can a hitch pin hold. The answer is quite a lot!
With proper installation and maintenance, a hitch pin can easily support the weight of even the heaviest trailers.
So if you're ever in doubt about whether or not your hitch pin can handle the load, give it a little extra attention and care, and you'll be good to go.