The Andersen vs Equalizer Hitch competition is a showdown between two of the top hitch brands in the market.
Both Andersen and Equalizer have earned their share of loyal customers, but only one will come out on top.
This article will compare and contrast their features, performance, and price to determine who is the superior hitch.
Andersen vs equalizer hitch: Key Differences
Anderson hitch is a popular American brand and widely known for producing amazing hitch systems.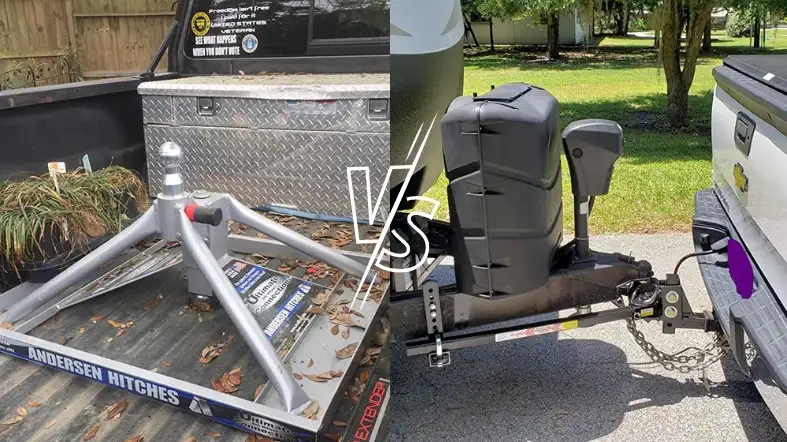 The brand manufactures various types of products including ball mounts for vehicles and hitches for the trailer.
Equalizer also produces a famous and reliable hitching bar for travel trailers.
The key function of their product is that convenient operation and unique design.
Unlike Anderson, equalizer produces only one product that is universally compatible with any kind of vehicle, thanks to its adjustable mount.
The other difference between these two brand's hitch includes:
Types of Product
Edge: Anderson hitch
As mentioned, Anderson hitch produces a variety of trailer settings, such as rapid truck hitch setup, ball mount adjustments, EZ hitch, and ball combinations.
In comparison, the equalizer manufactures only one hitch which has 4 points sway control system.
This trailer hitch is versatile and universal for all vehicles and ball sets.
Sway Control Technology
Edge: Both
The equalizer hitch has an advanced hitch head that features a rotation friction point.
It activates immediately whenever the hitch experiences the presence of turbulence.
At a time, the 4-point sway technology allows the friction point to prevent any pull or sway from side to side.
In addition, the hitch head spread the tension through installed sway bars, spring bars, and rear axle sockets.
Hence the trailer can withstand rough roads and heavy winds while delivering a smooth and safe towing experience.
The Anderson hitch has motion-dampening technology, a simple mechanism, and features anti-sway technology.
Its hitch ball is connected to the wing chain's lower portion and has a plate to ensure friction sway control.
So, during turning the trailer, its attached ball rotates along when sitting near the brake pad and preventing dangerous weight transfer.
As a result, the heavier the load, the better it'll ensure sway and bounce control.
The trailer hitch behaves in the same way after adjusting the extra shank.
It also needs to fix the shank with the triangle plate to get impressive sway control pull and weight distribution. The hitch also resists extensive turbulence.
Towing Capacity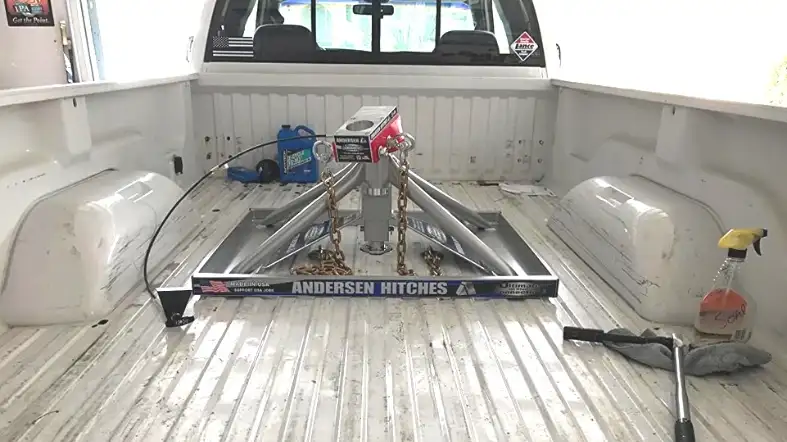 Edge: Anderson hitch
In terms of towing capacity, the equalizer and Anderson are both identical. For equalizer, it comes with either a hitch ball or without a hitch ball.
An equalizer hitch with hitch ball can carry 10000, 12000, or 16000 lbs towing capacity and features 600 lbs tongue weight.
Likewise, an equalizer without a hitch ball can carry 4000, 6000, or 10000 lbs towing loads.
Conversely, the Anderson hitch's towing capacity changes along with the shank and ball combination up to 1000 lbs.
combine with the 5th wheel shank, the Anderson hitch can carry a minimum of 20000 lbs.
To measure the maximum capacity, it needs to consider load weight.
Despite this, its rapid hitch shank offers max towing capacity which starts with a 2-inch shank and ranges in shank size.
The gross trailer weight of the Anderson hitch is additional 1200 lbs.
Installation
Edge: Equalizer hitch
The installation process and whole assembly point of the equalizer and Anderson hitch are quite identical.
The Anderson hitch requires chain or spring arms for manual installation and a ball housing shack for setting up the triangle rack.
This makes it easier to change weight in the middle of the trip or during the return trip.
Its ball mount setting is also thicker compared to the equalizer.
However, it's a need to note the number of chains set up on the round bar during every trip.
With 1/4 inches thick triangle plate, this Anderson hitch won't disappoint you in terms of sway control and safety.
The equalizer hitch on the other hand is super easy to hook up and disconnect.
Even many truck owners prefer the simplicity of the bars over chains.
Though it's very easy to adjust, aligning the ball level with the trailer-level coupler will make it easier.
The equalizer hitch comes with spring bars required for readjusting with the L-bracket of the trailer hitch.
However, you should avoid any propane tanks to prevent the trailer from swaying.
The benefit of Anderson hitch over its counterpart is that it neither needs to measure the number of the chain nor rotate or change the same angle in the middle of the journey.
Instead, it needs to check the alignment between the ball mount and coupler. Still, you should keep a toolkit and tongue jack to handle the unwanted situation.
Durability
Edge: Both
Both Anderson and equalizer hitches are extremely durable.
The Anderson hitches are made of solid and stainless steel and top-grade aluminum.
These friction materials and brake materials are collected from American steel.
The equalizer hitch is also made of American steel but is lightweight to handle.
Warranty
Edge: Both
In terms of warranty, both hitch brands offer a limited lifetime warranty.
Though these manufacturers provide a one-year warranty on average, their products are rock solid to withstand rough conditions and harsh use.
Their customer services are also great.
Andersen Vs Equalizer Hitch: Which One Is The Best?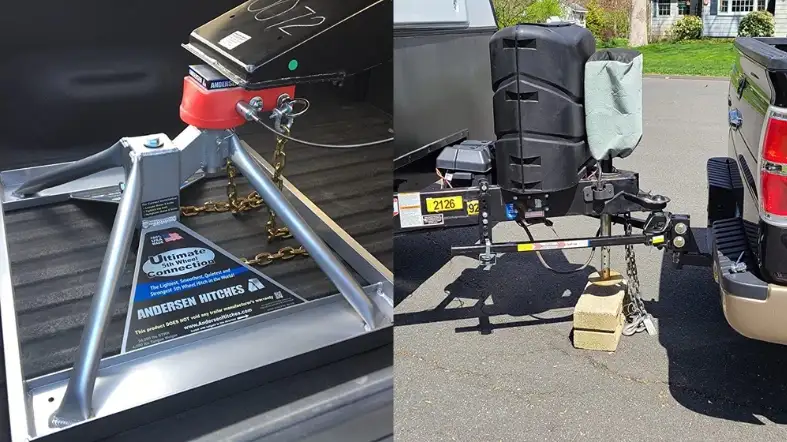 In short, both hitches are excellent and offer balanced sway control for a smooth experience.
The key benefit of an equalizer hitch is that it can fit various types of vehicle and ball settings while delivering brilliant performance, thanks to its single-handedly adjust function.
Conversely, the Anderson hitch requires certain adjustments individually for the truck or trailer where you'll mount it.
Its installation process is also a bit lengthy. But its custom-made design makes the hitches able to offer an anti-bounce ride similar to the equalizer.
In the end, if you prefer a universal hitch for various trucks or trailers, choose an equalizer.
However, the Anderson hitch is better for a heavier trailer or a truck with a large bed.
If the price is a concerning issue, still you'll find Anderson a better option. An equalizer is a bit pricier than its counterpart.
FAQs about Anderson and Equalizer hitch
Does Andersen Hitch Distribute Weight?
Of course, the Anderson hitch distributes the weight of the tow vehicle efficiently forward through the front axle even without lifting. 
Why Should You Buy An Equal-I-Zer Hitch?
The equalizer hitch provides a better and safer ride with improved driving visibility.
This hitch also improves steering ability by allowing the driver to break better and reducing driving fatigue.
Hence the driver remains more focused. In addition, its proper weight distribution help prevents exceeding the tow ratings to increase the tow vehicle's longevity.
Is It Needed To Grease The Ball On The Andersen Hitch?
The weight distribution hitch typically comes with a plated steel ball.
It ensures minimal movement between the coupler and the ball, eliminating the necessity of applying grease.
Still, you can grease your Anderson hitch to extend its lifespan.
However, the coupler and ball will outlast the tow vehicle without lubricant. 
Final Words
Both Anderson and equalizer hitches are incredible and easy to handle.
When it comes to deciding one, hope our Anderson vs equalizer hitch helps you pick the best one.
Still, it depends on your preference, budget, towable loads, and whether you have multiple trailers or single.
Lastly, both of these hitches are durable and long-lasting and come with satisfying customer service where you won't be disappointed.