When towing a trailer, the one thing you want to consider is your hitch receiver.
Only some hitches are created equal, and choosing the right hitch receiver for your needs is essential. But what size hitch receiver do you need for your vehicle?
This guide will help you determine the best size hitch receiver for your vehicle and get you on your way to trailer-towing bliss!
What size hitch receiver do I need for my vehicle?
The most common sizes range from 1-¼ inches to 2-½ inches. A larger hitch receiver is required for heavier trailers.
The size of your trailer will determine the size of the hitch receiver you need.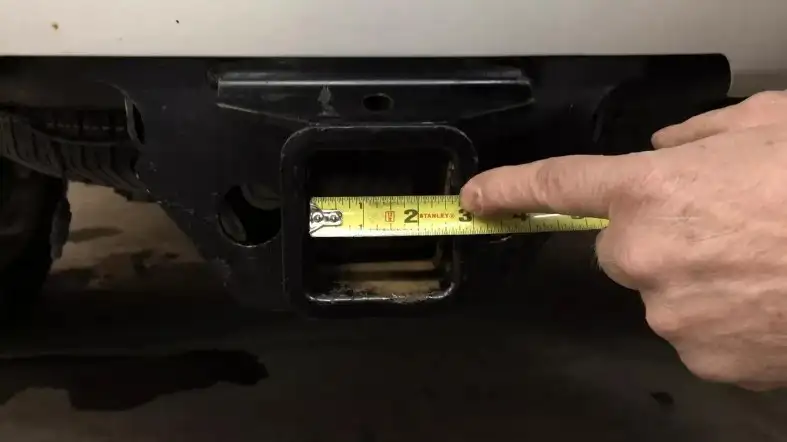 A receiver should suffice if you have a smaller and lighter trailer.
A table is attached below to find the right size receiver according to the trailer sizes.
| Trailer Sizes | Hitch Receiver Sizes |
| --- | --- |
| Small Trailer | 1-1/4" |
| Medium Trailer | 2" |
| Large Trailer | 2-1/2" |
Why use a hitch receiver?
Hitch receivers are needed to tow a trailer or vehicle behind your own.
People use hitch receivers for various purposes and goals, including towing trailers for recreation, towing trailers for work, and even towing other vehicles.
Hitch receivers provide a secure connection point between your vehicle and the trailer.
With a hitch receiver, you would be able to tow anything behind your vehicle.
How do I choose the right size hitch receiver?
The first step is determining your vehicle's Gross Trailer Weight (GTW) rating.
This information can be found in your vehicle's owner's manual.
Once you know the GTW rating, you can select a hitch receiver with a capacity that exceeds the GTW rating of your vehicle.
When selecting the correct size hitch receiver for your vehicle, there are a few things to consider.
Towing Capacity of The vehicle
You will need to know the towing capacity of your vehicle.
This can be found in your owner's manual or online.
Once you know the towing capacity, you can choose a hitch receiver rated for that amount or higher.
Weight
You will need to consider the weight of the trailer or camper that you will be pulling. The heavier the trailer, the more support the hitch receiver will need.
Again, there are hitch receivers available that are rated for different weights.
Pick one that can support the weight of your trailer or camper.
Plan of Using
Finally, you will need to consider how often you use the hitch receiver.
A lower-rated hitch receiver may be sufficient if you only use it occasionally.
However, if you use it frequently, consider a higher-rated hitch receiver.
This will ensure that your vehicle is adequately supported and that your hitch receiver doesn't wear out quickly.
What Are The Types Of Hitch Receivers?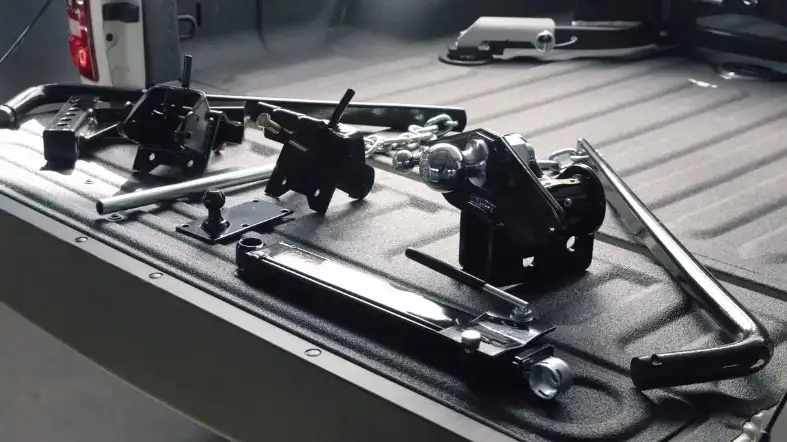 There are three types of hitch receivers, fixed, adjustable, and folding.
You can narrow down your choices and decide which is best for you by considering how often you are.
Fixed hitch receiver
The most common type; is a permanently mounted receiver.
It is either welded or bolted onto the vehicle's frame.
Adjustable hitch receiver
It allows you to adjust the height of the hitch receiver to accommodate different trailers.
This is useful if you frequently tow trailers of various sizes.
Folding hitch receiver
This type of hitch receiver folds down when not in use.
This is convenient if you need to park in a tight space or if you want to protect the receiver from damage when not in use.
What Are The Benefits Of Having A Hitch Receiver?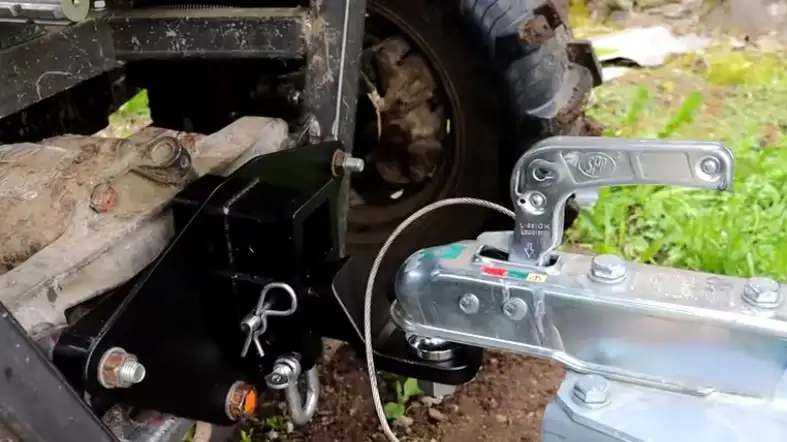 There are many benefits to having a hitch receiver.
A few benefits are given below,
Hitch receivers can tow trailers, RVs, and other vehicles.
They can also accommodate extras like bike racks and load carriers.
Hitch receivers offer a variety of towing capacities, depending on the size and type of receiver.
Most hitch receivers also have a built-in hitch ball mount, making it easy to connect a trailer.
Hitch receivers are typically made from steel or aluminum and are designed to be durable and long-lasting.
Most hitch receivers come with a standard 2″ x 2″ receiver opening, but there are also receivers available with larger spaces.
Hitch receivers come in a variety of sizes to accommodate different vehicles.
For extra peace of mind, many hitch receivers come with a guarantee.
How Do I Measure My Vehicle's Bumper?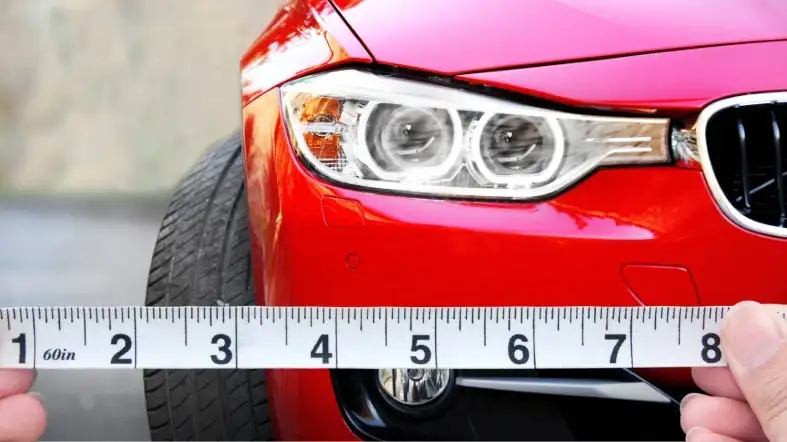 When choosing the right size hitch receiver right measurement is also an important factor.
You'll need to take three measurements to measure your vehicle's bumper.
The following steps are,
To measure the width of your bumper, use a tape measure or ruler to count from one side of the bumper to the other.
Measure from the bottom to the top of the bumper with a tape measure or ruler.
Finally, use a tape measure or ruler to measure the distance from the hitch receiver's center to the bumper's farthest edge.
How do I install a hitch receiver?
Most hitch receivers will come with installation instructions.
However, here is a general guide on how to install a hitch receiver.
1. Set the parking brake and park your vehicle on a level surface.
2. Place jack stands under your vehicle's frame to support it while you work.
3. Disconnect the negative battery cable from the battery.
4. Remove any bolts or fasteners holding the bumper in place.
5. Carefully remove the bumper from the vehicle.
6. Place the hitch receiver onto your vehicle's frame and align it with the holes.
7. Insert bolts or fasteners through the holes and tighten them to secure the hitch receiver.
8. Reattach the bumper to the vehicle.
9. Reconnect the negative battery cable to the battery.
10. Test the hitch receiver by attaching a trailer and checking to ensure it is adequately secured.
What Are Some Hitch Receiver Safety Precautions?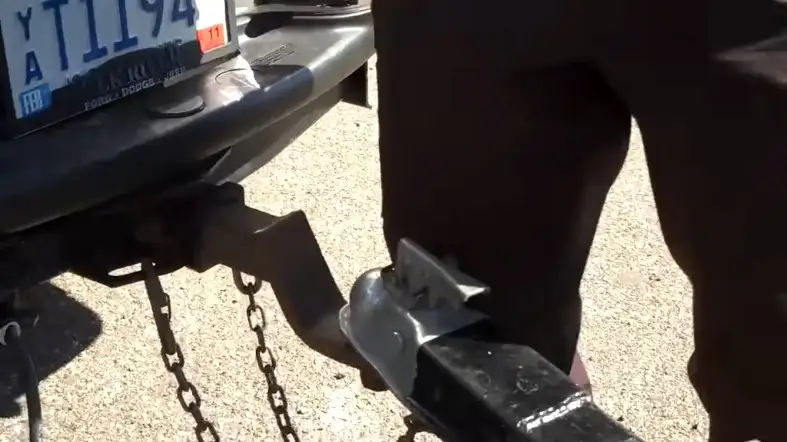 When using a hitch receiver, it is essential to follow some basic safety precautions:
Always use the proper size hitch receiver for your vehicle.
Ensure the hitch receiver is adequately secured to your vehicle before attaching any trailer or overloads.
Stay within the maximum weight capacity of your hitch receiver.
When backing up or reversing with a trailer attached, be aware of your surroundings and take extra precautions.
These simple safety tips can help ensure a safe and enjoyable experience when using a hitch receiver.
How Can You Avoid Problems With Hitch Receivers?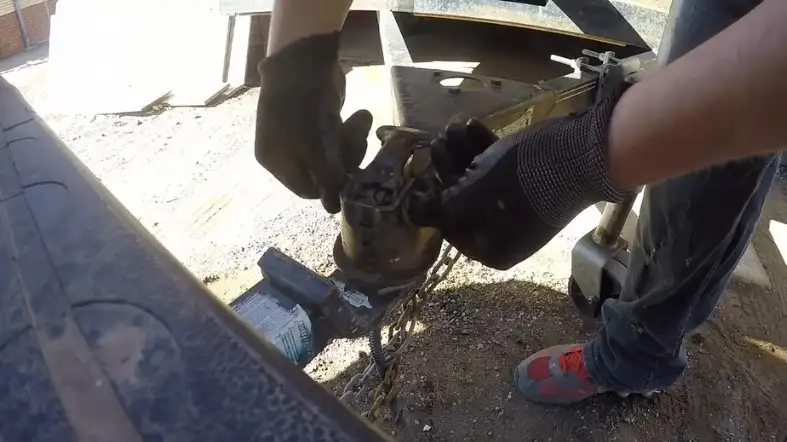 You may avoid difficulties with your hitch receiver by doing the following:
Buy the right size hitch receiver for your vehicle.
Follow the instructions carefully when installing the hitch receiver.
Ensure you regularly inspect the hitch receiver for any damage or wear and tear.
What are some standard hitch receiver accessories?
Standard hitch receiver accessories include a hitch lock, which helps to secure your trailer to the hitch receiver.
A trailer ball mount, a trailer wiring harness, which helps to provide power to your trailer lights.
A trailer brake controller that helps to control the braking of your trailer.
A weight distribution hitch, allows the distribution of the weight of your trailer evenly across the axle of your vehicle.
FAQs About What size hitch receiver Do I Need
How Do You Care For A Hitch Receiver?
Clean your hitch receiver regularly to prevent dirt and grime from accumulating.
Be sure to rinse the receiver thoroughly after cleaning it.
You may wash it with a mild soap and water solution, or you can buy a hitch receiver cleaning kit.
You may also use a professional cleaner made explicitly for hitch receivers.
What Is The Average Lifespan Of A Hitch Receiver?
The average lifespan of a hitch receiver is about 10 years.
However, your hitch receiver can last much longer with proper care and maintenance.
What Are The Most Common Causes Of Hitch Receiver Failure?
Corrosion can occur when your hitch receiver is exposed to moisture or chemicals.
To prevent decay, clean your hitch receiver regularly and dry it off after use. Wear and tear can occur from using your hitch receiver frequently.
Inspect your hitch receiver regularly for any damage to prevent wear and tear.
If you notice any damage, make sure to repair it immediately.
The Final Thoughts
While it might be tempting to go for the most significant and worst hitch receiver on the market, there are better ideas than that.
Depending on your vehicle and your towing needs, you might be better off with a smaller, more maneuverable hitch receiver.
And, of course, it is important to ensure you have the right-sized hitch receiver for your vehicle.
Do some research before buying a hitch receiver, and provide you will get one that's just right for you and your car.