Towing a trailer can be a daunting task, especially if you've never done it before.
But with a little preparation and knowledge, towing a trailer can be a breeze.
In this blog post, we'll walk you through everything you need to know to tow a trailer for the first time, including how to hook up the trailer, how to load it properly, and how to drive safely with a trailer in tow.
How To Hook Up The Trailer For The First Time?
Towing a trailer requires some extra preparation and practice, but it's not too difficult.
Here are the basic steps to hooking up your trailer for the first time: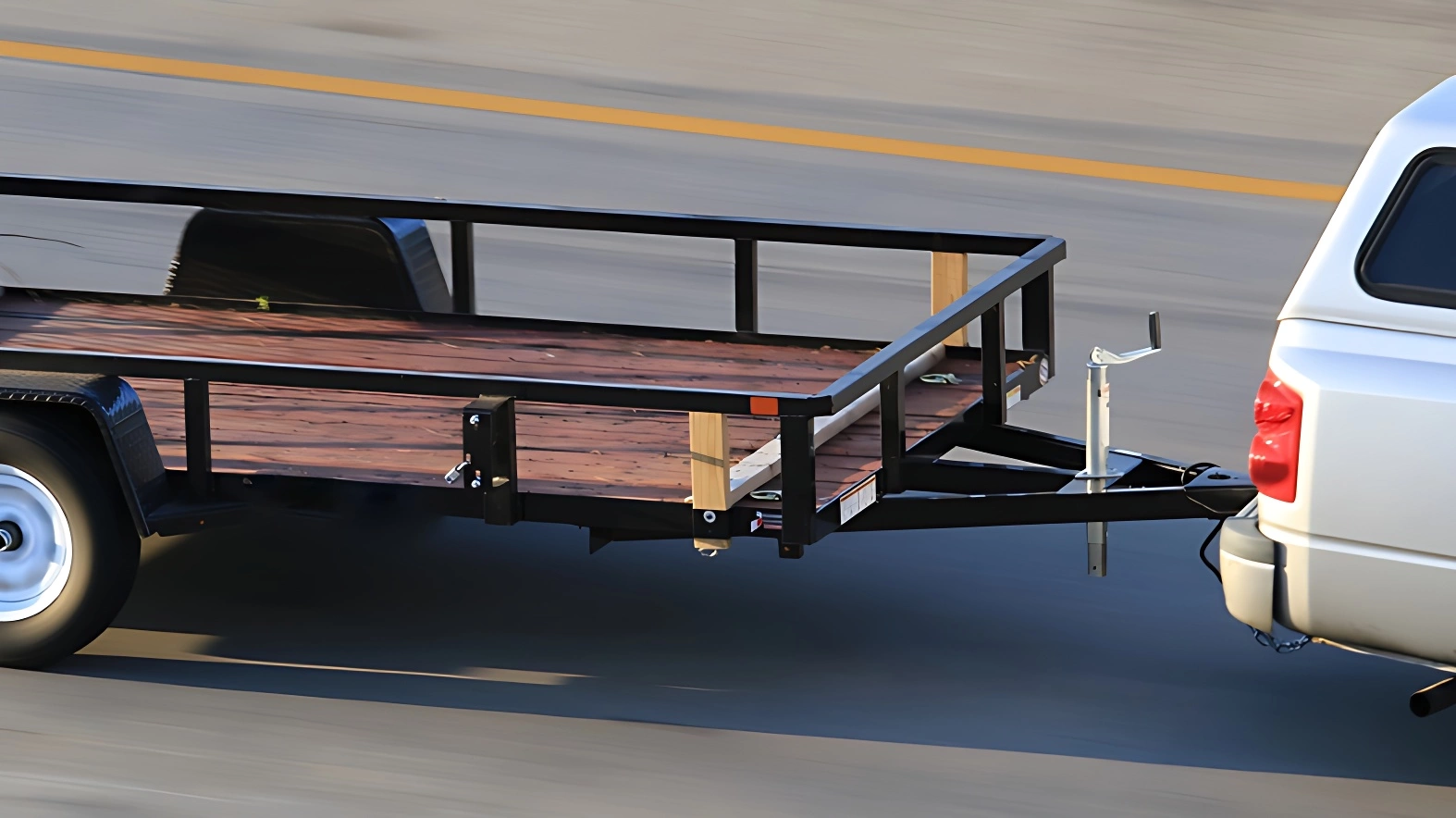 1. Read the Owner's Manual
The first step to properly hooking up a trailer is to read the owner's manual for both the vehicle and the trailer.
This will give you an understanding of how the two systems work together and what specific parts need to be used in order to ensure a proper connection.
2. Check the Lights
Before connecting the trailer to the vehicle, it is important to check that all of the lights are working properly.
This includes the brake lights, turn signals, and running lights.
If any of the lights are not working, they will need to be repaired or replaced before proceeding.
3. Connect the Wiring Harness
Once the lights have been checked, the next step is to connect the wiring harness from the vehicle to the trailer.
This harness provides power to the lights on the trailer and needs to be properly connected in order for them to work.
4. Attach the Safety Chains
Safety chains are required by law in many states and are used to prevent the trailer from becoming detached from the vehicle in case of a breakaway.
The chains should be attached from the trailer's frame to an appropriate hitch on the vehicle.
5. Raise or Lower the Tongue Jack
Depending on whether you will be backing up or driving forward into a parking spot, you will need to raise or lower the tongue jack on the trailer.
This can usually be done by hand or with a power drill.
If using a power drill, make sure that it is set to reverse so that you do not accidentally lower the jack too far.
6. Chock the Wheels
After everything is properly connected, it is important to chock the wheels of both the vehicle and trailer so that they cannot roll while you are hooking up or unhooking them.
This can usually be done with blocks of wood or metal placed behind each tire.
7. Connect the Breakaway Cable
If your trailer is equipped with a breakaway cable, you will need to connect it at this point.
This cable can be attached from the tongue of the trailer and looped around one of the tires so that if the trailer becomes detached from the vehicle, it will stop immediately.
How To Load A Trailer For The First Time?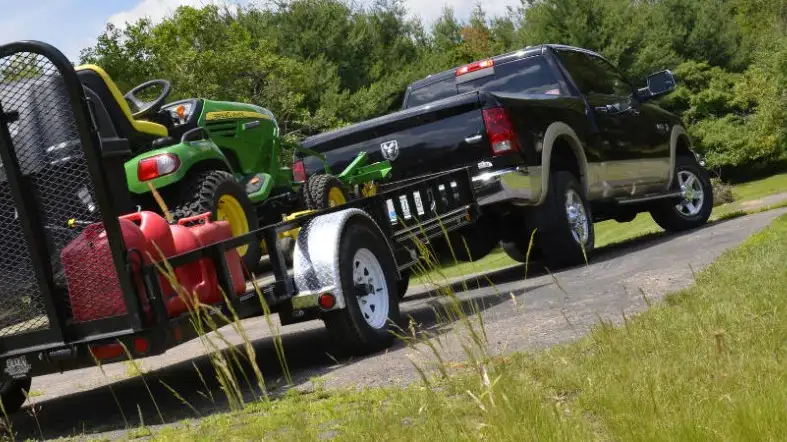 Loading a trailer for the first time can be a little intimidating, but there are several key tips to keep in mind.
1. Choose the Right Trailer
The first step in learning how to load a trailer is to choose the right trailer for your needs.
There are a variety of trailers on the market, from small utility trailers to large travel trailers.
Make sure to choose a trailer that is the right size and weight for your vehicle.
2. Inspect the Trailer
Once you have chosen the right trailer, it is important to inspect it before loading it.
Check the tires to make sure they are properly inflated and look for any damage that could cause problems while driving.
Also, check the hitch to ensure it is properly secured to your vehicle.
3. Load the Heavy Items First
When loading a trailer, it is important to start with heavy items.
This will help to keep the trailer balanced and prevent it from tipping over.
Place the heaviest items in the center of the trailer and distribute them evenly.
4. Use Tie-Downs
Tie-downs are an essential part of loading a trailer, as they help to keep your belongings secure during transport.
When tying down items, be sure to use heavy-duty straps or ropes and secure them tightly.
If possible, use multiple tie-downs for each item to ensure maximum stability.
5. Cover fragile items
If you are transporting any fragile items, be sure to cover them with blankets or other padding material.
This will help to protect them from breaking during transport.
6. Test Your Lights
Before setting out on your journey, be sure to test all of the lights on your trailer.
This includes the brake lights, turn signals, and tail lights.
This will ensure that other drivers can see you and that you can signal your intentions properly.
How To Drive Safely With A Trailer In a Tow?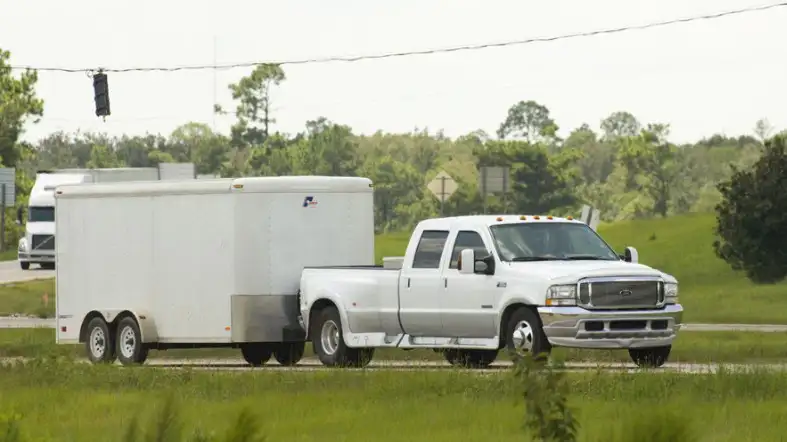 Towing a trailer for the first time can be an intimidating experience, especially if you don't have a lot of experience driving.
Luckily, there are some simple tips that can help you stay safe while towing.
1. Check your vehicle's towing capacity
The first step to driving safely with a trailer is to make sure that your vehicle can actually tow the trailer.
Every vehicle has a different towing capacity, which is the maximum weight that it can tow.
You can usually find your vehicle's towing capacity in the owner's manual or on a sticker inside the driver's door.
If you're unsure, you can always ask your mechanic or dealer.
2. Inspect your trailer before each trip
Before you hit the road, it's important to inspect your trailer to make sure that it's in good condition.
This includes checking the tires, brakes, lights, and hitch. You should also make sure that the load is properly secured and balanced.
3. Drive slowly and carefully
When you're actually driving with the trailer, it's important to take things slow and be extra careful.
Remember that it will take longer to stop and make turns than if you were just driving your vehicle alone.
Give yourself plenty of time and space to brake and turn, and avoid sudden movements.
4. Use caution when passing other vehicles
Passing other vehicles can be tricky when you're driving with a trailer, so it's important to use caution.
When passing, make sure that you have plenty of room and that you're not going too fast.
It's also a good idea to signal well in advance so that other drivers know what you're doing.
5. Be aware of changing weather conditions
Weather conditions can impact how well your vehicle and trailer handle on the road.
For example, strong winds can make it more difficult to control your vehicle, while rain or snow can make braking more difficult.
If possible, try to avoid driving in bad weather altogether or at least plan for extra time if you do have to drive in less-than-ideal conditions.
What Are The Best Ways To Avoid Trailer Accidents?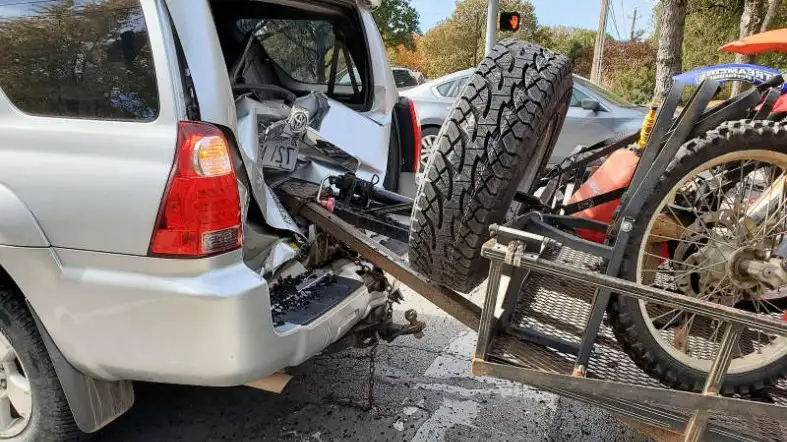 1. Start by thoroughly inspecting your trailer and hitch before each trip.
Check for any damage or wear and tear, and ensure that all lights and brakes are functioning properly.
2. Make sure that the weight of your trailer is properly distributed, and that the hitch is securely attached to your vehicle.
Overloading or improperly loading a trailer can lead to accidents on the road.
3. Always use the appropriate signals and lights when changing lanes or turning with a trailer.
This will help other drivers anticipate your movements and avoid collisions.
4. Slow down when driving with a trailer, as the added weight and length can make it more difficult to maneuver and stop quickly.
5. Take extra care when driving in windy conditions or on steep inclines, as these can cause trailers to sway or lose control.
6. Always be aware of your surroundings and anticipate the actions of other drivers.
Keep a safe distance from other vehicles and be prepared to react quickly in case of an emergency.
7. Consider taking a trailer safety course, as this can provide valuable information and tips on how to safely operate a trailer and avoid accidents.
8. Lastly, always follow the laws and regulations regarding trailer operation in your state or country, and stay up to date on any changes or updates to these laws.
This will help ensure that you are operating your trailer safely and legally.
How do I properly maintain my trailer?
There are a few key steps that you can follow to help maintain your trailer.
These include inspecting the tires, brakes, and lights regularly, driving cautiously at all times, avoiding sudden movements or lane changes, and staying within the speed limit.
Additionally, it is important to get regular maintenance checks from a mechanic or dealer in order to identify any potential issues before they become a problem.
And if you are feeling nervous or unsure about towing a trailer, it may be helpful to seek out professional guidance and training from an experienced driver or trailer towing expert.
Whether you're just starting out or have been towing for years, following these simple tips will help keep your trailer in great shape and ensure that you can safely enjoy all of your adventures on the road.
FAQs on How To Safely Tow A Trailer For The First Time
Can I Use Any Vehicle To Tow A Trailer?
No, there are certain vehicles that are better suited for towing trailers than others.
Generally speaking, trucks, SUVs, and other large or heavy-duty vehicles will be able to handle the weight of most trailers with ease.
Can I Learn How To Tow A Trailer With Professional Assistance?
Yes, there are many resources available for those looking to learn how to tow a trailer safely and effectively.
Should I Check The Hitch And Trailer Connections Before Driving?
Yes, it is important to always check the hitch and trailer connections before driving in order to ensure that everything is secure.
This will help prevent any accidents or mishaps on the road, as well as reduce vibrations and other distractions while you are driving.
How Can I Avoid Crosswinds When Towing A Trailer?
One of the biggest challenges when towing a trailer is dealing with crosswinds and other weather hazards.
To avoid crosswinds, try to plan your trip during times of the day with minimal wind.
Additionally, make sure your load is balanced and secured properly so that it does not shift or move around while you are driving.
Finally, you can try using a weight distribution system to help balance out your trailer and reduce the effects of crosswinds on your overall driving experience.
Conclusion:
Towing a trailer doesn't have to be difficult or scary—as long as you're prepared!
By hooking up your trailer correctly, loading it properly, and driving safely, you can tow a trailer like a pro in no time.
Just remember to take it slow at first, be aware of crosswinds, and avoid sharp turns if possible.
So what are you waiting for?
Get out there and start exploring!