A winch is a powerful tool that can help you move large objects, pull your vehicle out of a sticky situation, or even save a life in an emergency.
But is a truck winch worth the investment? In this article, we'll take a closer look at the benefits and drawbacks of owning a winch for your truck, so you can make an informed decision about whether it's right for you.
Is A Truck Winch Worth It?
Yes, a truck winch is worth it for off-road driving or in icy or muddy conditions.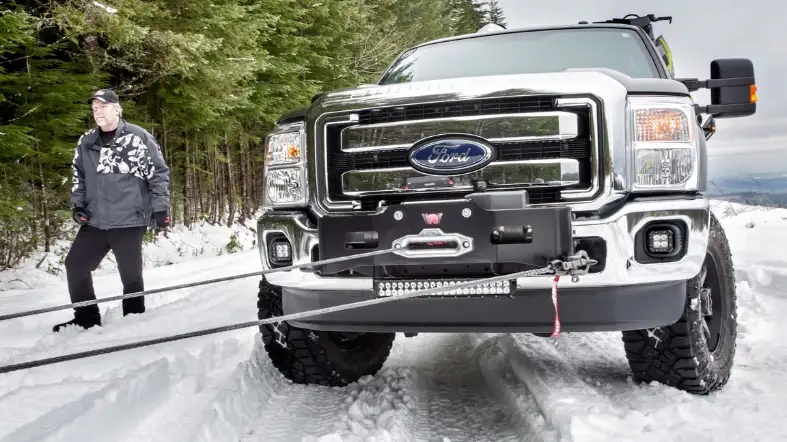 It is an essential tool for recovering stuck vehicles, offering control and a slow, steady pace, making it effective for situations when a vehicle gets bogged down.
Additionally, it can be a great addition to a work truck. A low-budget, high-quality truck winch can pull up to 13,000 pounds of weight.
However, if you mostly drive on asphalt, you probably won't need one.
Benefits Of Having A Winch On Your Truck
A winch is an essential tool for any off-road enthusiast or anyone who wants to be prepared for unexpected situations.
There are many benefits of having a winch on your truck. Here are some of the key advantages:
Pull Your Vehicle Out Of Tough Situations:
A winch can help you pull your vehicle out of deep mud, sand, or snow, or over obstacles like rocks or fallen trees.
It offers a lot more control and a slow, steady pace that is perfect for situations where a strap might not be enough.
Help Others:
A winch can also be used to help other off-roaders who might be stuck in a tough spot.
Electric winches can also be a handy tool to remove hazards from off the tracks, such as fallen trees or boulders.
Operate from different Angles:
A winch can pull your vehicle from different angles, which is something a strap cannot do.
You can use a winch at 90 degrees or even steeper angles as long as you have a snatch.
Increase vehicle's versatility:
A winch allows you to securely lift your vehicle out of any sticky situation without the assistance of others, which is a modification that adds a variety of features while also improving the appearance of your vehicle.
Safety:
A strong winch at the front of your truck is an essential off-roading item to have for both your own security and other people's security.
Sometimes there isn't enough room for another vehicle to pull you out and you must anchor to a tree or boulder. The use of a winch resolves both of these problems.
Note
When installing a winch on your truck, you should make sure that it does not damage the suspension components.
You should also make sure to choose the right winch for your vehicle, considering factors such as your truck's weight and the rated line pull of the winch.
Keep in mind that adding a winch to your truck can create additional wear on your ball joints and may also adversely impact your fuel economy.
How to choose the right winch for your truck?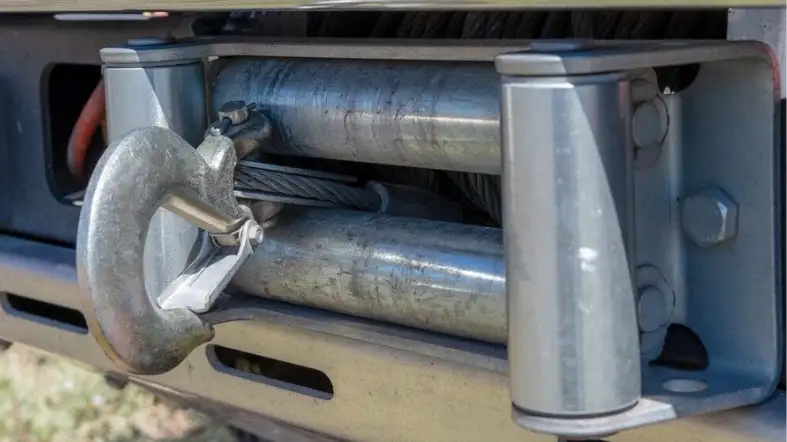 Here are some key points to keep in mind while choosing a winch for your truck:
Determine the weight of your vehicle:
When it comes to selecting a winch, the heaviness of your truck plays a pivotal role.
Either multiplying your vehicle's gross weight or rate (GVWR) by 1.5 or adding a minimum of 30% to your working gross vehicle weight (GVW).
Choose the appropriate winch type:
Various winch types are accessible, such as mechanical, electric, and hydraulic winches.
Electric winches are the most popular type and are suitable for most truck applications.
Hydraulic winches are powerful but require a hydraulic system, which limits mounting options.
Mechanical winches are less common and may require more effort to operate than other types.
Consider winch capacity:
Winch capacity is a crucial factor in choosing the right winch. Trucks of a full-size stature might need a winch with a minimum capacity of 12,000 pounds,
Whereas mid-size trucks could do with a winch that boasts a capacity of 9,000 to 9,500 pounds. However, the capacity you choose depends on your needs and usage.
Determine mounting options:
Winches can be mounted in various locations on your truck, including the front bumper, rear bumper, or in the middle of the truck bed.
Hydraulic winches have limited mounting options and are often mounted on the front bumper.
Choose a reputable brand:
Choosing a high-quality winch from a reputable brand is essential. Brands like WARN and Smittybilt offer reliable and durable winches suitable for most truck applications.
Top 6 best truck winches
Here are six top companies offering the best truck winches on the market:
Smittybilt:
The Smittybilt GEN 2 XRC Winch is highly recommended and widely used by off-roaders.
The load capacity ranges from 9500 lbs to 17500 lbs, and the motor power is 6.6 HP.
The price for this winch is around USD600- USD800, depending on the load capacity.
WARN:
The WARN 89611 ZEON 10-S is considered the best overall truck winch with a load capacity of 10000 pounds. The price for this winch is around USD1200- USD1400.
Champion Power Equipment:
The Champion Power Equipment 12090 is considered the best portable winch, and it is suitable for off-roading and camping purposes.
The price for this winch is around USD150- USD200.
Rugged Ridge:
The Rugged Ridge Trekker Winch is a popular option with a load capacity of up to 12500 pounds. The price for this winch is around USD500- USD700.
X-Bull:
The X-Bull 12V Synthetic Rope Winch is known for its dependability and is used on many off-road vehicles.
The load capacity is 13500 lbs, and the price for this winch is around USD400- USD500.
ZESUPER:
The ZESUPER 12V Electric Truck Winch is considered the best electric winch overall with a maximum pulling capacity of 13000 pounds.
The price for this winch is around USD400- USD500.
Things to consider before installing a winch on your truck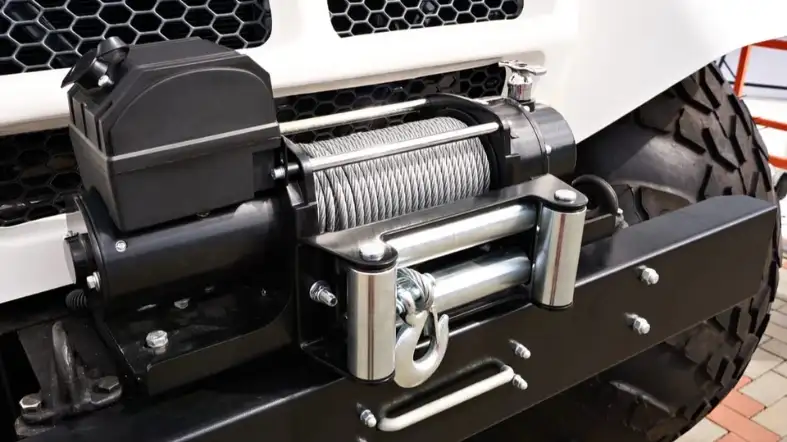 Installing a winch on a truck can be a useful modification for off-road enthusiasts, but it is important to consider several factors before proceeding with the installation.
Here are some factors to consider before installing a winch on your truck:
Compatibility:
The first step is to determine whether your truck's stock bumper is compatible with the winch you plan to install.
Most winches will be compatible with a stock bumper with some modification, but it is best to check with the winch manufacturer to be sure.
Mounting Plate:
It is important to select a mounting plate that is designed for your specific vehicle and has a rating that can withstand the winch's pulling rating that you plan to install.
Make sure the mounting plate is compatible in size.
Cable Length:
When selecting a winch, consider the cable length.
Generally, 90-100 feet of cable is a good length to choose, but in dense woods or open areas, a different length may be more suitable.
Wire Gauge:
Determining the gauge and quality of the wire you will use for your winch is crucial.
The gauge of the wire depends on the winch you are using, with most winches requiring a four or eight-gauge wire.
Safety:
Safety should always be a top priority when installing a winch. It is important to wear gloves, keep the area clean, and avoid wearing loose clothing.
Take your time to ensure that the winch is securely mounted and connected properly.
Winch Bumper:
Consider investing in a winch bumper, which is becoming popular among off-roaders.
This bumper is designed specifically for mounting a winch and can enhance the overall appearance of your truck.
By considering these factors, you can ensure a safe and successful winch installation on your truck.
Frequently Asked Questions
What Weight Capacity Winch Do I Need For My Truck? 
The weight capacity of the winch you need depends on the weight of your vehicle and the objects you plan to pull.
A good rule of thumb is to choose a winch with a weight capacity of at least 1.5 times the weight of your vehicle.
Can I Install A Winch On Any Truck? 
Most trucks can be outfitted with a winch, but it's important to make sure the winch you choose is compatible with your specific make and model.
You may also need to purchase additional mounting equipment to ensure a secure installation.
Do I Need Any Special Skills To Operate A Winch? 
While operating a winch does require some basic knowledge and skill, it's relatively straightforward.
You'll need to know how to hook up the winch to the object you're pulling, how to control the winch speed, and how to stop the winch when you're done.
How Do I Maintain My Winch? 
Regular maintenance is essential to keep your winch in good working order.
You should clean it regularly, inspect the cable or rope for wear and tear, and lubricate the moving parts as needed.
It's also important to periodically test the winch to make sure it's still functioning properly.
Can I Use My Winch In Wet Or Muddy Conditions? 
Yes, winches are designed to work in a variety of conditions, including wet and muddy environments.
However, you should take extra care to clean and dry the winch after use in these conditions to prevent rust and corrosion.
What Other Accessories Do I Need To Use My Winch? 
In addition to the winch itself, you'll need a winch cable or rope, a winch controller, and a winch mount.
You may also want to consider additional accessories like a snatch block, which can help you change the direction of your pull, or a winch cover, which can protect your winch from the elements.
Conclusion
Whether a truck winch is worth it for you depends on your specific needs and circumstances.
If you frequently go off-road, work in industries that require heavy lifting a winch can be a valuable tool to have.
It can help you get out of tough situations, move large objects, and even save lives.
Ultimately, it's up to you to weigh the pros and cons and decide if a truck winch is worth the investment for your particular situation.