At first glance, you may not find any difference between 5th wheel hitches and gooseneck.
We use both of these devices used to tow trailers.
We mount them in the back of a pickup vehicle.
But why is this Gooseneck vs 5th wheel then?
Because there are significant distinctions between gooseneck and 5th wheel hitches.
What follows in this article is a detailed comparison of gooseneck and fifth-wheel hitches.
It includes an analysis of their respective advantages and disadvantages
The key takeaway in Gooseneck vs 5th wheel:
Well, the only point that differentiates them in a broad sense is their general application.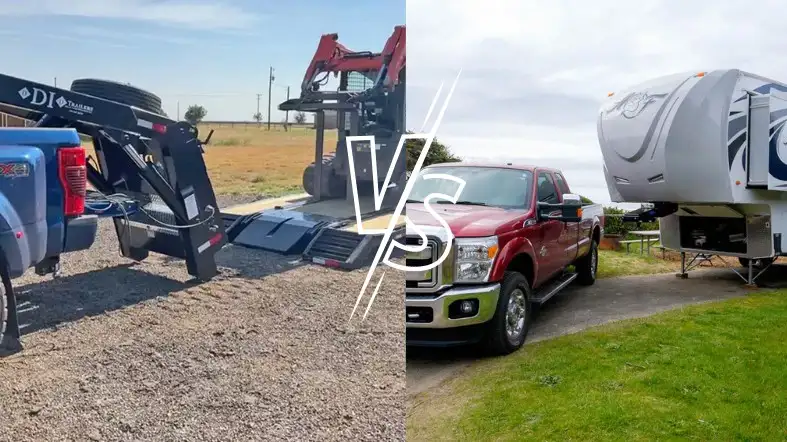 If we are talking about a recreational purpose, then we have the fifth wheel hitch.
On the other hand, for industrial trailers, the go-to option is the gooseneck hitches.
While towing a gooseneck trailer, we suggest using gooseneck hitches.
In other cases, a fifth-wheel hitch will suffice.
Having said that, the optimal pick for you is always relative.
There are circumstances in which it can be advantageous to tow a fifth-wheel trailer with a gooseneck hitch installed on your truck.
So, continue reading to find out more!
Gooseneck hitches:
A gooseneck hitch is similar in appearance to a standard hitch.
There is a ball installed in the truck bed.
The trailer tongue has a rounded receiver.
A gooseneck ball is much bigger than a regular ball hitch, but it still fits into a receiver in the back of a pickup truck.
So, the holes in a truck bed can easily accommodate the Gooseneck hitches.
The trailer tongue hangs beneath the front end of the trailer.
It simply resembles a vertical segment of pipe.
Under the tongue of the trailer, we have to back the truck up.
When you do this, the tongue is dropped over the ball and fastened into place.
Towing safety chains and electrical connections are essential components of each trailer, regardless of the kind.
Any sort of gooseneck hitch can draw 30,000 pounds effortlessly.
Put another way, it pulls off more than 3,000 pounds than the best ones in the 5th wheel category.
Both the ball hitch and the safety-chain anchors are simple to set up and take down. They only take up very little room in the bed of the truck.
However, if the vehicle didn't come with a gooseneck hitch, you'll need to poke a hole in the vehicle bed to install one.
5th wheel hitches: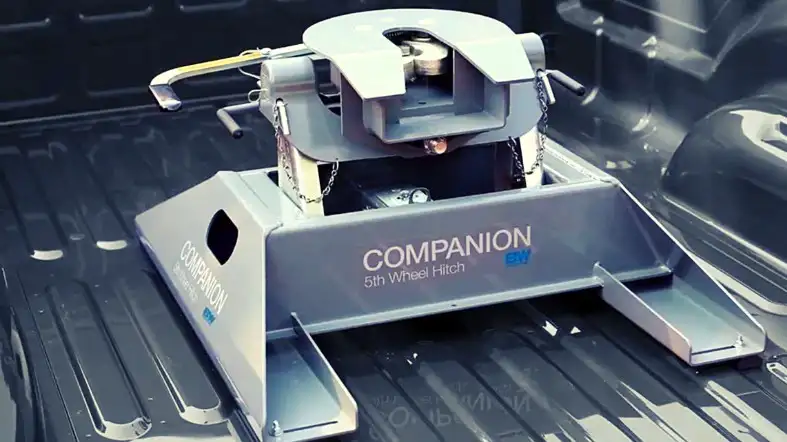 You have seen the semi-trucks and hitches on the back of them, right?
Well, the hitch on the back of a fifth-wheel trailer is visually comparable to that semi-truck hitch.
The hitch is mounted on the floor of the truck bed.
It includes a plate that the trailer tongue can stand on.
The heavy-duty jaws of the hitch can hold the kingpin of the trailer tongue.
The tongue of the trailer resembles a beam of metal.
The metal piece is angled very precisely to the industry standard.
There is a large pin that protrudes from beneath the tongue.
When towing a tall trailer, a fifth-wheel hitch can help you maintain better control and reduce noise and vibration.
Because of these qualities, they are common on large recreational vehicles and commercial trailers with high, square profiles.
Sliding mounts are available for fifth-wheel hitches, allowing for greater flexibility in bed placement.
If your vehicle doesn't have a fifth-wheel hitch already installed, you may easily add one with just some tiny holes in the bed.
Gooseneck Vs 5th Wheel: Detailed Comparison
The installation process and the tasks that each type of hitch does differentiate the hitches.
Yes, these are the primary areas in which the gooseneck and 5th wheel hitches diverge from one another.
Installation method:
We need bolts to secure a gooseneck hitch beneath the truck bed.
The cargo bed's floor makes a place for the hitch.
Before you can install a fifth-wheel hitch, you first need to insert girders or rails on the bed of the truck.
After that, you can attach these rails to the hitch.
Heavy equipment:
The machinery for the fifth wheel is complicated and heavy.
The small cargo beds will have barely any space left after accommodating a fifth-wheel hitch.
However, one can easily remove it whenever necessary.
But with a gooseneck hitch, you don't need that much space.
The weight is considerably less and complication is not an issue.
Links Between The Trailer And Hitches: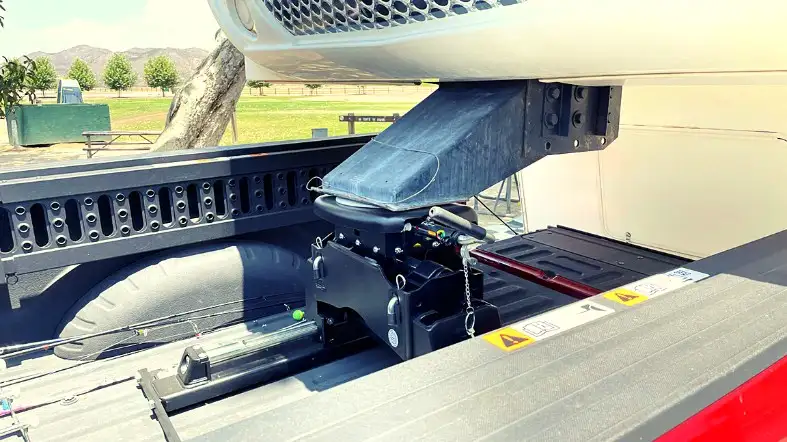 One more distinction lies in the manner in which the trailer links to the hitches.
You will find a long coupler in a gooseneck system similar to the typical ball hitch for travel trailers.
The coupler fits over the ball to secure its position.
Unlike the gooseneck, fifth-wheel trailers make use of a pin box in conjunction with a kingpin for their coupling mechanism.
The kingpin goes through the head of the 5th wheel.
The wheel head puts pressure on the kingpin and secures it in its position.
The operation of fifth-wheel hitches is essentially the same as semi-truck hitches.
Purpose:
The final important distinction lies in the function that each hitch serves.
In agriculture and commerce settings, the gooseneck hitches are very popular.
To tow flatbed trailers or while towing livestock, we see the use of these hitches in our everyday life.
They do the job without much complication and with utmost efficiency.
The fifth-wheel hitches, on the other hand, are typically utilized for the towing of freight as well as utility vehicles, such as RVs.
Gooseneck Vs 5th Wheel: Advantages And Disadvantages
Pros of gooseneck:
Little space:
A gooseneck hitch barely takes up any space.
A gooseneck hitch is convenient if you often haul cargo with your pickup.
Less cost:
Gooseneck hitches are more cost-effective than 5th-wheel hitches.
A gooseneck hitch can save you hundreds.
Some automakers even pre-install some components.
Versatility:
It cannot certainly pull RVs like the 5th wheel.
But it does the job of pulling haul flatbeds or livestock trailers or industrial trailers.
Minimal weight:
Weight is another benefit of gooseneck hitches.
Compared to the 5th wheel hitches, a gooseneck hitch is way lightweight.
Gooseneck hitches take up less space and weigh less, making them ideal for hauling in a truck bed.
Cons of gooseneck:
Heavy noise:
compared to 5th-wheel hitches, gooseneck hitches are noisier and less stable.
Difficult installation:
Gooseneck hitch installation is harder than the 5th wheel hitch installation.
To install the hitch ball, you'll need to make a hole in the truck.
You will also need a professional here.
Not for RVs:
Towable RVs aren't designed for gooseneck hitches.
The only gooseneck towable RVs produced in the 1970s never sold well.
Pros of 5th wheel:
Easy accessibility:
when it comes to towing RVs, the easy accessibility of the 5th wheel is comforting.
On any type of recreational trailer, gooseneck couplers are typically absent.
Less noise:
Hitches for fifth wheels are substantially quieter.
Moreover, hitch makers are always improving chucking and noise reduction technology.
Utmost stability:
5th wheel hitches offer a significantly more stable ride.
Your RV will endure less damage as a result.
Simple installation:
The installation process is too simple.
There is no complication of drilling holes.
Cons of 5th wheel:
Heavy Cost:
The major drawback is the price.
A fifth-wheel hitch might cost five times as much as a gooseneck hitch since it is bigger and more complicated.
So, you have to take a big financial blow.
Enormous Size:
It is the second significant drawback.
A 5th wheel hitch will take up way more area in your truck bed than a gooseneck.
Heavyweight:
Fifth-wheel hitches are big and heavy.
Although smaller models are lighter, you can realistically anticipate your truck to gain 100–300 pounds as a result of a fifth-wheel hitch.
Which Is Better: A Gooseneck Or A 5th-Wheel Hitch?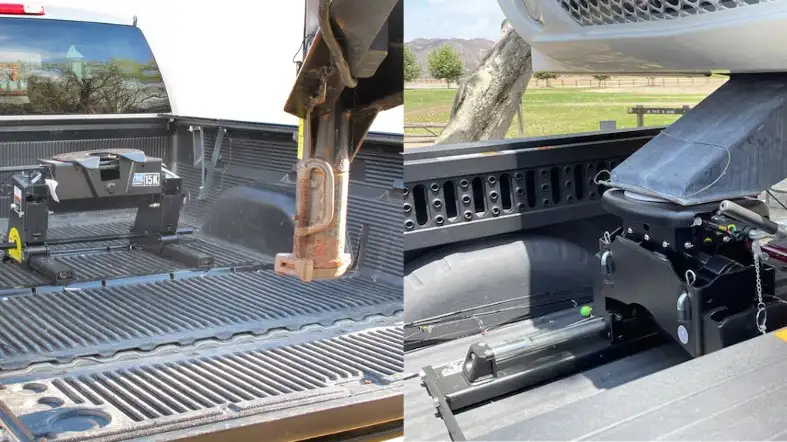 The ride quality of a vehicle boosting with a 5th wheel hitch is typically superior.
However, you can further this advantage by installing an air-ride pin box.
This additionally aids in minimizing the effects of road shock. In other words, it is a method to cushion the shock to a greater extent.
To pull a gooseneck trailer, a gooseneck hitch is a must.
But to pull a 5th-wheel trailer, you can choose any of the hitches.
However, you can benefit from your investment by using a 5th-wheel-to-gooseneck adapter.
It will let you pull both a 5th-wheel trailer and a gooseneck trailer simultaneously.
Before you use the adapters, you should know the cons of it.
The frames of fifth-wheel trailers can suffer badly from the adapters.
Also, the usage of adapters can sometimes result in the frame warranty cancellation by the manufacturer. So, think twice before you opt for this.
On a serious note, make sure to utilize the appropriate hitch for the trailer that you are pulling.
FAQs about gooseneck vs 5th wheel:
Which Is Stronger 5th Wheel Or The Gooseneck?
In terms of physical capability, the gooseneck hitches are sturdy and heavy-duty.
So, we use them for industrial purposes.
Should I Convert My 5th Wheel To A Gooseneck?
Compared to a 5th-wheel hitch, a gooseneck is less obtrusive and occupies less space in the truck bed.
Additionally, the gooseneck is lightweight. It is easier to set up and use and connect to.
So, to enjoy the best of both systems, you can convert it.
Is Gooseneck Easier To Back Up?
Gooseneck trailers are simpler to operate and back up.
They simply hook to a ball in a vehicle bed.
With gooseneck trailers, you can also execute tight turns while moving forward or backward.
Is A Fifth Wheel Enough For All RVs?
Yes, usually they are enough.
However, if you have to tow too big an RV, it is rather safe to use a gooseneck hitch.
Final Words:
So, end of the day, the gooseneck vs 5th wheel debate leads us to a simple conclusion – you need.
If you need the stability of a heavy-duty gooseneck hitch, you should opt for it right away.
However, usually, non-industrial use and towing needs such as RVs don't require the gooseneck ones.
Even when using a 5th-wheel hitch, pay careful attention to its downsides.