A hitch is a vital accessory for the vehicle owner, who often tows or hauls.
Many people go for an Eaz Lift weight distribution hitch among the numerous choices to attach between their towing vehicle and the trailer.
If you are also planning to do so, checking out this in-depth Eaz Lift weight distribution hitch review can help you make an informed decision based on its performance, capabilities, and limitations.
Read on to get some crucial information about the EAZ Lift weight distribution hitch, along with proper installation instructions.
Eaz Lift Weight Distribution Hitch- Overview
Camco has been producing quality and comfortable vehicle accessories since 1966 to better serve the customer's needs.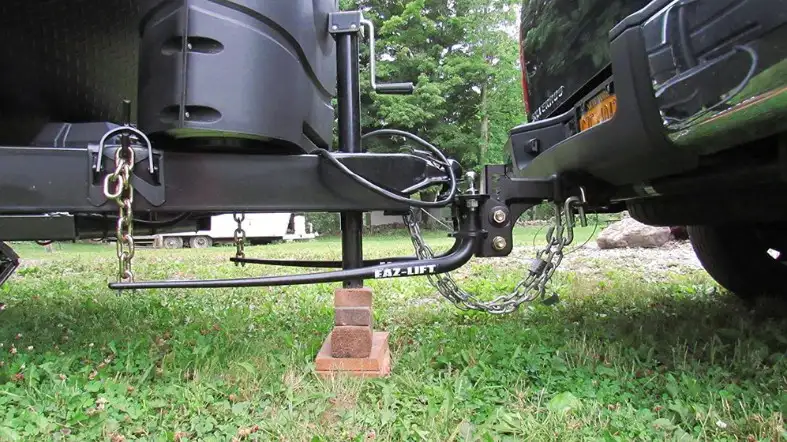 In terms of its weight-distributing hitches, it provides the trailer with a smoother ride using positive latching action.
Its weight-distributing hitch comes with sway control, a round bar weight-distributing hitch, 2 5/16-inch hitch balls with an adjustable ball mount, and an installation kit.
The maximum tongue weight of its hitch ranges from 600 lbs to 1200 lbs, while the maximum gross weight rating is up to 15000 lbs.
The weight distribution hitch of the brand is made of high-quality alloy steel and finished with a powder coat to meet your various yet heavy-duty needs.
After owning the Eaz-Lift Elite Weight Distribution Hitch Kits, you won't have to face trouble during installation, thanks to the kit's included hardware and easy-to-read instructions.
Highlight features
Construction
The Eaz Lift Weight Distribution Hitch is constructed with high-grade, machine-tapered round spring steel bars and finished with a thicker black powder coat.
When these two factors are combined, their Lift Weight Distribution Hitch is extremely strong and durable, able to withstand continuous and rough use.
The material can also withstand heavier towing loads of up to 15000 lbs in gross trailer weight of your trailer, boat, or camp.
More importantly, its powder coat will keep the hitch safe from harsh weather elements like water, snow, wind, or dust.
As a result, you'll have years of reliable and satisfying performance.
Design And Function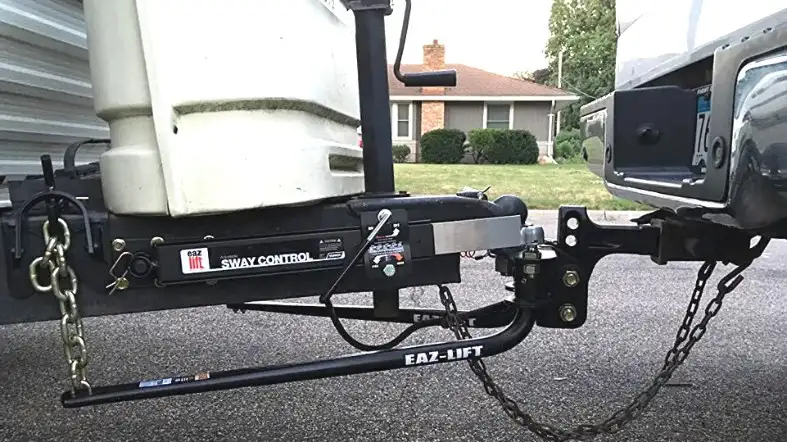 The Eaz Lift Weight Distribution Hitch features adjustable sway control.
As a result, you can easily determine the amount of sway control applied to the trailer by simply adjusting the clamp.
Their products also distribute the trailer's weight evenly throughout the vehicle's axles and offer the required sway control.
You can also turn the sway control entirely off in risky or icy conditions.
Another important thing is that its included top-loading spring bars ensure safer ground clearance compared to the normal hitch.
In addition, the streamlined design makes the weight distribution trailer hitch and your trailer look like one set up to deliver a sleek look.
Another fantastic feature is the included adjustable tow ball mount.
Using the function will let you change the tow ball height and angles based on your application.
With the ease of operation in mind, their Weight Distribution Hitch will make your towing experience comfortable and convenient.
Pre-Installed Components
The Eaz Lift Weight Distribution Hitch comes with pre-installed parts.
Its sway control ball and 2-5/16″ hitch ball is torqued while the chain package and u bolts are pre-installed on the load-leveling hitch's spring bars.
Comes with user-friendly instructions and mounting hardware, installing Eaz Lift Weight Distribution Hitch is extremely straightforward, even in a home garage.
The other parts included in the package are an Adjustable ball mount, 48120 Bolt-Together Hi-Low Shank, 2″ x 2″ Shank Size, 10″ Length, 2.5″ Drop, 5.5″ Rise.
Pros
Solid build with durable material.
Weather resistant finish.
Heavier towing capacity.
Extremely easy to install.
Affordable price.
Adjustable ball mount.
Long-lasting towing serving.
Versatile and adjustable design.
Offer up to a 5-year warranty.
Cons
May need a bigger wrench to install.
The tilting bolt constantly loosens.
How To Install Eaz Lift Weight Distribution Hitch?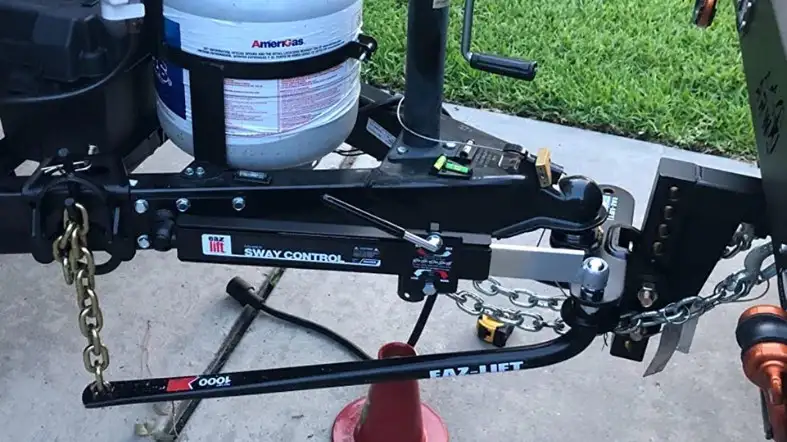 Below is a simple yet quick step-by-step process to install your Eaz lift weight distribution hitch:
Attach the trailer to your towing vehicle
Place the trailer and vehicle in a direct line on a flat surface.
Connect Away Control Ball to Hitch
Use a nut and lock washer to mount the sway control to the hitch and torque it to 100 foot pounds.
If required, you can notch and weld the sway control ball plate to keep it in the right position.
Hire a professional welder to do the job.
Attach Ball Plate Assembly
To find the exact location of the trailer tongue ball plate, measure properly and mark a spot in the trailer tongue 2 feet from the trailer hitch ball's center to the trailer framer's ride side for the right-hand side of the trailer frame's left-hand side for the left-hand side.
Line up the ball's center on the tongue ball plate with the marked six-hole locations and trailer tongue.
Use an 11/32″ drill bit to drill the six holes.
Then line up the trailer tongue ball on the trailer tongue using the holes.
Secure the setup using screws.
Install Sway Control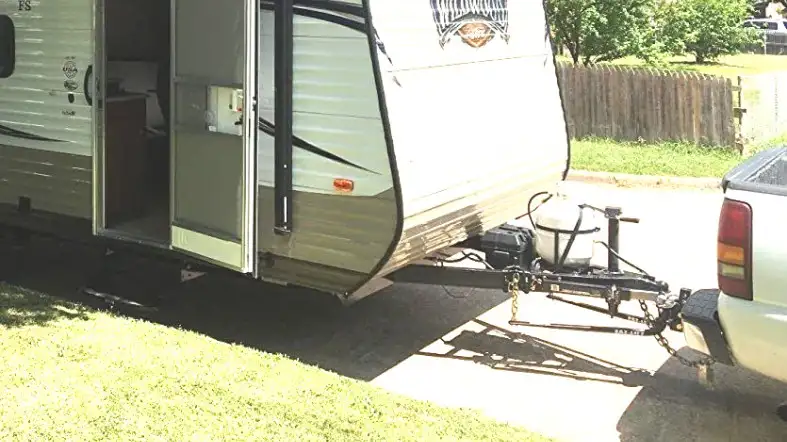 Apply some lubricant to the sway control balls, put the slide bar's socket over the sway control ball, and use a clip to secure them.
Rotate the on/off handle anti-clockwise until the slide bar falls into the main frame.
Then rotate the on/off handle clockwise. Make sure the threads bottom out.
Make sure you don't make any extremely sharp turns; otherwise, damage can occur to the sway control during installation.
You can check this by backing your vehicle in either direction into a pocketknife position.
Remember, the sway control shouldn't hit the bumper; otherwise, it can come apart completely.
If it comes apart, remove the sway controls while backing up.
Make Adjustment
Plenty of features affect the towing characteristics, including weather conditions, the road, the design of the trailer, loading wheel alignment, power steering, and the tow vehicle and trailer's oscillation point.
To adjust, start with the factory preset tension and road test the sway control.
Your next step should be to turn the brake tension screw 14 clockwise.
Keep doing it until you get the desired sway control.
In general, heavier or larger trailers, or broadside trailers, usually need to use two sway controls.
After achieving a 1000 mile break-in period, take the slide bar out and clean it with steel wool or a wire brush.
You should also clean the slide bar every 10,000 miles.
FAQs about Eaz Lift Weight Distribution Hitch Reviews
Can You Back Up With An EAZ Weight Distribution Hitch?
Of course, you can back up your Equal-i-zer weight distribution hitch, as it is designed to do so.
You can also take tight turns with the hitch hooked up.
Who Makes EZ Lift?
Camco is the manufacturer of the Eaz Lift weight distribution hitch, and they have been producing high-quality outdoor products since 1966.
The manufacturer has earned a reputation for producing optimum products and providing high-quality customer service.
Is Weight Distribution Hitch Essential For Towing?
You can tow with or without using a weight distribution hitch.
But if you tow without using a weight distribution hitch, it can cause overloading on the towing vehicle's rear axles.
The axles can also be prone to lifting because of this phenomenon.
Final Words
The Camco Eaz-Lift weight distribution hitch is engineered with sturdy steel, and a tough, detailed manufacturing process that includes forging, rolling, bending, and precision drilling.
Their lift hitches can also withstand heavier loads and come with an adjustable design and a 5-year warranty.
Combining all these features, Eaz-Lift weight distribution hitches are a highly reliable option for a wide variety of towing and hauling applications.
So if you need a convenient and reliable truck attachment, you can go for the Camco Eaz-Lift weight distribution hitch.