Does hitch height really affect trailer sway?
This is a question that has been debated for many years, with no definitive answer.
Some people believe that having a higher hitch will minimize trailer sway, while others think that it doesn't make a difference.
In this blog post, we'll take a look at the research on this topic and see what conclusions can be drawn.
Does Hitch Height Affect Trailer Sway?
Yes, many experts agree that having a higher hitch can minimize trailer sway.
The basic idea is that if your hitch is closer to the road, it puts more weight on your vehicle's rear axle and helps to stabilize your trailer.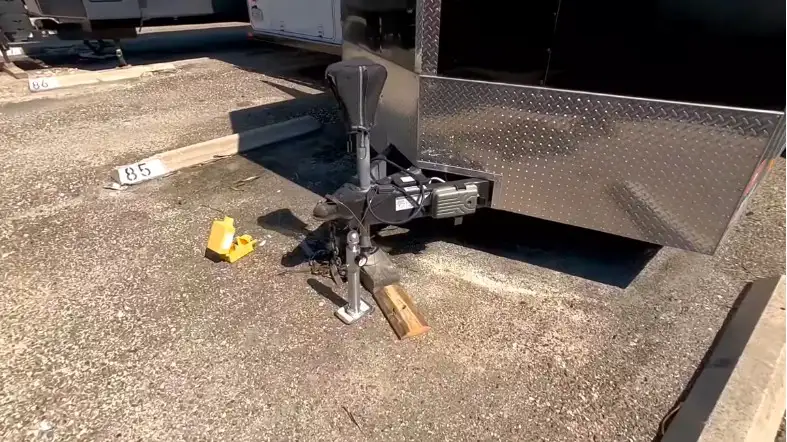 However, others believe that this effect is only minimal and that having a lower hitch can actually help with stability as well.
Some experts point to the fact that hitting a bump in the road may cause your trailer to sway, regardless of how high or low your hitch is.
How to Determine The Proper Hitch Height?
When it comes to tow vehicles, many people do not realize there is a hidden hitching point on the frame of their vehicle that corresponds with the hitch ball.
To determine that hitching height, you just have to measure from the ground up to that hitching point. Follow the below step-by-step guide:
Step 1: Park The Vehicle
You'll want to make sure you are parked on a flat, level surface so that you can accurately measure the appropriate hitching height.
Also, make sure to park in an area that is free from any obstacles or other vehicles, so you can easily access the rear of your vehicle.
Step 2: Locate The Hitching Point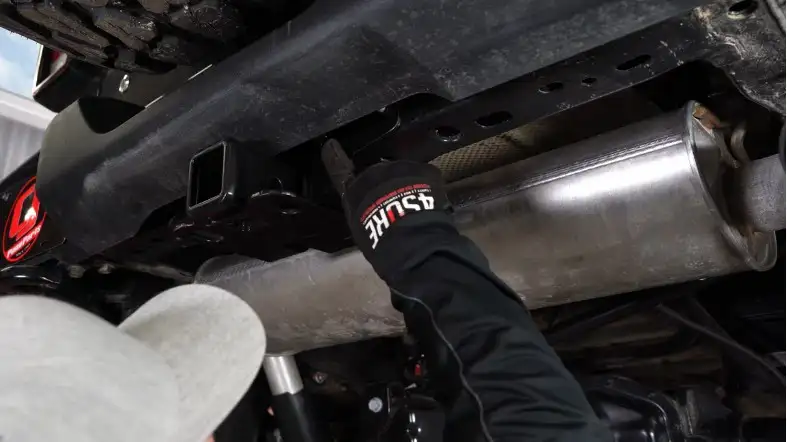 To locate the hitch point, you'll need to look underneath your vehicle and find where the hitch ball would be if it were installed.
Typically, this will be at a height just below or slightly above the bumper of your vehicle.
Once you've determined this height, you can measure from the ground up to that point using a measuring tape or ruler.
Step 3: Measure from The Ground Up
Using a ruler or measuring tape, measure from the ground up to the hitching point on your vehicle.
The appropriate hitching height will usually be 17 inches, depending on your vehicle and trailer type.
Be sure to take into account any suspension changes, such as lift kits or lowering springs that may affect the overall height of your vehicle.
Step 4: Determine The Proper Hitching Height
Using your measurement, it should now be fairly simple to determine the appropriate hitching height for your trailer.
Just make sure that the hitch ball on your trailer corresponds with the hitching point on your vehicle, and you should be good to go.
Step 5: Compare To Trailer Specifications
Once you've measured the hitching height on your vehicle, compare this measurement to the recommended height specified in your trailer's owner's manual or as indicated on the trailer's tongue.
If there is a significant difference between these two heights, you may need to make some adjustments to ensure that your trailer is properly hitched and won't cause any unwanted sway or instability.
For example, you may need to raise or lower the trailer tongue using a jack in order to achieve the ideal hitching height.
At the end of the day, having the proper hitch height is essential for ensuring safe and stable towing with your vehicle and trailer.
Whether you're just starting out with towing or have been doing it for years, knowing how to determine the proper hitching height is an essential skill that can help prevent accidents and keep you and your family safe on the road.
How High Should Trailer Hitches Be Off The Ground?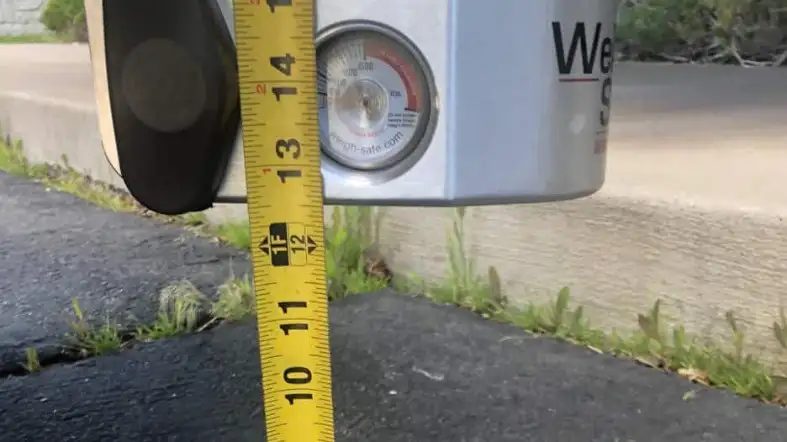 The recommended height for trailer hitches varies depending on a number of factors, including the type of trailer you are towing and the vehicle that is being used.
Generally, most experts recommend that the hitch height should be 17 inches from the ground.
Keep in mind that it is important to measure your trailer hitch height accurately in order to prevent unwanted sway or instability while towing.
You may need to use a jack or other tools to adjust the height of your trailer if it is not properly aligned with the hitching point on your tow vehicle.
How Does Hitch Height Affect Tongue Weight?
Hitch height affects tongue weight because the position of the tow vehicle's hitch will dictate how much weight can be safely applied to the hitch.
Thus how much downward force is exerted on the trailer?
As a general rule, if you raise your hitch, it places more leverage or stress on your setup, which means that you need less tongue weight.
For example, if you raise your hitch 1 inch, that means the downward force from a tongue weight of 10% will be 10 inches multiplied by the amount of leverage.
If you increase your tongue weight to 15%, then your leverage goes down to 7.5 inches (10 divided by 135 percent).
However, if you lower your hitch height too much, then you will run the risk of increased trailer sway, which can be dangerous.
When determining the right hitch height for your setup, it is important to consider both the amount of weight that you will be applying to your setup and also the potential risks of too much or too little tongue weight.
As always, it is best to consult with a professional to ensure that you are choosing the best setup for your specific needs.
Is It Better To Have a Hitch Height Higher Or Lower?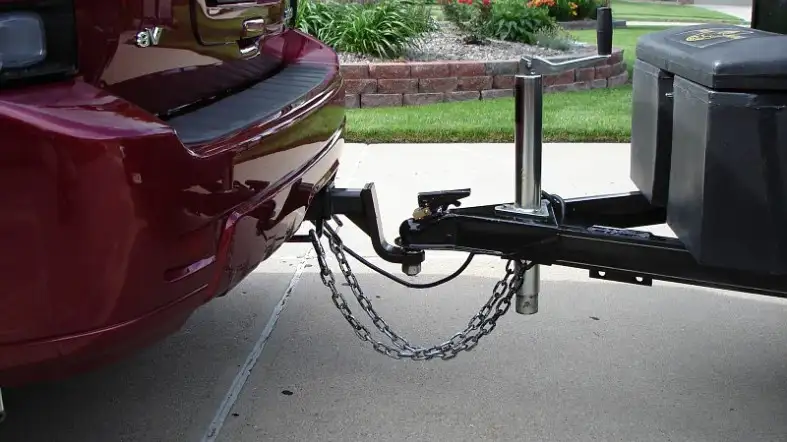 An improperly set hitch will make driving while towing your trailer both difficult and dangerous.
As such, it is important to get your hitch height right.
There are pros and cons to both high and low hitch heights.
A higher hitch puts less stress on the trailer and tow vehicle.
So it may be a better option if you are towing a heavier or larger trailer.
However, too high of a hitch can also increase the risk of trailer sway, which can be dangerous.
On the other hand, a low hitch may help to better distribute weight and improve handling, but it will also put more stress on your tow vehicle and increase the risk of damage to its suspension.
Ultimately, the best option will depend on a number of factors, including the size and weight of your trailer, the type of vehicle you are towing with, and the conditions or terrain in that you will be driving in.
What happens if the Hitch Height is Too Low?
If your hitch height is too low, there are a number of negative consequences that may occur.
When the hitch height is too low and the trailer begins to sway, the truck's body will also begin to move with it.
This can increase the severity of a swaying motion, making it more difficult to regain control.
Additionally, lowering your trailer's hitch height may result in decreased fuel economy as well as increased wear and tear on other components of your truck and trailer.
There are several things you can do to ensure that your hitch height is at a safe and appropriate level.
One option is to consult with an expert who can help you find the right match for your truck and trailer combination.
You can also use technology such as smartphones or GPS devices to measure accurately the distance between your truck and trailer.
Ultimately, it is important to remember that the hitch height can significantly impact the safety and performance of your truck and trailer when you are on the road.
So if you notice any signs of swaying or instability, make sure to take immediate action to correct the issue.
With proper care and maintenance, you can enjoy a smooth and safe driving experience for years to come.
Does A Weight Distribution Hitch Reduce Sway?
Yes, a weight distribution hitch can help reduce sway and improve the stability of your truck and trailer.
This type of hitch is specifically designed to distribute the weight between your truck's front and rear axle, which helps to minimize any instability or side-to-side movement of your vehicle.
In addition to reducing sway, using a weight distribution hitch also helps you to tow more safely and effectively.
It can help your truck and trailer achieve a better center of gravity, which will make it easier to control the vehicle on curves and turns.
It also provides an additional measure of stability when driving in windy or rainy conditions, as well as on rough roads or other challenging driving surfaces.
If you are looking for a way to improve the stability of your truck and trailer, consider investing in a weight distribution hitch.
Not only will it help reduce sway, but it can also make towing safer, easier, and more enjoyable overall.
FAQs on if hitch height affects trailer sway!
Should Trailers Level When Towing?
Before hitching, always ensure your trailer is level.
This will help to minimize any sway or instability while driving, as an unbalanced trailer can easily shift from side to side.
Is Hitch Height Really Necessary?
In most cases, a high hitch height is necessary when towing.
Because a high hitch puts more weight on the back of your truck and trailer, it can help to improve stability and reduce sway.
Is Weight Distribution The Same As Anti Sway?
No, weight distribution and anti-sway are two different things.
Whereas weight distribution is designed to evenly distribute the weight of your truck and trailer between the front and rear axles.
Anti-sway helps to reduce side-to-side movement or instability of your vehicle.
Conclusion
Now you have a better understanding of the hitch height's role in reducing sway and improving stability when towing.
Also, you know that weight distribution and anti-sway are two different features, each with its own unique benefits.
So we hope that you will consider investing in a weight distribution hitch for your truck and trailer, as this can help to improve safety and performance on the road.