Winches have become an essential tool for many off-road enthusiasts, providing a reliable and efficient way to pull heavy loads or vehicles out of difficult situations.
Whether you're into rock crawling, mudding, or any other outdoor adventure, a winch can be a game-changer. But, have you ever wondered if all winches are waterproof?
After all, you're likely to encounter water, mud, and other harsh elements while out in the wilderness.
In this blog post, we'll explore whether all winches are waterproof, and what to look for when choosing a winch that can withstand the elements.
Are all winches waterproof?
No, not all winches are waterproof. Some electric winches are designed to be fully submersible and rated as 100% waterproof with an IP68 rating,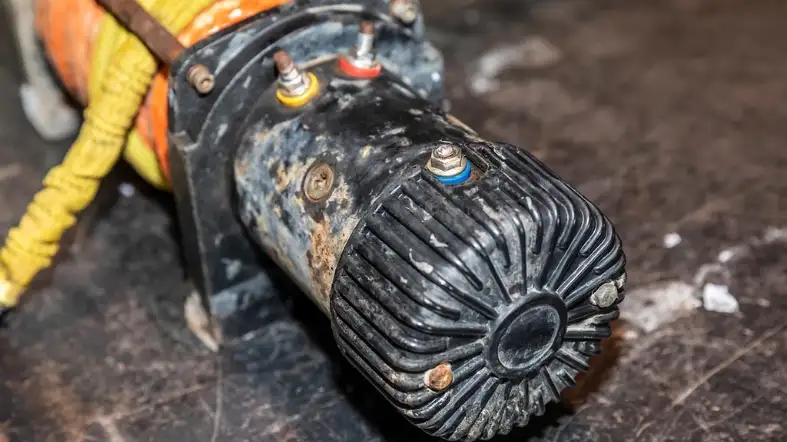 Others are only water-resistant and cannot withstand being fully submerged in water.
Consider the waterproofing rating of a winch when choosing the right one for your needs.
Which Winches Are Waterproof?
When it comes to winches, having a waterproof option can make all the difference in certain situations. Here are some of the top waterproof winch brands to consider:
Badland Winches:
The Badland 3500 and APEX 12000 winches are both fully waterproof and can handle submersion in water.
Mile Marker Winches:
Mile Marker winches are known for their heavy-duty motors and gear sets, and their SEC9.5 ES Waterproof Winch is a popular choice for those in need of a waterproof option.
WARN Winches:
Many of WARN's winches are rated IP68 and are fully waterproof, with models such as ZEON, VRX, AXON, and VR EVO being popular choices.
Smittybilt Winches:
The Smittybilt X2O winch is rated IP68 and features a powerful motor and gear train, making it a great choice for tough situations.
AC-DK Winches:
The AC-DK winches are also fully waterproof and come in various sizes, making them a versatile choice for different needs.
How To Choose a Waterproof Winch?
While not all winches are waterproof, there are several factors to consider when choosing a winch that can withstand exposure to water.
Consider the IP rating:
Winches with a higher IP rating are generally more durable when exposed to water, dust, or other environmental hazards.
A winch's IP rating is an industry-standard measurement of its ability to resist dust and water penetration.
The higher the rating, the better the winch can withstand exposure to environmental factors.
Check product specifications:
Different winch models have different features and capabilities, and some may be designed specifically for water resistance.
For example, the Rugged Ridge Trekker Winch is waterproof and dustproof, while the Warn VR EVO 12 and Smittybilt X20 are also waterproof.
However, some winches may not be designed for water resistance.
So, it's crucial to read the product specifications carefully before purchasing a winch.
Motor power:
Winches with higher motor power are generally more capable and may be better suited for water resistance.
A higher-powered motor can help a winch operate more smoothly under load and provide greater control in challenging conditions.
For instance, the 9,500-pound and 12,000-pound series winches from Warn use a 12V 4.8hp series-wound motor, while the 6,000-pound winch runs on a 3.6hp motor.
Does Water Damage the Winch And How?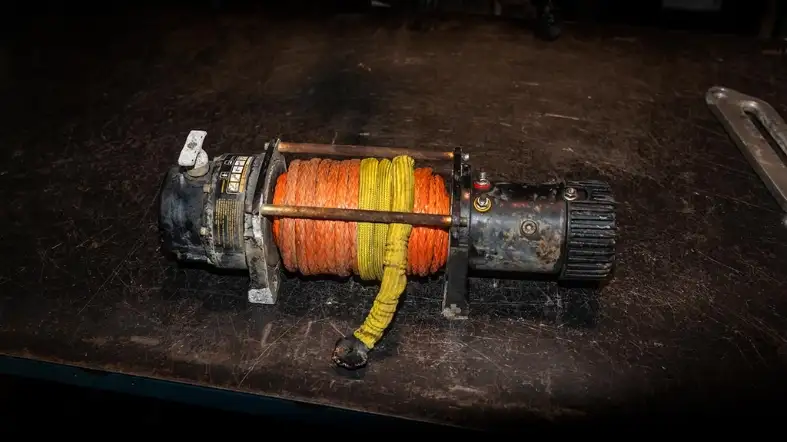 Water can be a winch's worst enemy and cause severe damage to it.
Overheating of the winch brake, sand, and dirt can cut the winch internally, and even UV light can cause damage.
To protect your winch from water damage, it is best to use a sheath that will protect it from debris and sunlight.
Try to avoid putting your winch in water altogether. Don't forget to inspect the winch rope regularly for any damage, such as kinks, slices, or frays.
If there is any damage replace the rope with a new one to avoid any accidents.
How can you confirm that your winch is properly sealed?
Here are some tips for ensuring that your winch is well-sealed and protected:
Check for rubber seals
Check for rubber seals or gaskets between the housing of your winch that open to the outside world.
These seals keep water out and grease in. Make sure they're not pinched and replace them if needed.
Grease the ring gear teeth
Grease the ring gear teeth around the inside of the base of the drum evenly before reassembling your winch.
This provides extra protection to your winch against moisture and debris.
Apply a safe lubricant
Apply a safe lubricant to your winch if necessary, and replace the guard and protector if applicable.
Reattach the winch line to the reel using screws or bolts that are long enough to reach through both holes in the reel.
Cover the reel with a rope protector if applicable. Test the winch line by pulling on it to ensure it is secure.
What Should You Do If Your Winch Gets Wet?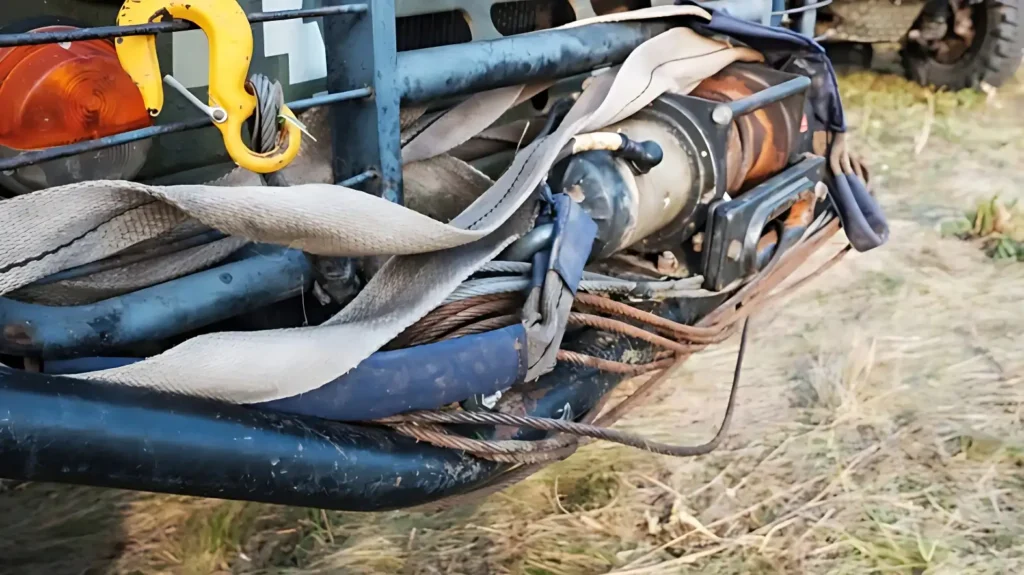 Here is what should you do if your winch gets wet:
Protecting Your Winch from Water Damage
If your winch gets wet, don't panic. The first thing you need to do is dry it off as quickly as possible to prevent any moisture from causing damage.
Also, remember to keep up with regular maintenance to prevent any long-term water damage, such as lubricating all the grease spots and inspecting the bolts, electrical connections, and wire rope for any signs of wear or damage.
Maintaining Your Winch to Prevent Water Damage
If you have a steel wire cable, it's crucial to dry it off as soon as possible too. This will prevent any potential abrasion from happening over time.
Cleaning and Drying Your Winch Rope
If your winch rope is dirty, you can clean it by unspooling it and washing it in a bucket of water with mild detergent.
Then, spool it back onto the drum evenly and under tension.
Protecting Your Winch from Water Damage
Always put safety first when using a winch. Be sure to keep the cable wrapped around the winch drum at least eight times to prevent injury or death.
Additionally, avoid plugging in the remote control cord until you're ready to use it.
For added safety, use a winch line damper and make sure everyone stays a safe distance away during recovery operations.
FAQ
Do I Need A Waterproof Winch?
Yes, if you frequently go off-road in wet areas or through the water.
But even if you don't, normal driving in rain and snow can expose your winch to water, making it essential to have a waterproof winch.
Will A Winch Cable Rust?
Yes, even if the cable looks healthy on the outside, the inner core may be significantly weakened due to rust and corrosion.
This is why it's important to use a dedicated winch cable lubricant that deeply protects the cable from the inside out.
What Makes A Good Winch?
The two most important considerations are the motor's power and the type of cable or rope.
Winches are sold by "load capacity," a unit measured in pounds that denotes the maximum weight that the winch can pull.
Should You Wire A Winch Directly To The Battery?
Yes, it's important to connect the electrical cables directly to the main posts on your battery.
Winches can pull tremendous amounts of power when working under load, so connecting to secondary posts might not be able to handle the amperage. 
It can cause them to burn out and leave you with a dead battery in the middle of nowhere.
Conclusion
As we have discussed, the answer depends on the specific winch model and its intended use.
When it comes to purchasing a winch, it's important to consider the environment in which it will be used.
If you plan to use your winch in wet or damp conditions, then it's crucial to choose a model that is designed to withstand exposure to water and moisture.
However, if you plan to use your winch primarily in dry or mild conditions, then water resistance may not be as critical a factor in your decision.