Have you ever noticed an annoying noise coming from your trailer hitch while driving?
If you're wondering why your trailer hitch makes noise and how to fix it, you've come to the right place.
In this comprehensive guide, we'll explore the various reasons behind the noises, provide practical solutions, and offer tips to prevent future hitch troubles.
Why Does My Trailer Hitch Make Noise?
Trailer hitches often make noise due to friction between the hitch ball and the trailer coupler. This is a natural indication that your weight distribution hitch is functioning correctly.
To reduce noise, consider greasing the hitch ball. Persistent noise might signal regular wear and tear or turning-induced pops.
Common Reasons for Noises in Trailer Hitches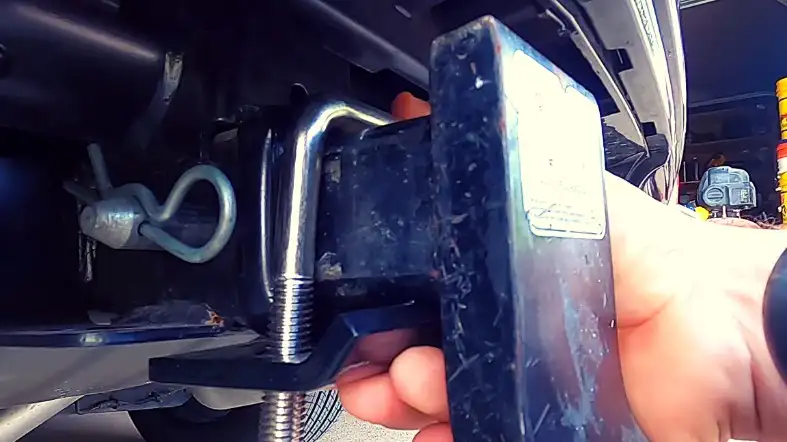 Metal Grinding Sounds
Imagine two hard metal surfaces rubbing together. That's what happens when your hitch ball and trailer coupler make contact, especially over uneven terrain or rocky roads.
This friction creates a grinding noise, a common soundtrack of many trailer journeys.
Steel-on-Steel Friction
You've probably heard a noise that just keeps going. This constant sound is the steel-on-steel friction in your sway control.
It's a good thing! It means your system is doing its job, keeping your trailer stable on the road.
Loud, Excessive Noise
Hearing a really loud noise? Time to check your trailer hitch. The noise could indicate larger parts of the trailer are rubbing or grinding against each other.
This is more than just a noise issue – it could be a sign of bigger problems.
How Do You Stop a Trailer Hitch from Making Noise?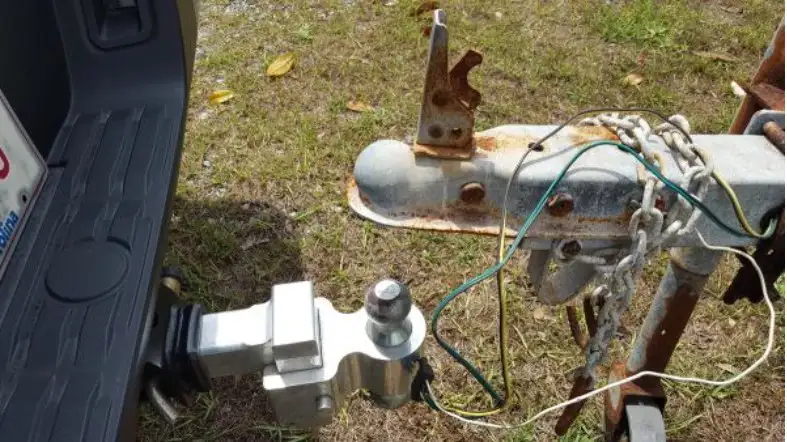 Lubricating the Hitch
Lubrication is the secret weapon against noise. When you apply a lubricant, such as grease or petroleum jelly, on the point where the ball mount and hitch connect, it acts like a buffer.
It reduces the direct contact and friction between these parts. This reduction in friction helps significantly lowering noise levels.
Using a Hitch Stabilizer
A cushion hitch stabilizer is another tool in your noise-fighting arsenal. This device cushions the contact between the hitch parts, minimizing the metal-on-metal rattling.
The stabilizer absorbs the vibrations that cause noise, allowing you a quieter ride.
Greasing the Hitch Ball
Here's a tip: always keep your hitch ball well-greased. This simple act of maintenance can help you avoid friction when covering and uncovering the hitch.
This isn't just about noise reduction – it also extends the life of your hitch ball.
Employing a Hitch Clamp
Do you know what a hitch clamp does? It holds your hitch securely in place, preventing it from rattling around. When the hitch doesn't move unnecessarily, it doesn't make noise. It's as simple as that.
Replace Damaged Or Worn Parts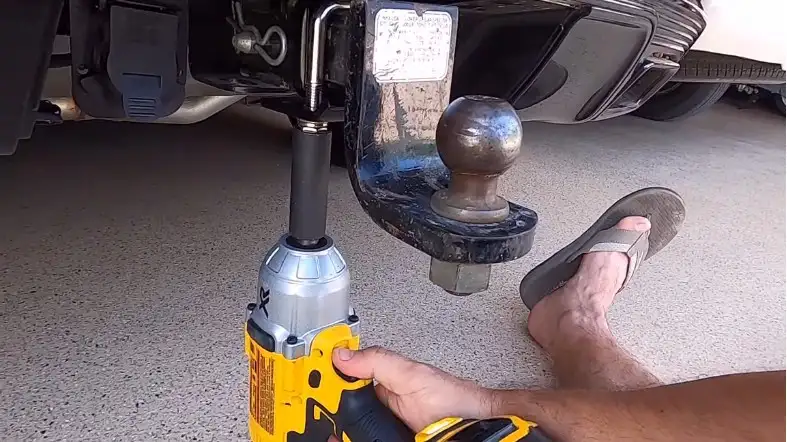 Another way to silence a noisy trailer hitch is to replace any damaged or worn parts. This is especially important if you notice any cracks, chips, or other signs of damage on the hitch ball or coupler.
Any time you replace parts on your trailer hitch, use new, high-quality hardware. This will help to prevent future problems. 
Also, check all the bolts and fasteners to ensure they're properly tightened before hitting the road.
Use Ball Covers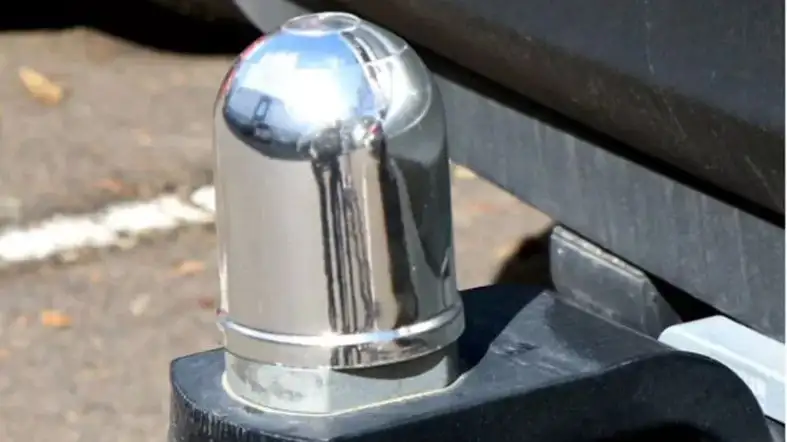 Using ball covers is another option for reducing noise from your trailer hitch. These fit over the hitch ball and can help to reduce rattling and other noise.
Ball covers are available in various materials, so you can choose one that best suits your needs. In addition, some ball covers also come with a built-in grease dispenser.
This can make it easier to keep your hitch lubricated and prevent noise.
So, if you're looking for an easy way to reduce noise from your trailer hitch, consider using a ball cover.
As you can see, there are a few different ways to stop a trailer hitch from making noise.
Whichever method you choose, be sure to check your trailer hitch regularly. This will help you catch any problems early and prevent them from worsening.
Factors That Can Influence Trailer Hitch Noise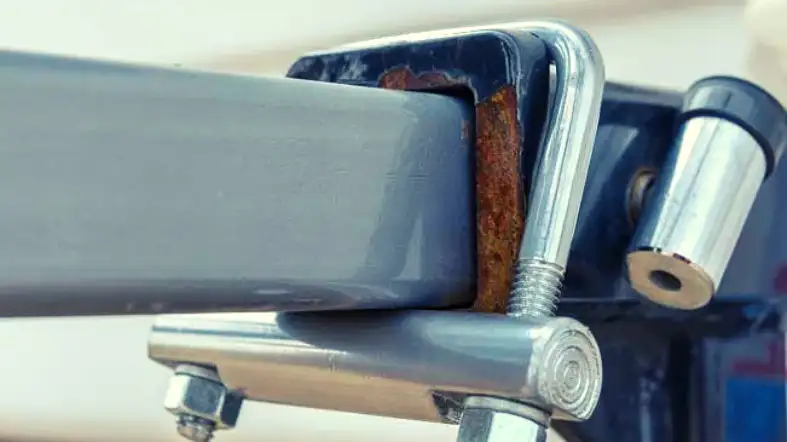 Trailer Suspension
The suspension of your trailer plays a significant role in generating noise. A well-maintained suspension system ensures a smoother ride and reduces the chances of noisy rattling and clattering sounds.
Over time, the trailer's suspension components may wear out or become loose, leading to increased vibrations and noise.
Regularly inspect and service your trailer's suspension to keep it in optimal condition and minimize noise during towing.
Loose Items on the Trailer
Do you hear things moving around inside your trailer while driving? Loose items on the trailer can cause noise as they shift during transit.
Before hitting the road, double-check that all cargo and belongings inside the trailer are securely fastened. Consider using straps, bungee cords, or cargo nets to hold items in place.
By ensuring everything is properly secured, you can significantly reduce the rattling and thumping noises caused by loose items.
Exhaust Rattling
It's not uncommon for the exhaust system to rattle against the trailer hitch, especially during bumpy rides or when the exhaust is improperly positioned.
This contact between the exhaust and the hitch can result in irritating metal-on-metal noises. To address this issue, inspect the exhaust system and hitch alignment.
Make necessary adjustments or add rubber isolators to create a buffer between the exhaust and hitch, effectively reducing rattling noises.
Popping Noises from Weight Distribution Hitch
If you're using a weight distribution hitch, you may experience popping noises during sharp turns or sudden stops. These noises are typically normal and result from the weight distribution system working as intended.
The weight distribution hitch helps evenly distribute the load between the trailer and the towing vehicle, ensuring better stability and control during towing.
While the popping noises might sound concerning, they don't indicate any underlying issues with your hitch or towing setup.
Loose Ball Mount
A loose ball mount can lead to bouncing and noise while towing. The ball mount is the component that attaches to the hitch receiver and holds the trailer's coupler.
If the ball mount is not securely tightened, it can create rattling and clanking sounds as the trailer moves.
To prevent this, always ensure the ball mount is tightly fastened to the hitch receiver before setting off on your journey.
Tips to Prevent Trailer Hitch Noise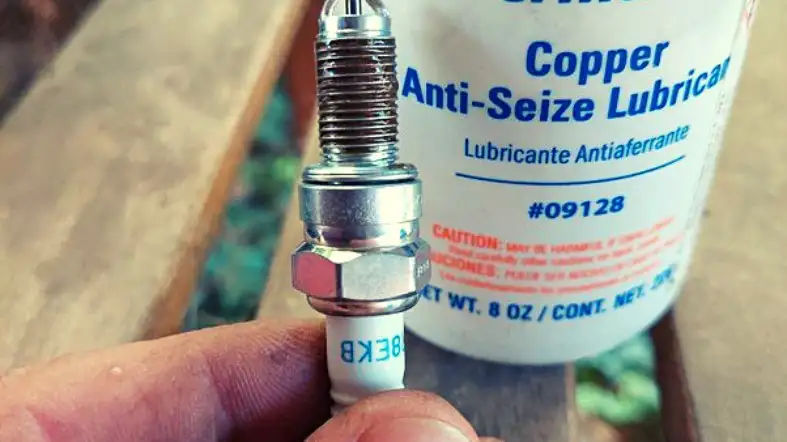 Proper Load Distribution
Proper load distribution in your trailer is essential to prevent excessive bouncing and noise. When loading your trailer, evenly distribute the weight to maintain proper balance.
Concentrate heavier items closer to the trailer's axle and distribute weight evenly from side to side. This balanced load will reduce noise and enhance stability and control while towing.
Check Tire Pressure
Inadequate tire pressure can exacerbate trailer noise and negatively affect overall towing performance.
Regularly inspect the trailer tires and ensure they are inflated to the recommended pressure levels. Proper tire pressure will reduce noise, enhance fuel efficiency, and extend tire lifespan.
Suspension Ratings
Ensure your trailer's suspension is suitable for the load you're towing. Different trailers have specific suspension ratings based on their weight-carrying capacity.
Exceeding the suspension's weight limits can lead to excessive noise and potential damage to the suspension components.
Consult your trailer's manufacturer or a qualified professional to ensure that your suspension is appropriate for your towing needs.
Weight Distribution Hitch
Consider using a weight distribution hitch if you frequently experience noise issues while towing.
A weight distribution hitch redistributes the weight between the trailer and the towing vehicle, effectively levelling the trailer and enhancing towing stability.
This improved weight distribution reduces noise and vibrations, providing a smoother and quieter towing experience.
Anti-Rattle Stabilizers
Anti-rattle stabilizers are handy accessories that eliminate rocking, wobbling, and jerking caused by loose hitches.
These stabilizers use wedges or tension mechanisms to secure the hitch tightly to the receiver, preventing unnecessary movement and noise.
Invest in a good-quality anti-rattle stabilizer to enjoy a quieter and more pleasant towing experience.
FAQs on how to stop a trailer hitch from making noise
Should You Lubricate A Trailer Hitch?
Although it is not necessary, we recommend greasing your trailer hitch ball.
Greasing the trailer hitch ball will keep it from losing its shape and also prevent irritating squeaks.
Do I Need To Replace My Trailer Hitch?
If your trailer hitch is damaged or worn, it is best to replace it.
This is especially important if you notice any cracks, chips, or other signs of damage on the hitch ball or coupler.
How Often Should I Check My Trailer Hitch?
You should check your trailer hitch regularly to ensure that it is in good condition.
This will help you to catch any problems early and prevent them from getting worse.
Also, make sure to check all the bolts to ensure they are tight.
Can I Use Soap And Wax To Lubricate My Trailer Hitch?
Soap and wax can be used to lubricate your trailer hitch, but it is not as effective as using grease.
This method will create a barrier between the two parts, helping to reduce noise.
Final Thoughts
We hope this article was helpful in teaching you how to stop a trailer hitch from making noise.
Also, be sure to check your trailer hitch regularly to ensure that it is in good condition.
Now you can hit the open road without worrying about that annoying noise.