Looking for a professional tow hitch installation service but don't know who installs trailer hitches?
Fortunately, there are plenty of reliable and reputed shops from which you can get services.
Though they will cost a few bucks, ensure the accurate installation of the compatible trailer hitch using all the required hardware.
In this article, we've discussed 7 well-known trailer hitch installers who are commonly available across the nation and provide satisfied customer service at affordable prices.
Who installs trailer hitches?
Though installing a trailer hitch on a towing vehicle is quite easy, it can be intimidating or complicated for some vehicle owners.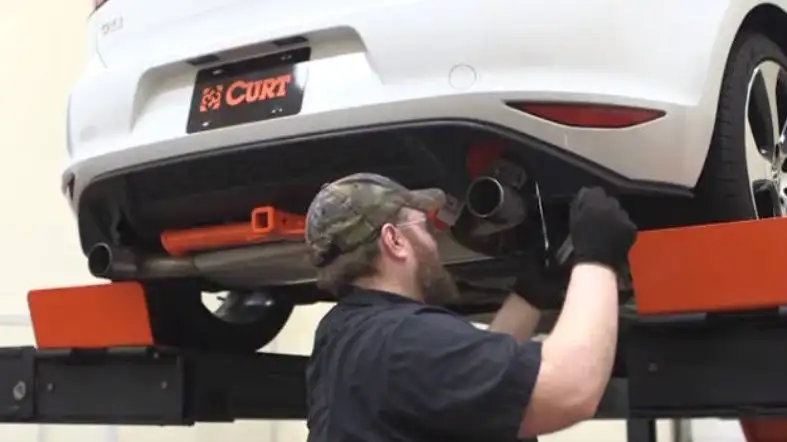 As a result, they require professional assistance to ensure a safe and secure installation.
In this case, you can go to the nearest auto repair shop to get this service.
But if you desire quality and precise service, below are some well-known and reliable trailer hitch installers:
U-Haul
U-Haul has over 1500 branches across the nation to provide hitch installation services.
U-Haul charges around $100 to $600 for hitch installation services, depending on the individual part and availability, and the online pricing tool does not include installation services.
However, the company offers a lifetime warranty to replace the hitch regardless of the amount of damage.
It means the company will replace the hitch if it suffers contortion, collision, jackknifing, or accidental overload.
The trailer hitch installer shop also makes it highly convenient to check the availability of a compatible trailer hitch simply by using the vehicle's year, zip code, make, model, and installation date.
With a combination of precise professional service, reliable warranty plans, and convenient location options, U-Haul is a perfect place to take the towing vehicle and come back with a hitch installed.
Amazon Home Services
If you don't want to drive long and seeking a local professional shop, try this Amazon Home Services.
They usually connect customer who is searching for professional trailer hitch installation services with expert installers in their local area.
Their service includes verifying hitch attachment and vehicle tow rating, mounting a customer-provided hitch, drilling holes into the vehicle frame, and cleaning up.
However, the customer needs to supply the bolts, nuts, and mounting hardware required to install.
The installation service also doesn't cover the wiring. Another limitation is that their service is available in only certain cities.
Pep Boys
Pep Boys also has numerous branches across the nation, making it easier for anyone to get their professional hitch installation service.
Apart from providing trailer hitch installation, they also provide all towing and trailer-related services.
The company also provides a guideline to help the user pick the compatible hitch for their vehicle.
However, their services vary from location to location.
So you should call them before visiting to make sure you go to the right store to get the desired trailer hitch installation service.
It also needs to enter the vehicle's year, make, model, and year when setting up the appointment.
At some point, the customer must choose the required service, provide contact information, and choose a date and time for installation.
In terms of reputation, Pep Boys gets average feedback on trailer hitch installation service but provides quite satisfying customer service.
Hitch King
Hitch King provides a range of trailer hitches and parts for various sorts of vehicles and has been servicing New Yorkers for over 50 years.
If you are a busy customer and need same-day service, visit the Hitch King, as they even respond to last-minute requests.
Even they have a reputation for providing installation service within 30 minutes.
Apart from providing trailer hitch installation service, Hitch King also delivers sales, rental, repair, and snow plowing services to customers.
Furthermore, they are known as Hitch Pro because of their precise and impressive customer service.
The Hitch King also keeps around 99% of parts in stock to deliver time and money-saving service.
To allow for the hauling of heavier loads, the company offers a fifth wheel hitch installation service, making it the perfect place for the above-average cargo business.
The company also gets an average rating from its customers due to its quick and quality service.
So if you live in the New York area and are looking for a reliable trailer hitch installation service, you can try this option.
You can also contact Hitch King at (516) 888-3663 to get a free estimate on service.
AutoZone
Another reputable and trustworthy company for professional trailer hitch installation services is AutoZone.
The company has over 6700 stores across the United States, Brazil, and Mexico to offer various services.
Along with hitch installation service, they also provide a wide range of services, including free diagnostics and troubleshooting.
So if you want to save up to eight hours on installing your trailer hitch while getting precise and professional service from an expert mechanic, you can depend on them.
Etrailer.com
Etrailer.com also provides trailer hitch installation service to the customer's doorstep.
The company has over 72 years of experience in installing a huge number of services and gets a five star rating in most cases.
The company offers custom-fit trailer hitches for over 3100 vehicles of various sizes, along with information on towing capacity, the installation process, and customer reviews.
At the lowest price, the company offers guaranteed quality trailer hitches and vehicle accessories, as well as a professional installer, making it an all-in-one trailer hitch solution.
With a combination of excellent customer service and a larger product selection, trailer.com may be the best place to have the trailer hitch installed.
So whether you need a local hitch trailer installer or an online service, do a little bit of research on their official website to get the best option.
Hope you'll find the best solution to get the desired customer service within your time and budget.
Master hitch
Master Hitch is a committed company with a complete towing solution.
This company has been servicing the Houston area for around 20 years and has a second location in spring, TX.
So, if you are living in these areas or nearby, you can take their service to install your trailer hitch.
The brand offers an optimum level of service along with the highest quality product, including Warn, Draw Tite, Weather Guard, and Ranch Hand.
The master hitch also offers the answer to all commercial and recreational trailer towing questions as well as the solution to trailer towing and various auto accessory requirements.
So whether you need the installation service of a trailer hitch, other truck accessories, or trailer repair service, you can visit their store.
Due to the company's satisfying and quality customer service, most of the customers give it 5-star reviews.
Things To Know Before Higher A Trailer Hitch Installer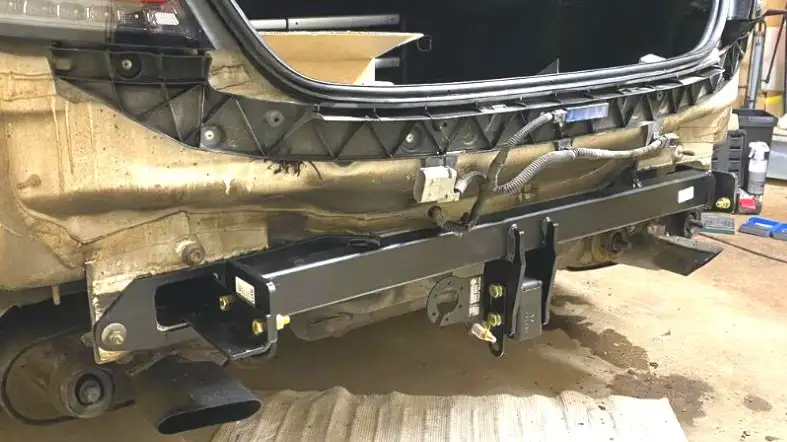 You can use the services of either of those trailer hitch installers to get your job done quite efficiently and precisely.
Hitches are typically classified into five classes based on their towing capacity; the higher the capacity, the higher the class.
Class I trailer hitches, for example, can tow a smaller trailer weighing up to 2000 pounds, whereas class V trailer hitches can tow up to 20000 pounds, making them ideal for towing heavy equipment and larger campers.
Trailer hitch installation involves a few considerations, including the make and model of the vehicle, the desired amount of weight to tow, and the compatibility of the vehicle with the hitch.
It's pretty easy to decide where to go, particularly after knowing who installs trailer hitches.
Still, it can be tiresome to find the right hitches installer if your trailer hitch installation is complicated.
The reason is that the mechanics you'll hire should know about parts like goosenecks and wheel hinges.
How Much Does Professional Trailer Hitch Installation Cost?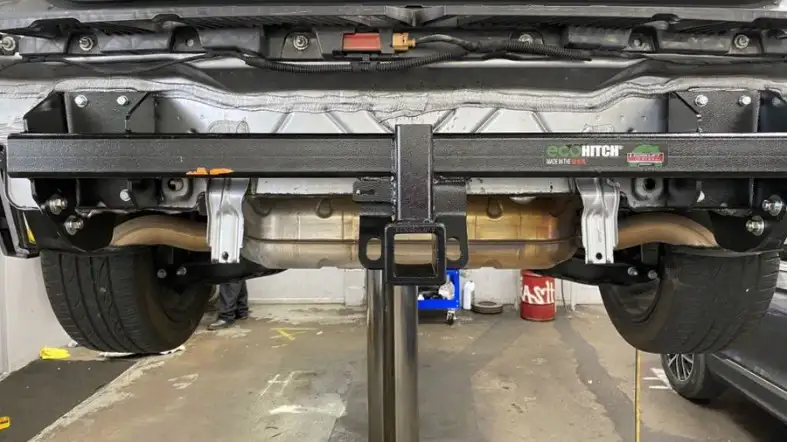 In short, the cost of installing a trailer hitch by a professional varies based on the make and model of the vehicle, the type of hitch, and the required amount of elbow grease during the installation.
Some vehicles, for example, have drill-free installation, whereas others require drilling holes to accommodate trailer hitches.
On average, the installation cost of a trailer hitch ranges from $100 to $800.
In addition, you'll need to buy the trailer hitch and other accessories separately, which will cost another $150–$500.
Specifically, installing class 1 to 4 hitches can cost around $175 to $375, which can go up to $650 for a fifth wheel hitch.
Including the cost of the trailer hitch, you can expect to charge $300 to $850 for class 1 to 4 hitches and around $1200 for the fifth wheel hitch.
Some professional mechanics also charge an hourly rate to install trailer hitches, which is around $50 to $225 per hour.
Cost of Various Trailer Hitch Parts
Though the exact price of the tow hitch part keeps changing, the following are some average price ranges for certain equipment to help you arrange your budget:
Trailer hitch receiver: $150 for a class 1 hitch and $1,200 for a fifth wheel hitch.
Towing drawbar: $45 to $85
Wiring harness: $15 to $55
Receiver tube cover: $10 to $20
Services Include Professional Tow Hitch Installation
Professional tow hitch installers are a one-stop shop for getting all the services and suggestions related to trailer hitch installation.
The services you can get from professionals are:
Check and confirm the compatibility of the hitch with a certain vehicle.
Install hitch precisely and quickly.
Test and review tow hitch safety post-installation.
More importantly, hiring a professional to install a trailer hitch ensures that the hitch is installed safely and correctly the first time.
Hence, you can confidently haul your ATVs and boat during long trips without worrying about coming unhitched.
What To Consider Before Hiring A Trailer Hitch Installer?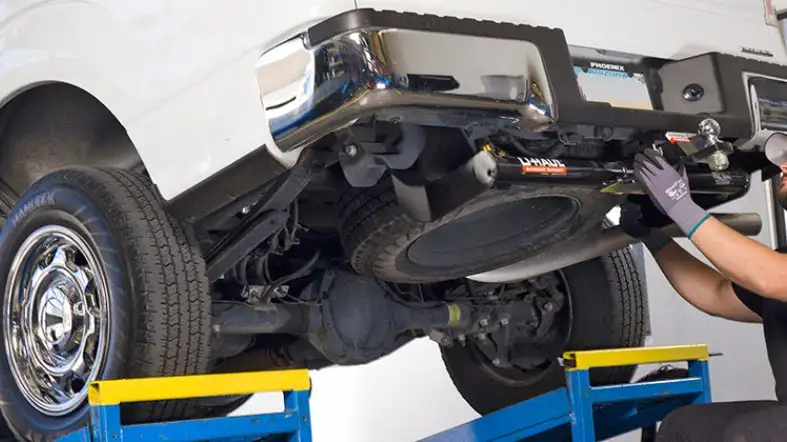 Since you have numerous options to pick from to install a trailer hitch, you might wonder where to go and how to choose the right shop.
Following are some useful tips to help you decide on the perfect trailer hitch installer to hire:
Make sure the installer you are choosing has proper training and experience in a certain job. In this case, you can research the mechanic's or company's customers' feedback to get an idea.
The installer should perform enough safety inspections before starting the installation process. This way, you'll have a precisely and securely installed trailer hitch.
Ask the installer or shop for a warranty if anything goes wrong during or after setup. Most of the reputed tow hitch installers provide limited warranties, and dealing with them will boost your confidence and help you get the most out of your money.
Picking the trailer hitch installer based on those considerations will help you get reliable and satisfying service.
Can You Install a Tow Hitch Yourself?
Of course, even many vehicles prefer to install their trailer hitch on their own to save money and time by not visiting an installer shop.
In this case, they take the aid of YouTube tutorials or manual instructions that come with a certain product.
However, installing a tow hitch requires some skill, and you should have the necessary equipment to make the job done safely and accurately.
Installing a tow hitch on its own can take around two to eight hours, depending on the skill of the DIYer.
So you can only save driving time compared to the installation by a professional.
In addition, the installation process can be more complicated for certain models than others, which can make the job tiresome.
Another thing to consider is that wiring and connecting the trailer's turn signals and brake lights to the vehicle can be more challenging than your expectations.
So you can go ahead and install a trailer hitch in your garage if you have enough skill.
Otherwise, don't feel nervous about getting the help of a professional installer, even if it costs a few bucks.
Frequently asked questions
How To Know If The Trailer Hitch Is Installed Properly?
A professional installer always guarantees proper hitch installation.
However, you should check the hitch and trailer for wear and any sign of damage before installation.
In addition, make sure all the parts are mounted and tightened properly after installation.
Is It Easy To Install A Trailer Hitch?
Installing a trailer hitch to the vehicle's bottom rear isn't difficult, especially if you've done it before. However, it may take a couple of hours to mount the hitch.
In addition, if your vehicle has enough clearance, you can reach underneath it without elevating it for convenient and efficient operation.
Does Walmart Install Trailer Hitches?
Unfortunately, Walmart doesn't install a trailer hitch.
Instead, they sell all the essential equipment required to install a trailer hitch.
So you can buy the trailer-required equipment at Walmart and install it yourself or hire a professional.
Final Words
Hope you understand who installs trailer hitches and where to go to get the job done safely and conveniently.
Hiring a trailer hitch from a professional installer is a great way to get a perfect installation and haul large items confidently in the long run.
Since there are plenty of options to choose from, do some research in terms of charge, available location, reputation, and customer feedback to get service from the right shop.