The size of drop hitch you need depends on the weight of your trailer, the application you are using it for, and the frame of your vehicle.
The correct size you need can vary significantly between vehicles and trailers, so it is important to determine what size will work best for your specific setup.
This article is aimed at helping you determine the optimal size of the drop hitch.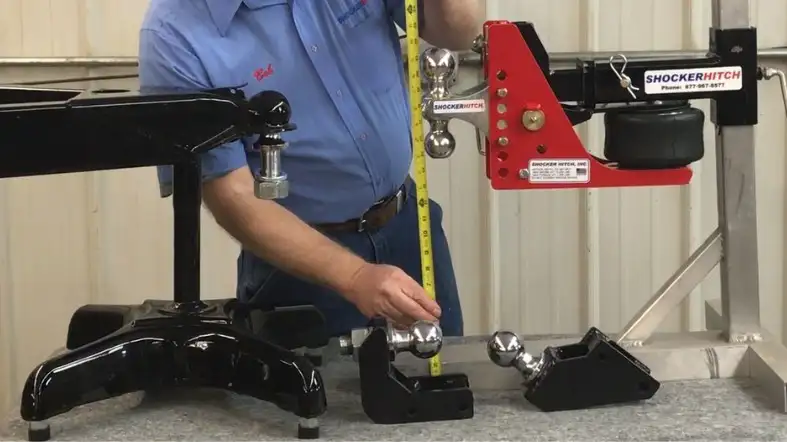 What Size Drop Hitch Do I Need?
In general, the drop hitch size you need depends on the lift size of your car, the size of the tires, and the length of the vehicle.
For a 2-inch lift, the proper drop hitch size is 2-3 inches; for a 3-inch lift, the proper size is 3-4 inches; for a 4-inch lift, the proper size is 4-7 inches; for a 6-inch lift, the proper size is 8-10 inches; and for a 7-inch lift, the proper size is 9-12 inches.
To make it simpler for you, we have a chart for you:
| Lift Size | Drop hitch size |
| --- | --- |
| 2 inches lift | 2-3 inches |
| 3 inches lift | 3-4 inches |
| 4 inches lift | 4-7 inches |
| 6 inches lift | 8-10 inches |
| 7 inches lift | 9-12 inches |
What does a drop hitch do?
A drop hitch is a piece of equipment that lets you adjust the trailer height.
So, you can use it to bring the hitch to a level that suits your need.
These hitches can thus drive the trailer more smoothly by making adjustments to the height, which will allow it to be level with the ground.
It is generally employed in situations when one needs to pull a trailer that has a shorter bed than their own vehicle.
When does this happen?
Well, imagine having a longer vehicle.
You may face this while hauling by a truck or SUV.
They always stand bigger and the thing you are towing ends up with a smaller bed.
When properly attached, the drop hitch removes any possibility of the vehicle being unstable while being driven.
It maintains a solid grip on the trailer.
This helps you by preventing any drooping in the back of the car as a result of its presence.
You will be able to fit the height requirements of your trailer if you choose a hitch that is of the appropriate size.
In fact, in order to provide the vehicle with an additional degree of steadiness, these hitches opt for another safety move.
You will frequently see a steel tube installed below these hitches.
The tube is secured using bolts.
Thus, you get added stability.
What size drop hitch do I need for a 2 inch lift?
For a 2-inch lift, you will frequently need a 3-inch drop hitch.
It need not be any bigger than this.
Usually, for this limited lift, there is no stock lift.
But, if there is any, it won't be more than 1 inch.
So, in that case, a 2-inch drop hitch will get the job done for you.
Yes, having a stock lift, decreases the size of the drop hitch.
However, consider the tire size a must.
Having larger tires will always increase the size of the drop hitch.
So, even for a 2-inch drop, and much larger tires, you may need a 4-inch drop hitch.
What size drop hitch do I need for a 3 inch lift?
You will either need 3 inches or 4 inches drop hitch for a 3-inch lift.
If we assume that there is no stock lift, a 4-inch drop is enough.
In case, there is a 1-inch stock lift, you will need a 3-inch drop hitch.
Again, we have measured this based on estimation.
So, there is always a possibility that you have larger tires.
The bigger the size of the tires, the bigger the drop hitch size gets.
It is a pure and simple guide for properly sizing a drop hitch.
What size drop hitch do I need for a 4 inch lift?
For a 4-inch life, considering the tires to be of normal size, a 6-inch drop is ideal.
However, in most cases, you may find a stock lift with the tires for a 4-inch lift.
So, it will decrease the size of the drop hitch.
Based on estimation, you may need either a 5-inch or 4-inch drop hitch.
As the tires get bigger, there may also be a need for a bigger drop hitch as well.
Thus, we have to opt for a bigger drop-hitch.
For instance, a 7-inch drop hitch.
What size drop hitch do I need for a 6-inch lift?
A 6-inch lift is very common nowadays.
So, a better understating is necessary here.
Let's say you have a 6-inch lift whereas the tires are 35 inches.
Now, let's assume that there is a 2-inch stock lift in your vehicle.
So, if your vehicle has a standard lift of 2 inches, then you will likely require a drop hitch of 8 inches.
If, there is no stock lift.
You will have to increase the drop hitch size further.
For the same effect, you will now have to expand your drop hitch to 10 inches.
However, taking the necessary measurements is essential before making any purchases.
What size drop hitch do I need for a 7 inch lift?
Ideally, considering the standard tire size and a stock lift, you will need a 9-inch drop-hitch.
This is the minimum size of a drop-hitch for a 7-inch lift.
For bigger tires, the requirement will increase gradually.
So, it is safe to go for a drop hitch that is adjustable and goes up to 11-12 inches.
What Are The Different Types Of Drop Hitches?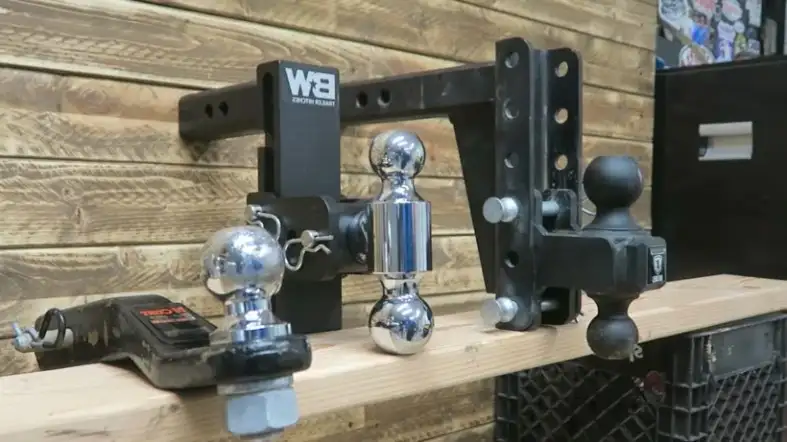 There are many different types of drop hitches available, each with its own unique set of benefits.
Some of the most common include adjustable or fixed-length hitches that can be used for a variety of different vehicles and applications.
Standard Drop Hitch
A standard drop hitch is the most common type of drop hitch.
Standard drop hitches have a ball mount that is attached to the trailer tongue and a receiver that is mounted on the vehicle.
The receiver is typically lower than the ball mount, which allows the trailer to be level with the vehicle.
Weight Distribution Drop Hitch
A weight distribution drop hitch is similar to a standard drop hitch, but it also has a weight distribution system that helps to distribute the weight of the trailer evenly across the axle of the vehicle.
This type of hitch is typically used for heavier trailers, such as RVs or campers.
Gooseneck Drop Hitch
A gooseneck drop hitch is designed for use with gooseneck trailers, which are trailers that have a coupler that attaches to the bed of a pickup truck.
The gooseneck drop hitch also allows for a greater range of motion and stability when towing, making it a popular choice for those who frequently haul heavy loads.
What are drop hitch's uses for?
Drop hitches are used to adjust the height of a trailer or other towed vehicle in order to make it level with the towing vehicle.
They used for:
To Lower The Height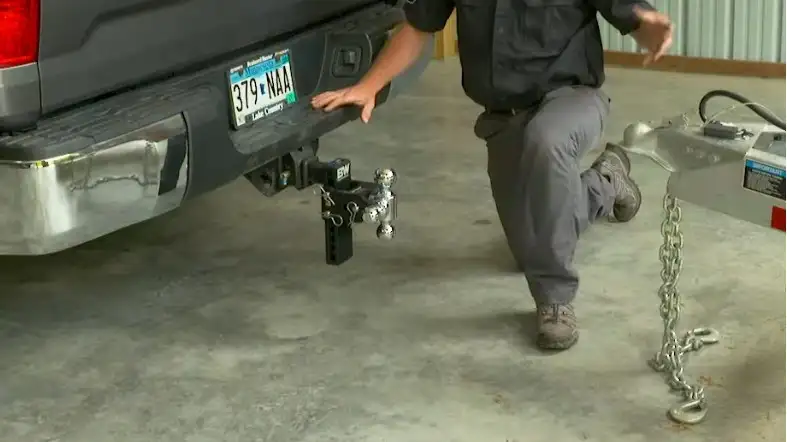 A drop hitch is a type of trailer hitch that is used to lower the height of a trailer.
This can be useful when trying to tow a trailer with a vehicle that has limited ground clearance, such as a sports car.
To level out
A drop hitch can also be used to level out a trailer that is not level with the ground.
This can be helpful in preventing the trailer from rocking back and forth while being towed.
For conjunction
Drop hitches are also often used in conjunction with weight distribution hitches.
Weight distribution hitches are used to distribute the weight of the trailer evenly across the axle of the tow vehicle.
This can help to prevent the vehicle from becoming overloaded on one side, which can cause problems with steering and braking.
To make storing easier
Drop hitches can simply be used to lower the overall height of the trailer, making it easier to store or transport.
This can be especially helpful if you have a tall trailer that does not fit in your garage or storage shed.
Why is it necessary to have a drop hitch when towing?
The primary reason why one will want a drop hitch is straightforward yet significant.
Put simply, you need one to maintain the level of the trailer while it is linked to the car that you will be using to pull it.
When we speak of a trailer being completely level, we are referring to the situation in which the trailer is sitting precisely horizontally.
On the other hand, when a truck or car is connected to a trailer, the front end of the trailer may lean either upwards or downwards depending on the weight of the vehicle.
This is referred to as an unlevel trailer.
Driving a trailer that has been set up in such a way that it is absolutely level and upright is much safer.
The safety measure is not just for you but also for your fellow automobiles that are driving on the road.
The flexibility of drop hitches:
There are a lot of drop hitch receivers that can be installed into a conventional receiver aperture.
Also, there are some drop hitches that you will find fixed to the tow bar.
So, the design affects how much vertical height you will get using the drop hitch.
The design of the drop hitch will decide the range of heights that it is capable of adjusting for.
Yet, a drop hitch may provide you with at least 2 inches of vertical height. On the other hand, a maximum of 12 inches is very much possible.
A fixed drop hitch will allow you to lower or raise your trailer by a predetermined amount.
You cannot go beyond this. However, it should be sufficient for your needs if you have done the math correctly.
If the allowable drop corresponds to the right vertical adjustment, you are in good luck.
So, having an adjustable drop hitch is the ideal option. Having a drop hitch receiver that is adjustable in height is a good idea if you want to pull many trailers.
Each of the trailers may have a different height. But you don't have to worry. Why? Because you have got an adjustable drop hitch.
Tips For Using A Drop Hitch Safely And Efficiently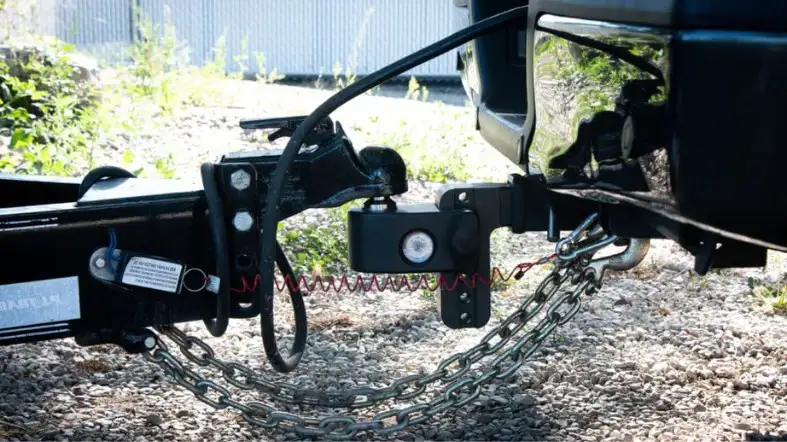 Using a drop hitch can be a bit tricky, especially if you are not familiar with it.
Here are some tips to help you get the most out of your drop hitch and use it safely and efficiently:
Make sure that you are using a solid and properly installed hitch system.
Always be aware of your vehicle's weight limits, and avoid exceeding them when towing or hauling heavy loads.
Ensure that the drop length of your hitch is appropriate for your needs, taking into account both the weight of the load you are carrying and the size of your vehicle.
Always use proper safety equipment, such as safety chains or cables, to help prevent accidents and injuries while using a drop hitch.
Always check your equipment regularly for any signs of wear or damage, and take it in for repairs if necessary.
Maintaining your drop hitch properly will help keep you and others safe on the road.
FAQs about the size of the drop hitch:
Can You Flip A Drop Hitch For A Rise?
To flip it in the rising position, you just need to rotate it 180 degrees.
The towing capacity will be the same as it will drop in the same position.
Does A Drop Hitch Affect Tongue Weight?
Yes, a drop hitch can affect tongue weight.
This is because the length of your drop portion will actually change your vehicle's towing capacity and sway control, and can cause issues with your vehicle's weight distribution.
Generally, the longer your drop hitch is, the greater effect it will have on tongue weight.
Is Adjustable Drop Hitches Good?
Adjustable drop hitches allow one tow vehicle to haul many trailers.
So, among the numerous useful innovations in the towing market, adjustable drop hitches stand out.
How Do I Know If The Drop Hitch Is Compatible With My Car?
The first step to finding the right size drop hitch is to check the dimensions of your vehicle.
You will need to look at either the owner's manual or the vehicle's specifications to determine the correct drop length that you need for your car.
Final Words:
So, based on this all-inclusive guide, chose the drop size and corresponding lift wisely.
The utmost consideration should always be given to the tire size and the stock lift.
As you have seen, these two elements affect the drop hitch more than anything.
Hope the article helps you with what size drop hitch you need.
For any further concerns, we are only a comment away.