Moving to a new home can be a big and often overwhelming undertaking, especially when it comes to figuring out the best way to transport your belongings.
Whether you choose to use a traditional moving company or a portable storage unit like PODS, there are pros and cons to both options.
At the end of the day, the best choice for you will depend on your individual needs and priorities.
So let's take a closer look at both options and weigh the pros and cons to help you make an informed decision.
PODS or Moving Company: What's the Best Option for Your Move?
When it comes to moving, there are a lot of factors to consider – budget, convenience, and the level of service, just to name a few. Here's a quick rundown of the pros and cons of each option.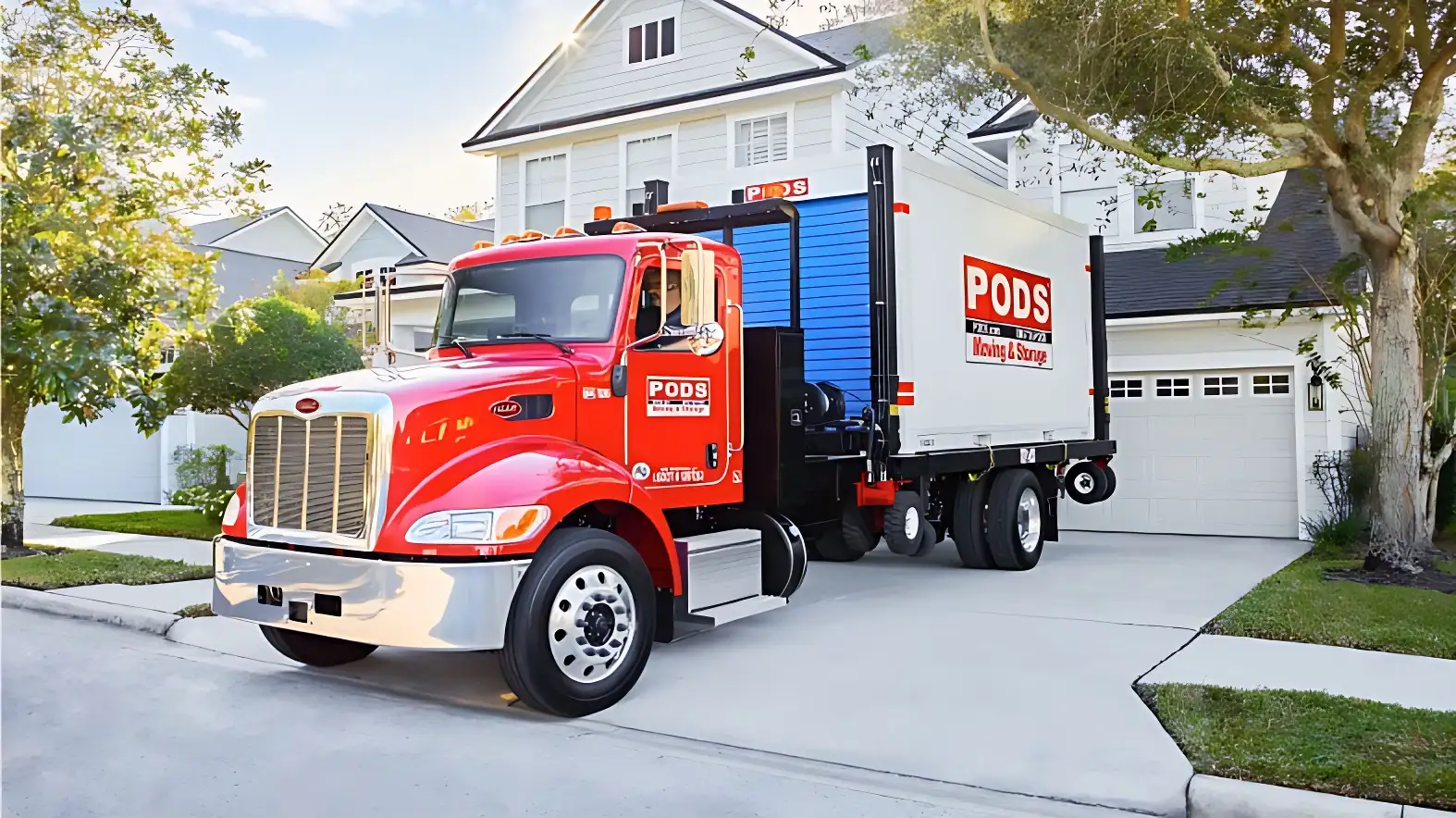 Pros of Hiring a Moving Company
Ease and Convenience:
With a professional moving company, you can sit back and relax while they take care of the heavy lifting. They'll handle the transportation of your belongings and ensure that everything is properly packed and loaded onto the truck.
White-Glove Treatment:
When you work with a moving company, you'll get VIP treatment for your belongings. The movers will take extra care to ensure that all your items are protected during transport.
Protection for Your Belongings:
With a moving company, you'll have peace of mind knowing that your belongings are protected by valuation coverage. If anything is damaged or goes missing, you'll be reimbursed.
The Cons Of Using Pods
Availability Limited to Certain Areas:
Unfortunately, PODS may not be an option for everyone, as it may not be available in your area.
Can be More Expensive Than Moving Companies:
While PODS can be a cost-effective option, in some cases, it may be more expensive than a traditional moving company.
Restrictions by Homeowners Associations:
If you live in a community with a homeowners association, be aware that there may be restrictions on the usage of PODS containers. So check with your HOA before making a decision.
Limited PODS Availability:
If PODS is in high demand in your area, you may have to wait for a container to become available, which could impact your timeline and overall flexibility during the moving process.
Advantages of using PODS:
Cost-effectiveness:
Renting a moving container from PODS is usually more cost-effective than hiring a professional moving company.
Reduced damage risk:
With PODS, your items are only loaded and unloaded once, reducing the risk of breakage compared to full-service movers.
Flexibility:
PODS provides more flexible time frames compared to hiring a professional moving company, allowing you to pack and unpack at your own pace.
Long-term storage options:
They offer long-term storage options in climate-controlled facilities with 24/7 security, which is not available with all self-service moving companies.
Disadvantages of Hiring a Professional Moving Company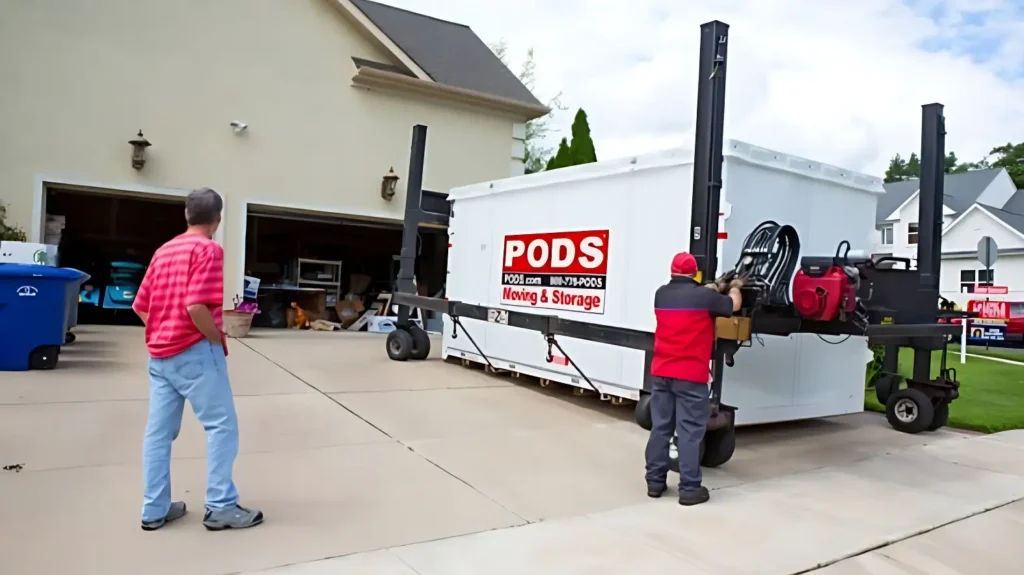 Limited Availability for Last-Minute Moves:
If you need to move quickly, a professional moving company may not be able to accommodate your needs. As they may have a full schedule and limited availability for last-minute moves.
Additional Charges for Stairs or Long-Distance Moves:
You should prepare for additional charges, such as for stairs or long-distance moves.Because professional movers may charge extra for these services.
Required Deposit:
Many moving companies require a deposit to secure your move, so have the budget for this upfront expense.
Reputation is Key:
Finding a reputable and trustworthy mover can be a challenge. Take the time to do your research, read reviews, and check for licensing and insurance before making a decision.
Cost Comparison Between PODS And Moving Company
Using PODS for a local move can cost between $350 and $550, while long-distance moves can cost between $500 and $7,000.
On the other hand, the cost of hiring a professional moving company varies depending on the size of the move and the services you require.
Besides, PODS offers several advantages over rental truck companies like U-Haul.
For instance, PODS does all the driving, saving you rental, fuel, and insurance costs, as well as the stress of driving a large truck.
The good news is PODS has become more affordable in recent years, with its pricing now about 2% below the industry average.
What Are The Best PODS And Moving Companies to Look For?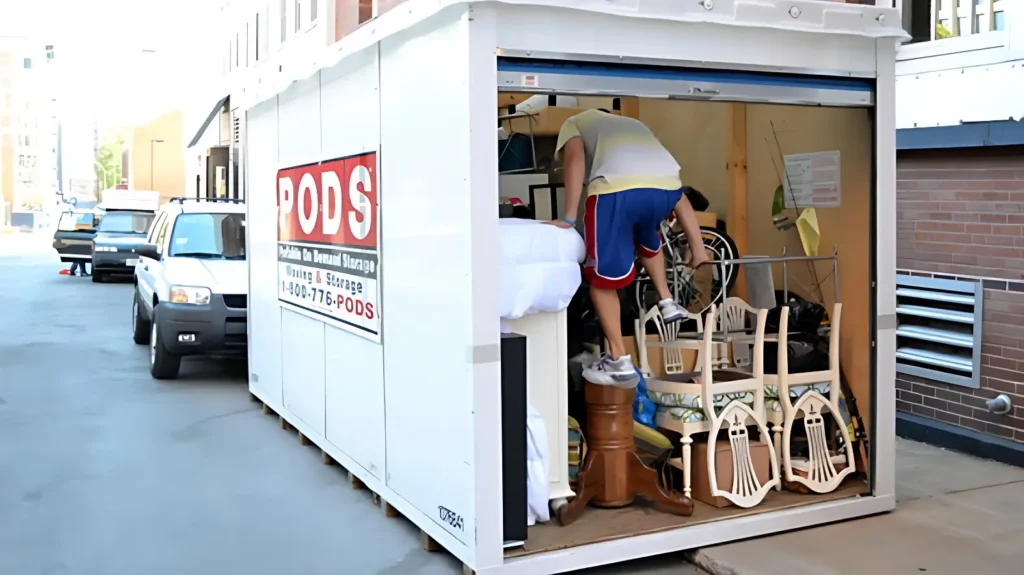 Before you choose between PODS and a moving company check out these options.
Thus you will have a clear idea about their features, facilities, prices, and other requirements.
PODS: The All-Around Leader
Strong and Durable Containers
Weather-Resistant Siding
Nationwide Availability
PODS stands out for its strong and durable containers that are designed to withstand the elements and keep your belongings safe during a move.
With weather-resistant siding and ground-level access, PODS is a popular choice for those looking for a hassle-free move.
They are available in 44 states and Washington, D.C. making them a nationwide option.
1-800-PACK-RAT: The Budget-Friendly Option
Excellent Customer Reviews
Competitive Pricing
Price Matching Guarantee
1-800-PACK-RAT offers a budget-friendly solution for those looking for an affordable moving container option.
With strong containers and excellent customer reviews, you can be sure that your belongings are in good hands.
They even offer a price-matching guarantee, ensuring that you'll get the best deal possible.
U-Box from U-Haul: The Affordable Option
Nationwide Availability
Affordable Moving and Storage Containers
Can Hold up to 2,000 Pounds of Belongings
U-Box from U-Haul offers nationwide availability for its affordable moving and storage containers.
With a size that can hold up to 2,000 pounds of belongings, they are a great option for those who need a bit more space.
Zippy Shell: The City-to-City Solution
Low Prices
Best for City-to-City Moves
Zippy Shell is the best option for those making a city-to-city move.
They are known for their low prices and are an excellent option for those who are on a budget.
U-Pack: The Large Move Specialist
Excellent Customer Reviews
Best for Large Moves
Offers Most Container Options
U-Pack is the best option for those making a large move.
With excellent customer reviews, U-Pack offers a stress-free moving experience and a variety of container options to choose from.
SMARTBOX Portable Storage: The Price-Matching Champion
Best for Price-Matching
Small Containers Best for One-Bedroom Apartments or College Rooms
SMARTBOX Portable Storage is the best option for those looking for a price-matching solution.
Their containers are usually small and best-suitable for a one-bedroom apartment or college room.
FAQ
Is It More Cost-Effective To Use PODS Or A Moving Company?
Again, it depends on various factors such as the distance of your move, the number of belongings you have, and the services you require.
It's best to compare quotes from both PODS and moving companies to determine the most cost-effective option for you.
Will My Belongings Be Better Protected With PODS Or A Moving Company?
Both PODS containers and moving trucks have been designed to protect your belongings during transit.
However, a moving company may offer additional protection options such as full-value protection, which covers the replacement cost of any damaged or lost items.
Is It Easier To Track My Belongings During The Move With PODS Or A Moving Company?
A moving company will usually provide you with a tracking number so you can keep track of your belongings throughout the move.
With PODS, you have the added convenience of being able to access your container at any time, giving you complete visibility into the location and condition of your belongings.
Are There Any Restrictions On What I Can Move With PODS Or A Moving Company?
Both PODS and moving companies have restrictions on what can be transported, such as hazardous materials and perishable items.
Be sure to check the restrictions before making your final decision.
What Kind Of Services Do PODS And Moving Companies Offer For Long-Distance Moves?
PODS offers long-distance moving options with their nationwide network of locations while moving companies usually offer full-service long-distance moves with door-to-door service.
Wrap Up
Both options have their own unique advantages and disadvantages.
PODS offer the convenience of storage at the individual's location, flexibility in terms of time, and a more hands-on approach to the moving process.
On the other hand, traditional moving companies typically offer more comprehensive services, such as packing, loading, and unpacking.
They often have a greater level of expertise in handling and transporting household items.
Based on these considerations, one can make an informed decision and choose the option that best fits their individual needs.