Are you eagerly waiting for your latest Etsy purchase to arrive, but starting to wonder just how long it's going to take?
With so many factors affecting delivery times, it can be hard to know what to expect. But fear not, dear reader!
In this blog, we'll dive into the ins and outs of Etsy shipping and delivery, so you can get a better idea of when your precious package will finally arrive at your doorstep.
How long does Etsy take to deliver?
Depending on the customer's chosen service, Etsy forecasts 3 to 7 business days for domestic deliveries and 10 to 30 working days for international shipments.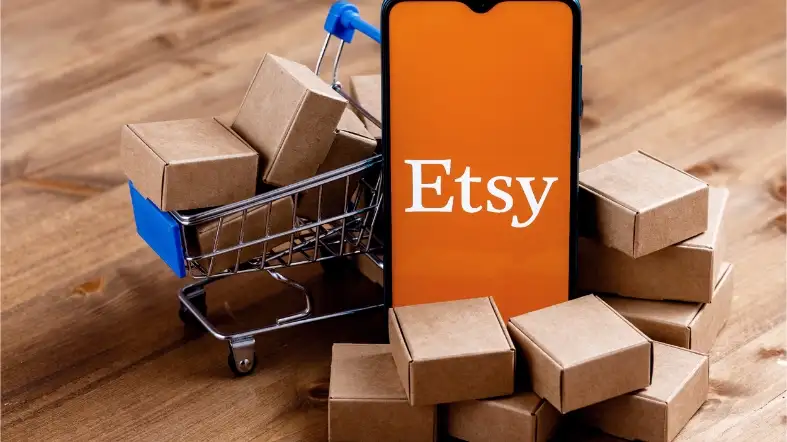 However, a number of factors affect carrier transit time, including Shipping timeframes that differ depending on the courier service.
What are Etsy Shipping Policies?
Etsy is an online marketplace where independent sellers can list and sell their products.
Because each seller has their own shop and shipping policies, delivery times can vary depending on the seller you're purchasing from.
To understand how long it might take for your order to arrive, it's important to check the shipping policies of each seller you're considering buying from.
Factors That Affect Etsy Delivery Times
There are many factors that can affect Etsy delivery times, from shipping carriers to order volume.
Here, we'll explore the various factors that can impact Etsy delivery times and offer tips for ensuring prompt and reliable delivery.
1. Shipping Carrier
The shipping carrier you choose can have a significant impact on your Etsy delivery times.
Some carriers may offer faster shipping speeds than others, while others may have more affordable rates.
Moreover, some carriers may be better suited for certain types of products or shipping destinations, so be sure to consider these factors as well.
2. Shipping Method
The shipping method you choose can also impact your Etsy delivery times. Some methods, such as expedited shipping, may be faster but also more expensive.
Others, such as standard shipping, may be more affordable but take longer to arrive.
It's important to consider your customer's needs and preferences when choosing a shipping method.
3. Order Volume
The volume of orders you receive can also impact your Etsy delivery times.
If you're experiencing a high volume of orders, it may take longer to process and ship each one.
This can lead to longer delivery times and frustrated customers. To avoid this, consider hiring additional staff or outsourcing some of your order fulfillment tasks.
4. Product Type
The type of product you're shipping can also impact your Etsy delivery times.
Some products may be more complex to package and ship, while others may require special handling or packaging materials.
Be sure to factor in these considerations when estimating your delivery times.
5. Product Availability
If you're selling a product that is made to order, the availability of materials and production time can impact your Etsy delivery times.
Be sure to communicate clearly with your customers about your production times and any potential delays.
6. Shipping Location
The shipping location can also impact your Etsy delivery times. Shipping within the same country is typically faster and more affordable than shipping internationally.
Additionally, some remote or rural locations may have longer delivery times due to limited transportation options.
7. Customs and Duties
If you're shipping internationally, customs and duties can impact your Etsy delivery times.
These fees can add to the additional processing time and may delay delivery to your customers.
Be sure to research the customs and duties requirements for each country you're shipping to and factor these into your delivery estimates.
8. Weather and Natural Disasters
Weather and natural disasters can also impact your Etsy delivery times.
Severe weather conditions, such as snowstorms or hurricanes, can cause delays or even cancelations of shipping services.
Natural disasters such as earthquakes or floods can damage transportation infrastructure and disrupt delivery services.
9. Holidays and Peak Seasons
Holidays and peak seasons can also impact your Etsy delivery times.
During these times, shipping carriers may experience higher than usual volumes of packages, leading to longer delivery times.
10. Communication with Customers
Finally, communication with your customers can play a crucial role in ensuring timely and reliable Etsy delivery times.
If delays occur, communicate with your customers as soon as possible and offer solutions to minimize any inconvenience.
How to Check Your Etsy Order Status?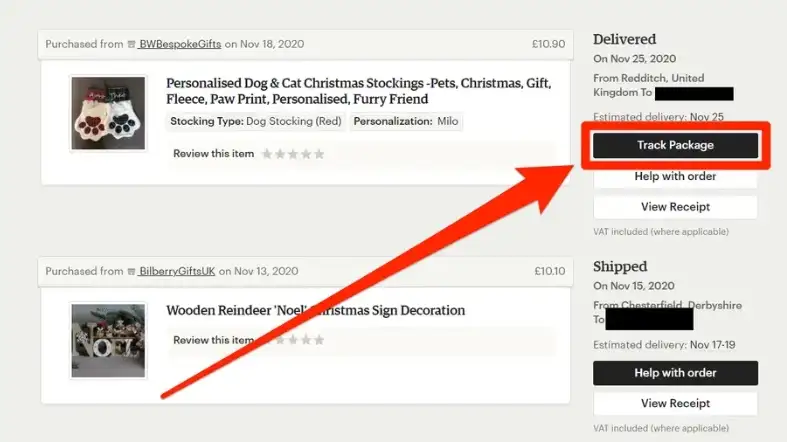 Whether you're eagerly anticipating a package or just curious about its whereabouts, tracking your order is an essential part of the shopping experience.
We'll go over everything you need to know about checking your Etsy order status, from navigating the Etsy website to understanding common order statuses.
1. Log into Your Etsy Account
To check your Etsy order status, you'll need to log into your account on the Etsy website.
If you haven't already created an account, you'll need to do so before you can place an order.
2. Navigate to Your Orders Page
Once you're logged in, navigate to your orders page by clicking on your profile icon and selecting "Purchases and Reviews."
Here, you'll see a list of all your past and current orders.
3. Locate Your Order
Scroll through your orders until you find the one you want to check the status of. You can use the search bar to filter your orders by keywords, item name, or seller name.
4. Check the Order Status
Once you've located your order, you'll see its current status listed next to the item name. There are several common order statuses on Etsy, including:
Processing: This means the seller has received your order and is preparing to ship it.
Shipped: This means the seller has shipped your order and it's on its way to you.
Delivered: This means the package has been delivered to its destination.
Canceled: This means the order has been canceled by either the seller or buyer.
5. Click on the Order for More Details
To see more information about your order, click on its name or photo.
Here, you'll be able to see the tracking information, shipping address, and any messages between you and the seller.
6. Contact the Seller for More Information
If you have any questions about your order status, you can contact the seller by clicking on the "Contact Shop Owner" button on their shop page or by messaging them through the order page.
How to Get Faster Etsy Delivery?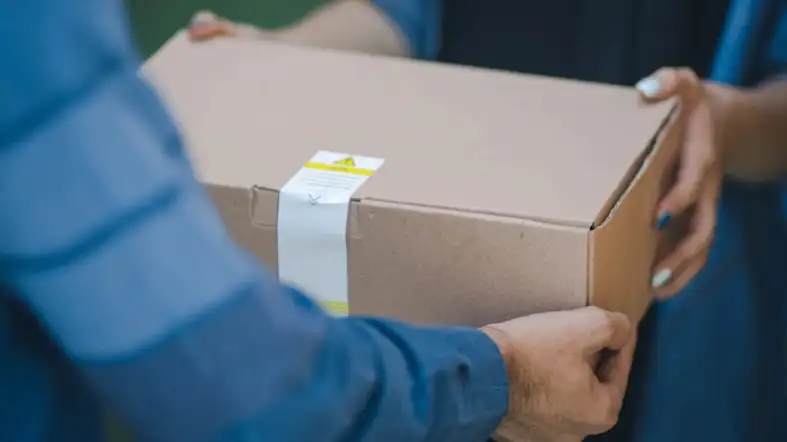 If you're an Etsy seller, you know that fast delivery is a crucial aspect of customer satisfaction.
It's no secret that shoppers expect to receive their items as soon as possible.
So, how can you make sure that you provide fast Etsy delivery without sacrificing quality?
We'll discuss some practical steps that you can take to speed up your delivery time and keep your customers happy.
1. Offer Expedited Shipping
The first and most obvious step to faster Etsy delivery is to offer expedited shipping.
By offering faster shipping options, you can satisfy customers who need their items quickly. You can set up expedited shipping options through your Etsy shop settings.
2. Use a Shipping Service
Using a shipping service can also help you speed up your delivery time.
By using a shipping service, you can take advantage of their resources and expertise to get your items to customers faster.
There are many shipping services to choose from, so make sure to do your research and find one that suits your needs and budget.
3. Print Shipping Labels Online
Printing shipping labels online can save you time and streamline your shipping process.
Many shipping services offer online label printing, which allows you to print labels from the comfort of your own home or office.
This can save you the time and hassle of having to go to the post office to purchase and print labels.
4. Package Your Items Efficiently
Efficient packaging can also help you speed up your delivery time.
Make sure to package your items securely and efficiently to avoid any delays or damage during transit.
You can also use packaging materials that are lightweight and easy to handle, which can help reduce shipping costs and speed up delivery times.
5. Use Tracking Information
Using tracking information can help you keep track of your shipments and ensure that they arrive on time.
Many shipping services offer tracking information, which allows you to monitor the progress of your shipments and receive notifications when they've been delivered.
6. Communicate with Customers
Communication is key to providing fast and efficient delivery. Make sure to keep your customers informed about the status of their orders and any delays that may occur.
You can also provide tracking information and updates through your Etsy shop or email.
7. Consider Dropshipping
Dropshipping can also be a viable option for faster Etsy delivery.
By using a dropshipping service, you can have your items shipped directly from your supplier to your customers, which can save you time and streamline your shipping process.
8. Offer Local Pickup
Offering local pickup can be a great option for customers who live nearby and need their items quickly.
By offering local pickup, you can eliminate shipping times and provide a more convenient option for your customers.
9. Plan Ahead
Finally, it's important to plan ahead when it comes to shipping. Make sure to factor in shipping times and delays when setting delivery expectations with your customers.
You can also plan ahead by ordering packaging materials and shipping supplies in advance.

FAQs
Can I Track My Etsy Order During Shipping?
Yes! Once your order has been shipped, you should receive a tracking number that you can use to follow its progress.
Keep in mind, though, that some sellers may not offer to track their shipments.
What If My Etsy Order Doesn't Arrive Within The Estimated Delivery Time?
If your order doesn't arrive within the estimated delivery time, you should reach out to the seller to inquire about its status.
They may be able to provide you with more information about the shipment, or they may offer to send a replacement or issue a refund.
Can I Request Expedited Shipping For My Etsy Order?
It depends on the seller. Some sellers may offer expedited shipping options, while others may not.
If you need your order to arrive by a specific date, be sure to check with the seller before placing your order to see what shipping options are available.
Q: What If I Need To Return My Etsy Order?
Each seller on Etsy has their own return policy, so it's important to review the policy before making a purchase.
If you need to return an item, you should reach out to the seller to inquire about the process.
In most cases, you'll need to return the item in its original condition within a certain timeframe in order to receive a refund.
Conclusion
The delivery times on Etsy can vary depending on several factors.
The processing time for each item, the shipping destination, and the shipping method all play a role in how long it will take for your package to arrive.
While some sellers offer expedited shipping options, others may take longer to process and ship out their orders.
It's always a good idea to check the estimated delivery date before making a purchase to ensure it will arrive in time for your needs.
It's important to keep in mind that international shipping can take significantly longer than domestic shipping, so if you're ordering from a seller outside your country, be sure to account for the extra time.
Overall, while there's no guaranteed delivery time on Etsy, most sellers do their best to get your items to you as quickly as possible.
Just be sure to read the shipping policies and estimated delivery dates before making a purchase to avoid any surprises.