When you are towing a heavy load, any sudden movement can cause your trailer or camper to sway.
This can be dangerous and even cause the load to come loose.
To avoid this, many people use an anti sway hitch.
But how does anti sway hitch work?
And is it really necessary?
How Does Anti Sway Hitch Work?
Anti sway hitches work by applying a counteracting force to the trailer.
It helps to keep it in line with the tow vehicle and prevent it from swaying or rocking from side to side.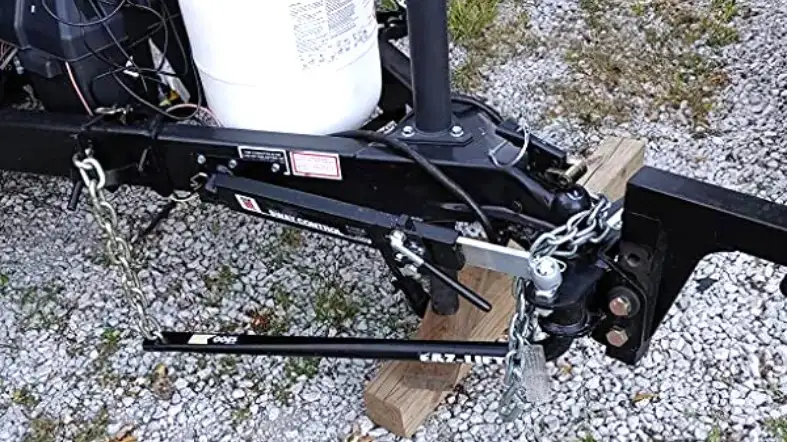 Here is how an anti sway hitch works:
1. The anti sway hitch is attached to the trailer hitch of the tow vehicle and the trailer hitch of the trailer.
The hitch consists of a bar with adjustable arms on each end that is connected to the trailer hitch and the tow vehicle hitch.
2. As the trailer begins to sway or rock from side to side, the anti sway hitch senses the movement and applies a counteracting force to the trailer.
This force helps to keep the trailer in line with the tow vehicle and prevents it from swaying or rocking excessively.
3. The amount of counteracting force applied by the anti sway hitch can be adjusted based on the weight and size of the trailer, as well as the road conditions and other factors.
This allows the anti sway hitch to provide the right amount of stability and control for each towing situation.
4. The anti sway hitch also helps to distribute the weight of the trailer more evenly across the tow vehicle and the trailer.
It can improve fuel efficiency and reduce wear and tear on the suspension and tires.
5. In some cases, the anti sway hitch may also include additional features such as a weight distribution system or a sway control system.
It can further enhance stability and control while towing.
How To Hook Up Your Anti Sway Hitch For Your Travel Trailer?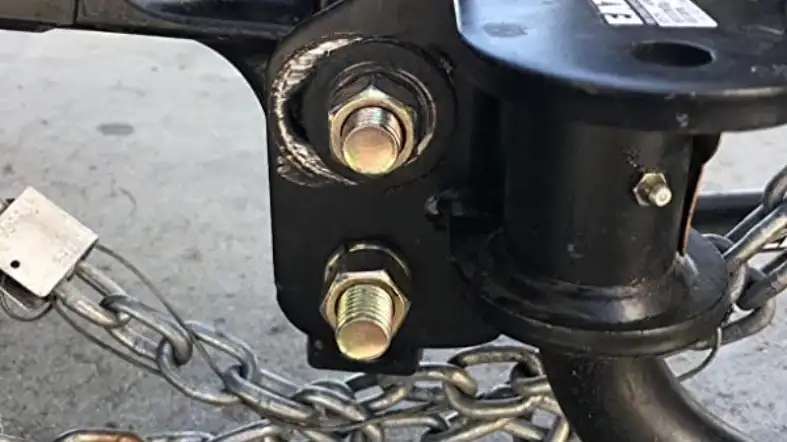 It is not hard to hook up your anti-sway hitch for your travel trailer. Here is a guide that will help you do so:
Step 1: Attach the Hitch Head to the Trailer
First, attach the hitch head to your trailer receiver.
You need to make sure that it is in proper alignment and securely attached so that you do not have any problems during travel on the road.
Step 2: Hook up your Safety Chains and Breakaway Cable
Next, hook up your safety chains and breakaway cable.
Again, you need to be sure that the connections are securely made so that there is no risk of anything falling off during travel.
This will also help ensure that you have a safe and smooth ride.
Step 3: Attach Your Anti Sway Device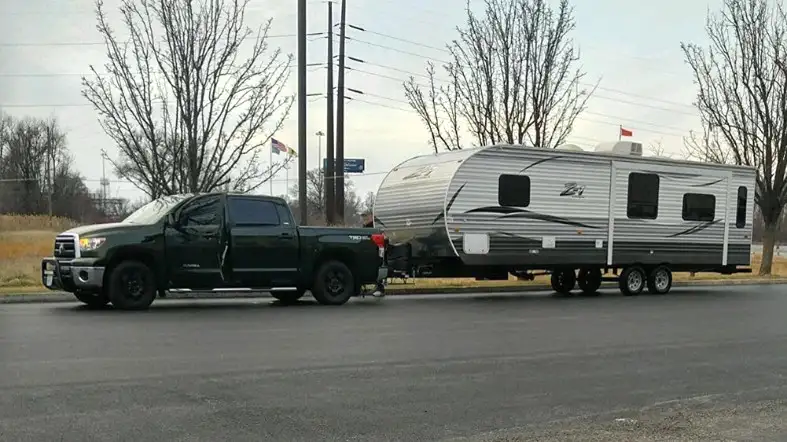 When you are ready to attach your anti sway device, you need to make sure that it is securely fastened.
You will also want to double-check the locking mechanism so that it is not loose and can provide the support that you need on the road.
Step 4: Check and Adjust Your Tension Settings
Once everything is attached, test to make sure that the anti sway hitch is working properly by slowly backing up the trailer to see if there are any signs of swaying.
Be sure to read the manufacturer's instructions on how to hook up your anti sway hitch so you can be sure that you are doing it correctly.
It should only take a few minutes to properly attach everything and you will be on your way in no time.
So if you are planning a trip with your travel trailer, be sure to install an anti sway hitch today.
It will help keep your vehicle and trailer stable on the road and will give you increased peace of mind while you're traveling with your family.
Benefits Of Using An Anti Sway Hitch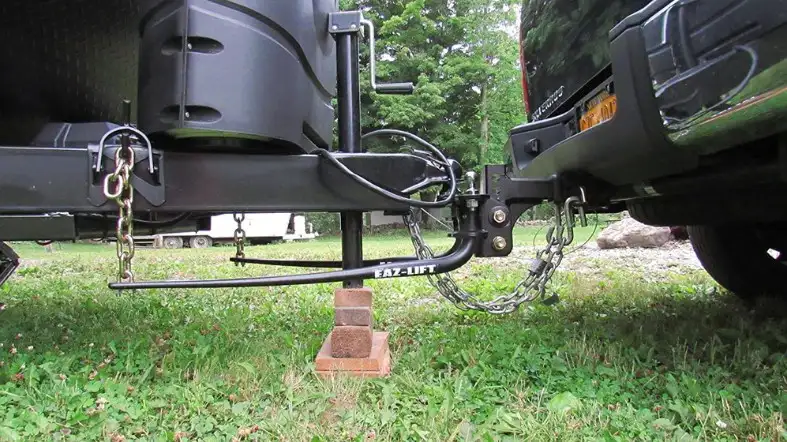 There are many reasons why people choose to purchase anti sway hitches for their trucks.
Below we will give some benefits of using an anti sway hitch.
Improved safety and Control
An anti sway hitch helps to keep your truck steady on the road, providing greater control and stability in windy or uneven conditions.
This is especially important when hauling heavy cargo or towing trailers.
Also, since the anti sway hitch helps to keep your truck upright, it can help reduce the risk of accidents and other safety issues on the road.
Improved Handling and Performance
Anti sway hitches also work to improve your truck's handling, making it easier for you to navigate turns and changes in traffic or weather conditions.
This will help ensure that you can drive safely and effectively on any type of road or terrain.
Reduced wear and tear on your Vehicle
Because an anti-sway hitch helps eliminate jerking and swaying while you are driving, it helps to reduce stress on your vehicle's suspension and steering components.
This can prolong the lifespan of your truck and help save you money on costly repairs over time.
Convenience and Comfort
Finally, anti sway hitches are designed to be easy and quick to install.
So you can get on the road more quickly without having to worry about your trailer moving around or becoming unbalanced.
And with less movement from your trailer, you will also enjoy greater comfort while you are driving, without the constant swaying and jolting.
Overall, there are many benefits to using an anti sway hitch for your truck.
Is Anti Sway The Same As Weight Distribution?
No, they are not the same.
An anti sway is a tool that reduces trailer sway while weight distribution is a system that evenly distributes a load of your trailer onto your tow vehicle's axles.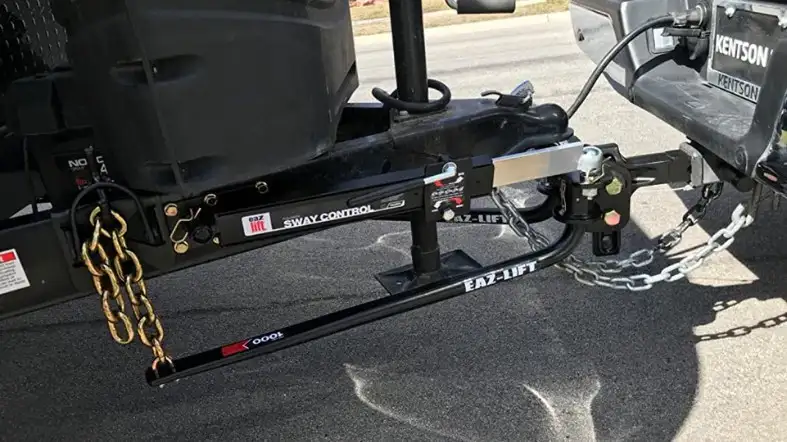 Anti-sways work by reducing the amount of stress and tension placed on your trailer's tires, keeping them more stable as you travel down the road.
This helps to prevent swaying, which can be dangerous and even cause accidents if left unchecked.
Weight distribution systems work by distributing the weight of your trailer more evenly across your tow vehicle's axles.
This ensures that you have enough traction and balance on each axle as you travel, helping to maintain control over your entire rig.
While both anti sway and weight distribution tools can be effective in reducing sway, they each have their own specific benefits.
If you are looking for a tool that will help keep your trailer stable while you drive, then an anti sway system is probably the best option for you.
However, if you want to make sure that your entire tow vehicle is balanced and ready for the road, then a weight distribution system is probably your best bet.
FAQs about How Does Anti Sway Hitch Work
Is A Sway Control Hitch Worth It?
Yes, a sway control hitch is worth it.
It will allow you to tow your trailer with more confidence and safety, especially during bad weather conditions or when traveling on rough roads.
A sway control hitch will help prevent your trailer from going off the road or causing an accident.
Can You Back Up With Anti Sway Hitch?
No, you cannot back up with a sway control hitch.
The hitch is designed to help prevent trailer sway and only works when you are moving forward.
In order to avoid accidental backing up, it is recommended that you always park your trailer facing the direction of traffic or away from any obstacles that may be difficult to see.
Are Anti Sway Hitches Difficult To Install?
No, most anti sway hitches are fairly easy to install, even for those without a lot of experience.
However, it is recommended that you have your hitch professionally installed in order to ensure that it is installed correctly and safely.
Conclusion
Anti sway hitches are a valuable tool for anyone who tows trailers or hauls heavy cargo.
Now you know how anti sway hitch works, some of the benefits of using a sway control system, and how to install one.
Whether you are just starting out on the road or have been hauling for years, an anti sway hitch can help you stay safe and save money over time.
So, if you are in the market for a new trailer hitch, be sure to explore the many options available for anti sway systems.