Want to buy the best adjustable trailer hitch for your various and versatile towing needs but can't decide between Curt 45900 vs 45902?
Though these two curt adjustable trailer hitches are identical, comparing their differences can help you set them apart and pick the better model.
Read on to understand the main difference between these two truck attachments and brief comparisons so you can decide wisely.
Curt 45900 vs 45902 Adjustable Trailer Hitch: What's the Difference?
The main difference between Curt 45900 and 45902 adjustable trailer hitches is, the 45900 is more affordable, fits with a 2-inch receiver, and holds a maximum of 14000 lbs. while the 45902 hitch has a 2-1/2-inch receiver and can tow up to 20,000 pounds.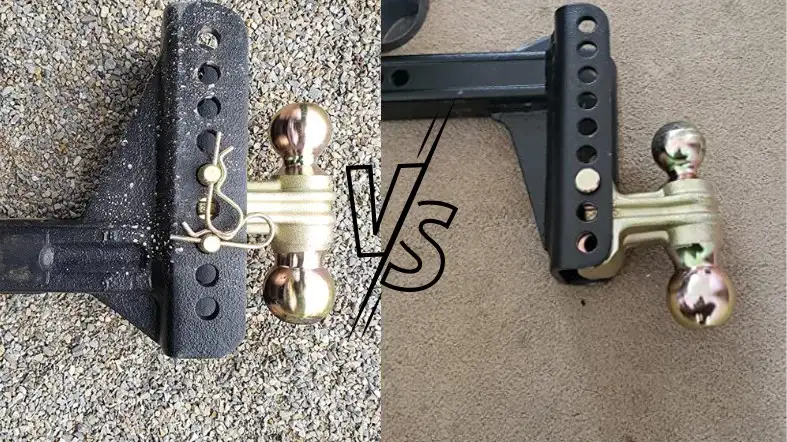 Curt 45900 vs 45902 Adjustable Trailer Hitch: in-depth Comparison
Curt adjustable trailer hitches are the product of the CURT Group brand, established in Eau Claire, Wisconsin.
It is a leading manufacturer of USA-made hitches and towing products.
They produce a wide range of custom-fit receiver hitches for almost all vehicles on the road.
In terms of Curt 45900 and 45902, both are high-value products with a combination of low cost and balanced performance.
However, these two hitch models have some major differences.
The following are some of the differences and similarities between these two curve adjustable trailer hitches:
Receiver
Edge: Both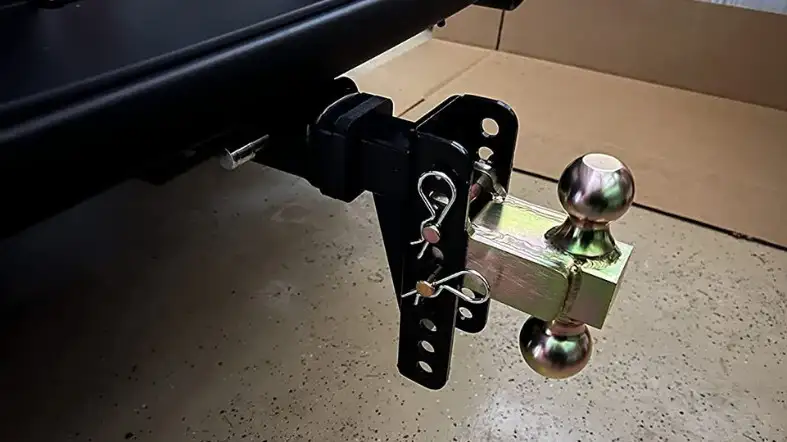 Both of these compact adjustable trailer hitches are suitable for multipurpose towing and can tow a variety of loads.
However, they are different in compatibility with the vehicle.
While the curt 45900 fits with the 2-inch receiver, the curt 45902 is compatible with a 2-1/2-inch receiver.
So if your vehicle has class 3, class 4, or class 5 hitches, you should choose the curt 45900 adjustable trailer hitch.
But if your vehicle has heavy-duty hitches or you want a more versatile trailer hitch for various uses, go for the newest version.
This item will maximize performance during heavy towing situations.
Adjustability
Edge: Both
These two curt hitches for the trailer are completely identical in terms of their adjusting ability.
Both come with an easily adjustable design, and their channel-style shank allows you to slip the hitch up to a 6-inch drop.
In addition, these trailer hitches provide up to a 5-1/4-inch rise.
It means you can adjust either of these hitches perfectly based on the towing load while getting enough clearance from the ground.
As a result, the load will be evenly distributed, and you'll get a convenient towing experience even during a long trip.
Load Carrying Capacity
Edge: Curt 45902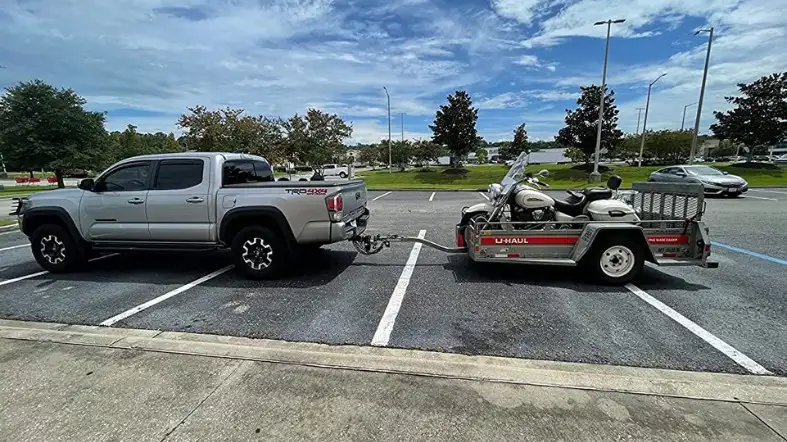 A key difference between these two curt adjustable trailer hitches is that they have different gross trailer weight capacities.
Despite the fact that both of their 2-inch balls can tow up to 10,000 lbs, the 2-5/16-inch ball tows different loads.
While the Curt 45900's 2-5/16-inch ball can only tow 14000 lbs, the curt 45902's 2-5/16-inch ball can tow up to 20000 lbs.
This aspect can be a deciding factor between these two adjustable trailer hitches.
It means if you need to tow a light- to medium-duty load, go for the older model.
But if you want to use the vehicle for commercial towing or to carry heavy boats, mowers, or other things, picking the latest model will be a wise decision.
Construction
Edge: Both
You won't have to worry after owning either o these curt trailer hitches.
The reason is that both of these truck attachments get a powerful build to ensure optimum durability and serve for a long time.
These curt hitches for trailers are made of high-strength steel and have an extremely durable powder coat finish, as well as a carbide black texture.
It means these car accessories will withstand snow, dirt, mud, rain, and road salt while ensuring smooth performance throughout the year at any season.
Apart from that, their dual ball attachment is also protected with zinc plating that can resist corrosion.
Operation
Edge: Both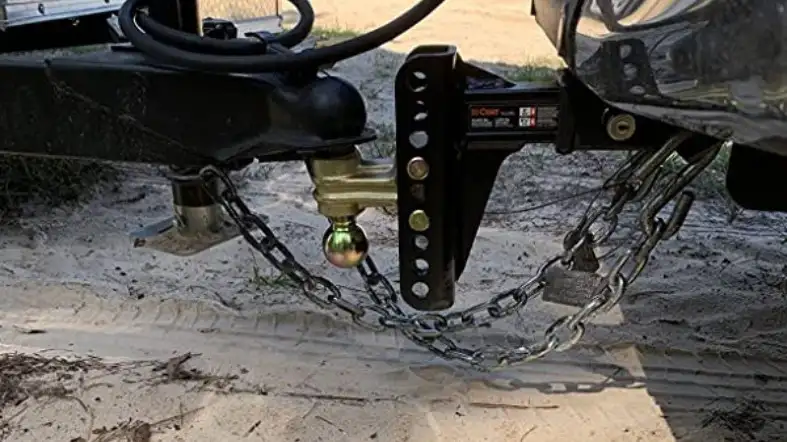 Both of these curt adjustable trailer hitches ensure smooth towing and a quieter riding experience while towing the trailer.
These adjustable drop hitches also feature deterring vibrations, a built-in anti-rattle feature, as well as chucking and rattling at the coupling point.
Combining these functions, these hitches produce smoother and more comfortable rides.
Their anti-rattler system resists rattling, chucking, and vibration that comes from the trailer coupler connection and delivers optimal performance.
Since these hitches include two trailer ball sizes, the user can easily change between the trailers, making it perfect for the owner who has several trailers or needs a versatile hitch.
Another exciting feature is that their adjustable pintle hitch attachment allows coupling to a lunette ring or trailer coupler, making them great for work trucks.
Even so, you can easily level your truck's setup using the trailer ball size, as these hitch ball mounts allow you to use your trailer ball for towing.
Price
Edge: Curt 45900
Another difference is that these two adjustable trailer hitches come with different price tags.
In comparison, the curt 45900 is slightly less expensive than the curt 45902.
So obviously, if you have a tight budget, the older one will be your best bet.
Choosing an older model, on the other hand, means sacrificing the towing capacity.
Curt 45900 Vs 45902 Adjustable Trailer Hitch: Which One Is Best?
Both of these curt adjustable trailer hitches are made of the same material and ensure similar protection against the weather.
They can also ensure a smoother and quieter towing experience while providing the same drop and rise.
However, there are clear variations in terms of budget, towing capacity, and compatibility.
It means checking your vehicle's receiver and picking the hitch that matches the receiver.
However, if you have multiple vehicles and need a low-cost hitch for various towing purposes, go with the older model; the newer model is better for towing heavier loads but costs slightly more.
Final Words
Both curt 45900 and curt45902 adjustable trailer hitches are solidly built, weather resistant, and versatile enough to meet your various towing needs.
But when comparing Curt 45900 vs 45902, every single difference, like compatibility, and towing capacity, plays its own role.
So fix your budget, determine the frequent towable load, and obviously check the vehicle's recovery hitch to pick the right version.