If you're a DIY enthusiast or love to tinker with vehicles, you might have wondered, "Can I use a bolt instead of a hitch pin?" The answer might surprise you!
In this comprehensive guide, we'll explore the ins and outs of using bolts for hitching, providing practical insights and safety considerations.
Can I Use A Bolt Instead of A Hitch Pin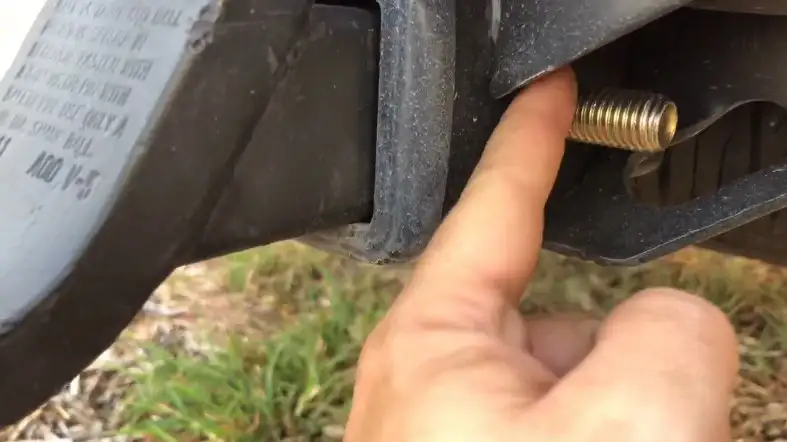 Opinions differ on using a bolt as a hitch pin. Some say it's fine, but others warn about shear force and shock loads. Hitch pins are designed for better shear handling, while Grade 8 bolts offer more strength. Consider specific circumstances and bolt capability before deciding.
Why You Might Want to Use a Bolt Instead of a Hitch Pin?
Increased Strength and Durability
Using a bolt instead of a hitch pin can provide enhanced strength and durability, especially if you opt for a Grade 8 bolt. These bolts are known for their robustness and ability to withstand heavy loads, making them a reliable alternative to standard hitch pins.
Versatility for Security
In some situations, a security bolt can be a preferable choice over a regular hitch pin. Security bolts come with added features like locking mechanisms, providing an extra layer of protection against theft or accidental detachment.
Cost-Effectiveness
Using a bolt as a hitch pin can be a more cost-effective solution, particularly if you already have suitable bolts on hand. Instead of purchasing a dedicated hitch pin, you can repurpose existing bolts that meet the required specifications.
Availability and Convenience
In certain situations, you might find it more convenient to use a bolt instead of a hitch pin, especially if hitch pins are not readily available. Bolts are commonly found in hardware stores, making them a readily accessible option.
Customization Options
Using a bolt allows for customization, as you can select bolts of different lengths and sizes to fit your specific towing needs. This versatility can be advantageous when dealing with unique hitch configurations.
Important Considerations
Before opting for a bolt as a hitch pin, consider the following factors:
Shear Strength: Keep in mind that hitch pins are specifically designed to handle shear forces efficiently. While bolts may offer strength, they might not perform as effectively in this aspect.
Shock Loads: Hitch pins are engineered to withstand shock loads that can occur during towing. Assess whether the bolt you intend to use can handle sudden jolts and impacts.
Compatibility: Ensure that the bolt's diameter and threading match the hitch receiver's specifications for a secure and snug fit.
Material Quality: Opt for high-quality bolts to prevent rusting, corrosion, and premature wear, ensuring long-lasting performance.
Safety: The safety of towing equipment is paramount. Regularly inspect bolts for any signs of wear or damage and replace them as needed to avoid potential hazards.
What Grade Bolts Are Used For Trailer Hitch?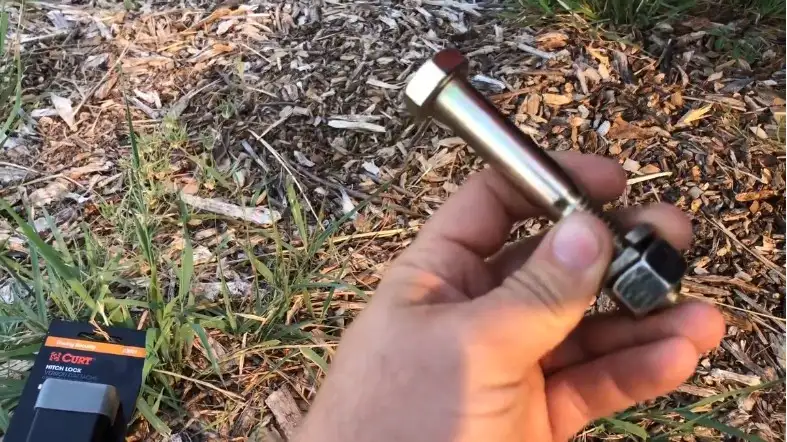 Choosing the Right Bolt Grade
When installing a trailer hitch, you want to make sure you have the right bolts to ensure a secure and safe towing experience.
There are two common bolt grades used for trailer hitch installation: grade 5 and grade 8.
Grade 5 Bolts: The Common Choice
Grade 5 bolts are the more commonly used option for trailer hitches.
They provide a good balance of strength and flexibility, making them suitable for various towing applications. Many trailer hitch manufacturers recommend using grade 5 bolts for their products.
Grade 8 Bolts: Added Strength, but Consider Trade-offs
Some people prefer grade 8 bolts for added strength and durability. These bolts are stronger than grade 5, but there's a trade-off: they may be more brittle.
It's essential to consider the potential trade-offs and the specific requirements of your towing setup.
Know Your Trailer Hitch Receiver Class
The type of bolt you need might also depend on your trailer hitch receiver's class.
For instance, the bolts used for the Curt Trailer Hitch Receiver are typically Class 5 if they are silver and Class 8 if they are gold in color.
Match the bolt grade to your receiver class for optimal performance.
Enhance Durability with Galvanized Grade 8 Carbon Steel Bolts
If you're looking for extra durability and resistance to corrosion, consider using galvanized grade 8 carbon steel bolts. These bolts are treated to withstand harsh conditions and provide long-lasting performance.
Final Recommendations
For most towing needs, grade 5 bolts offer a suitable balance of strength and flexibility.
If you require added strength, grade 8 bolts can be an option, but consider their potential brittleness.
Match the bolt grade with your trailer hitch receiver class for compatibility.
For enhanced durability, opt for galvanized grade 8 carbon steel bolts.
Choosing the right bolt grade ensures a secure and reliable towing setup for all your adventures!
Advantages And Disadvantages Of Using A Bolt Instead Of A Hitch Pin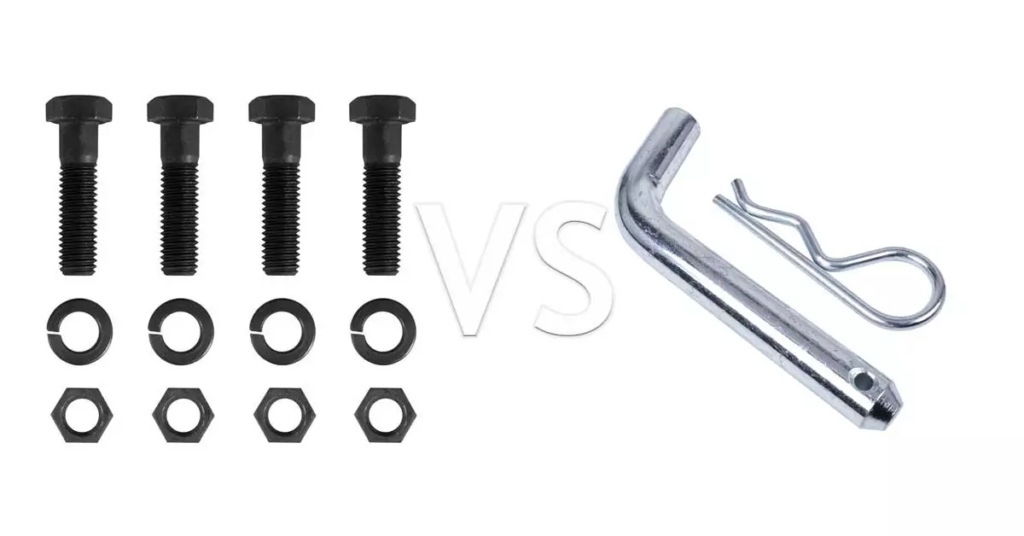 Quick Comparison: Hitch Pin Vs. Grade 8 Bolt
| Aspect | Grade 8 Bolt | Hitch Pin |
| --- | --- | --- |
| Material | Stronger mid-carbon steel | Mid-carbon steel |
| Shear Force Handling | It may require more effort | Specifically designed for shear force |
| Tensile Strength | Excellent | Not as strong as a Grade 8 bolt |
| Ease of Use | The preferred option for hanging-style | Easy to use, quick attachment |
| Use for Bike Racks | Some consider it unnecessary | Preferred option for hanging-style |
| Theft Security | Not as secure without a lock | May use a locking pin for security |
| Application Flexibility | Suitable for various needs | Limited to specific equipment use |
| Cost | Generally cost-effective | Cost-effective |
| Warranty/Safety Concerns | May impact warranty/safety | Recommended and safe to use |
Stronger Than Standard Hitch Pin
Using a Grade 8 bolt offers a significant advantage over a standard hitch pin as it provides greater strength and durability.
The bolt's robust construction allows it to withstand higher levels of stress and tension, making it ideal for heavy-duty applications where security is crucial.
This added strength ensures that the attached equipment remains firmly in place, reducing the risk of accidents and mishaps.
Bolts Are Tension Fasteners
One notable advantage of using bolts is that they function as tension fasteners, meaning they create a secure and tight connection between parts.
On the other hand, hitch pins often work under no tension and rely on the retaining clip to keep them in place.
The tension provided by bolts ensures a more reliable and stable attachment, making them suitable for demanding tasks that involve constant movement and vibrations.
Bolt Reusability
Another benefit of using bolts is that they can be reused multiple times without compromising their performance.
When properly installed and tightened, bolts maintain their integrity, allowing them to be disassembled and reassembled as needed.
This reusability saves money and reduces waste and contributes to a more sustainable approach to equipment maintenance.
Bolts Not Suitable for Frequent Removal
While bolts offer various advantages, they have their limitations as well. Bolts are not designed for frequent removal and installation, as doing so can cause wear and tear on the bolt threads and the mating components.
If the equipment requires regular disassembly for maintenance or adjustments, other fastening options like hitch pins may be more suitable.
Easier Removal of Hitch Pins
Hitch pins, in contrast, are typically easier to remove and replace when compared to bolts.
Their simple design allows for quick and convenient attachment and detachment without requiring additional tools.
This ease of use makes hitch pins a preferred choice for applications requiring frequent removal.
Safety Concerns
It is essential to consider safety when deciding between a bolt and a hitch pin. Hitch pins are specifically engineered for use with certain equipment, ensuring a secure fit and reliable operation.
Replacing a designated hitch pin with a bolt can compromise the equipment's stability and lead to hazardous situations.
Always follow the manufacturer's recommendations and guidelines regarding fastener selection to ensure safe operation.
When Should I Use A Hitch Pin Or A Bolt?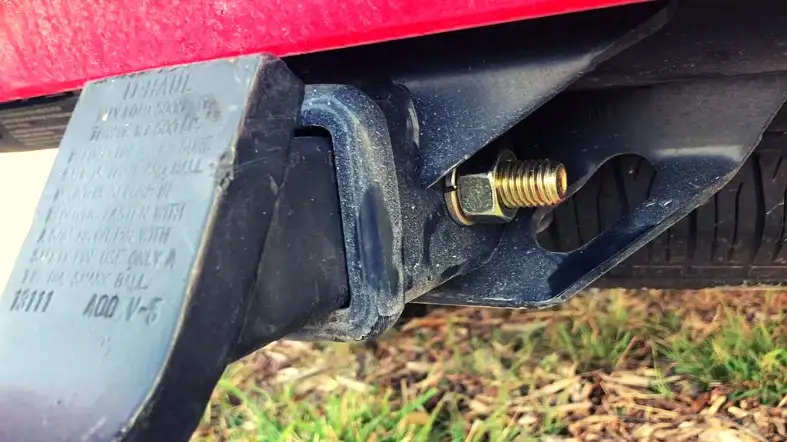 Consider Shear Force and Tensile Strength
When making the decision between using a hitch pin or a bolt, think about the specific demands of your application. Bolts are designed to handle tensile strength, which means they are excellent at resisting forces that try to pull them apart.
On the other hand, pins may be better suited to handle shear forces, which involve forces applied parallel to the surface. So, if you need something that can withstand forces trying to tear it apart, bolts are your go-to.
But if you require something to handle forces that push sideways, pins might be the way to go.
Exploring High Shear Rating Bolts
Keep in mind that there are high-grade bolts available with impressive shear ratings. So, even if you opt for a bolt, make sure to find one with a shear rating that meets your application's requirements.
If you can get your hands on a bolt with a high enough shear rating, it should serve you just as well as a pin in handling those lateral forces.
Bolt for Added Security
If security against theft is a significant concern, some people prefer using a bolt instead of a pin. Bolts can offer added peace of mind due to their sturdy and less removable nature, making them less susceptible to tampering.
Advantages of Grade 8 Bolts
Consider using a Grade 8 bolt in place of a standard hitch pin, as it comes with several advantages, including increased strength.
Grade 8 bolts are engineered to be exceptionally strong and are commonly used in heavy-duty applications where reliability is crucial.
The Case for Hitch Pins with Bike Racks
For hanging-style bike racks, some argue that a hitch pin is a better option than a threaded hitch bolt. The reasoning is that hitch pins are easier to use, providing quick attachment and detachment for the bike rack.
Warranty and Safety Implications
It is essential to be aware that using a bolt instead of a hitch pin may have implications for your hitch's warranty or safety.
Manufacturers often specify the recommended type of fastener for their hitches, and deviating from those recommendations might void the warranty or compromise the hitch's safety.
Final Considerations
Ultimately, the decision between a hitch pin and a bolt boils down to whether your hitch can handle the weight and forces required for your specific application.
If your hitch meets those requirements, either option should work fine. Consider the demands of your situation, the ease of use, and the level of security you need when choosing between a hitch pin and a bolt.
How Do I Choose the Right Hitch Pin or Bolt for My Needs?
There are a few factors that you need to consider when choosing the right hitch pin or bolt for your needs.
Below are some of the factors:
The most important factor to consider is the size.
You need to make sure that the hitch pin or bolt is the right size for your needs.
Also, you need to consider the material.
In order to ensure stability, the hitch pin or bolt must be crafted from a sturdy material.
In addition to quality, you must also take into account the cost.
It's important to get a hitch pin or bolt that is good quality and reasonably priced.
Those are some of the factors that you need to consider when choosing the right hitch pin or bolt.
Make sure to keep these factors in mind when you're making your decision.
FAQs on if a bolt can be used in place of a hitch pin
What Size Bolt Is A Tow Hook?
The bolt size is about 13/16 in standard which would be a 9/16 bolt.
Also, the tow hook must be able to go through the shackle, so the measure would have to be big enough for that.
Is It Harder To Remove A Bolt Than A Hitch Pin?
It can be difficult to remove a bolt if you're not careful.
If you strip the threads, it can be very difficult to remove.
However, if you're careful, it shouldn't be too difficult to remove.
What Is A Hook Bolt Used For?
A hook bolt is used to connect a trailer to a vehicle.
It's a good way to do it if you're worried about losing your hitch pin.
Final Thoughts
Now that you know the advantages and disadvantages of using a bolt instead of a hitch pin.
As well as when to use each, you can make the best decision for your needs.
Be sure to keep the factors in mind when making your decision.
Also, don't forget to check the size and material to ensure stability.

Ref: https://www.fordtremor.com/threads/hitch-pin-vs-bolt.14419/#:~:text=if%20the%20shear%20force%20it,seems%20like%20unnecessary%20work%20though.