Blue Ox and Equalizer are two of the most reliable brands to get sway control to improve stability while making a sharp turn at high speeds during long tours.
However, due to their identical performance and price, it's quite tricky to pick the best sway control system for versatile and reliable use.
Hence it's wise to find what's different between blue ox sway pro vs equalizer to set them apart and make an informed decision.
Read on to get all your essentials.
Blue OX Sway Pro vs Equalizer: What's the Key Difference?
The main difference between the Blue Ox Sway Pro and the Equalizer is that the Blue Ox is a chain-style hitch, while the Equalizer is an integrated system.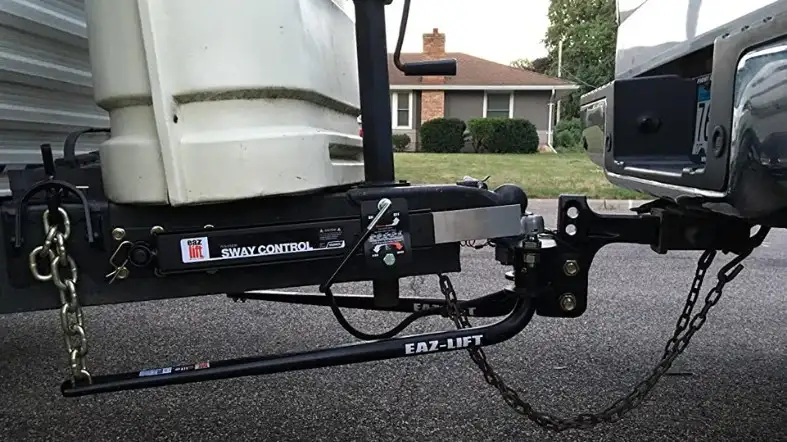 So their equalizer requires adjustment while the Blue Ox doesn't.
These two are also different in sway control, weight distribution capacity, and design.
Blue OX Sway Pro vs Equalizer: In Depth Comparison
Here are some detailed comparisons of Blue Ox Sway Pro and Equalizer in various key areas:
Compatibility
Edge: Both
Blue Ox is a world-class brand in the field of towing bars and similar accessories.
The brand offers a number of tow bars that vary in terms of weight ratings.
The exciting thing about the brand is that it eliminates the need to check compatibility.
No matter whether their sway control supports your device or not, purchasing tow bar accessories will let you mount it on your vehicle.
On the other hand, the equalizer is also quite similar in brand to Blue Ox.
Despite the fact that this brand only produces a single sway control, its adjustable connectors allow it to work with almost any vehicle that has a hitching part.
As a result, you will be able to tow down your vehicle by adjusting the height and weight of the bar.
Function
Edge: Both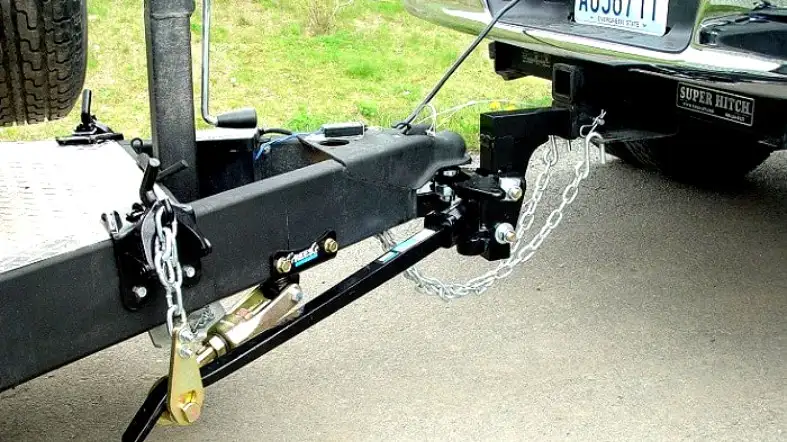 Blue Ox Sway Pro usually targets distributing weight through its optimization.
In addition, the manufacturer tastes every product through a computer to check the weight distribution capacity.
The Blue Sway product automatically balances from axle to back axle weight, even if you misjudge the tow trailer tongue weight.
Even you won't have to use an extra bracket or drill the frame as it doesn't require extra adjustment.
Conversely, EqualIzer moves weight and controls sway at the same time.
If the sway control faces any wind or unwanted pressure, its integrated torsion bar prevents swaying.
In addition, its internal spring bar shares weight quickly with the front, rear, and trailer axles.
As a result, the front axle will prevent zero weight ultimately, while the right balance will be maintained.
Sway Control
Edge: While Equal-I-Zer
While Equal-I-Zer is a friction or integrated bar-attached sway control hitch, the Blue Ox is a chained version.
When the Equal-I-zer gets swayed, its 4-point sway technology turns on the friction points to prevent potential twisting motions.
Unlike the two-point friction bars of standard hitches, Equal-I-zer includes attached spring arms and two sway bars mounted internally.
It also comes with solid brackets that help prevent exterior sway issues.
Many enthusiasts believe that Equal-I-zer is designed with the fastest sway control technologies and the least sharp turns.
Blue Ox Sway Pro also has spring bars that apply additional tension to the ball mount when the face sways.
Because of Sway Pro technology, the trailer, chain link, spring bars, and truck bed remain in a straight line.
It also features interchangeable spring bars that allow for an increase or decrease in the sway capacity based on the user's preference.
Design
Edge: Equalizer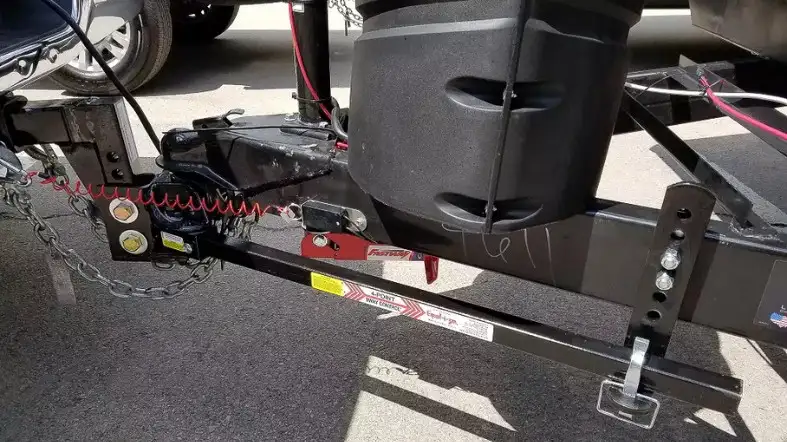 The equalizer includes a 1.25-inch shank and a 14-to-15-inch ball mount. In most cases, its nut requires a 1-inch walled socket.
More importantly, it's very quick to install. However, its socket requires a cavity between screws and a shank.
Since it's an integrated hitch, you won't have to readjust or measure anything to re-install the setup frequently after changing the direction.
The SwayPro is fairly easy to adjust, though it is a chain- or lift bracket-based hitch. However, it needs to read the manual before installing the hitch.
You won't have to use any extra pins or clips, thanks to its lift bracket arms and self-locking bars.
It also has an adjustable shank that can be adjusted up to 5 inches. To complete the installation, it must rotate at a 90-degree angle.
After adjusting the measurement, the operator also doesn't need to fine-tune while reversing.
Towing Capacity
Edge: Blue Ox
In comparison, the Blue Ox can handle a heavier load than the Equalizer.
Blue Ox tongue weights typically range from 350 to 2000 lbs.
Most of the Blue Ox models come with a 2-inch shank to allow for a maximum towing weight capacity of up to 20000 lbs.
The gross towing capacity of Sway Pro flat bars ranges from 6,500 to 15,000 lbs.
The Equalizer, on the other hand, offers two towing capacities based on whether it comes with a hitch ball or not.
An equalizer with a hitch ball can tow up to 10,000 lbs to 16,000 lbs, while the non-included one carries 4,000 lbs to 10,000 lbs.
However, their lowest tongue weight capacity is 600 lbs, which can be customized based on the trailer's needs.
Weather Protection
Edge: Blue Ox
The Equalizer isn't the perfect option for rainy seasons, as it might not perform properly in wet weather.
Conversely, the Blue Ox is a better option to use throughout the year without considering the weather conditions.
Structure
Edge: Both
The Sway Pro is constructed with alloy steel, making it an extremely heavy-duty hitch.
It also has a sturdy chain-to-frame triangle that is made of completely American steel.
The Equalizer is made of strong metal, and steel, but is light due to the WD bars.
In terms of quiet operation, Sway Pro outperforms the Equalizer.
Blue Ox also offers more satisfying customer service than Equalizer.
However, both offer a one year warranty, and their prices are also quite identical.
Blue OX Sway Pro Vs Equalizer: Which One To Choose?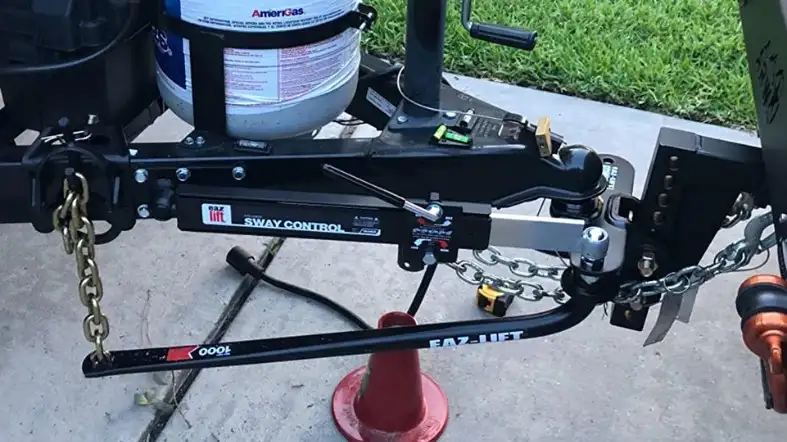 Likewise, any other sway control or truck accessories largely depend on preference and needs.
Apart from the chains, the Blue Ox looks fairly better in terms of weight distribution than its counterpart.
This sway control can handle extremely light hitch weight, and it starts at 350 lbs, while the equalizer's hitch weight starts at 600 lbs.
Which sway control will be a better option for you also depends on the weight of your hitch.
However, if you desire a quieter operation, the Blue Ox will be the better option.
However, both sway controls are made in America using high-end and sturdy construction.
FAQs about Blue Ox Sway Pro Vs Equalizer
Can You Back Up With Blue Ox SwayPro?
Blue Ox TrackPro and SwayPro are two devices that enable you to stay connected while backing up.
Even these weight distribution hitches will let you back up without disconnecting.
Which Is Better Track Pro Or SwayPro?
In comparison, the SwayPro is better than the Track Pro thanks to its flagship system.
It also doesn't apply friction like its counterpart.
As a result, the SwayPro ensures less noisy operation while withstanding a wet environment far better.
What Is The Purpose Of An Equalizer Hitch?
The key purpose of the equalizer hitch is to distribute the weight of the payload evenly.
It adjusts the tension and spring bars to distribute the trailer tongue load to the trailer and vehicle axles.
Final Words
I hope you understand the distinctions between Blue Ox Sway Pro and Equalizer and can determine which is best for you.
As previously stated, both truck types of equipment are capable of meeting your demanding towing requirements regardless of terrain, vehicle compatibility, or weather.
Since these two brands offer their products at quite similar prices, the sway control, design, and towing capacity are the deciding factors.