When trying to link a 6-pin adaptor to a 7-pin version, complications may arise. It involves a lot of moving parts.
There are a lot of nitty-gritty aspects to sort out. So, it, ipso facto, invites some discrepancies.
But what if you have a 6 pin to 7 pin trailer wiring diagram in place along with a thorough guide?
Well, you have just got it.
In this article, we discuss the many wiring components of your trailer to ensure the smooth functioning of your trailer's electrical components.
Diagram In brief: 6 pin to 7 pin trailer wiring diagram
Multiple online resources offer a variety of wiring diagrams.
There appears to be no difference between them aside from the presentation.
However, our diagram below presents it in the simplest way possible.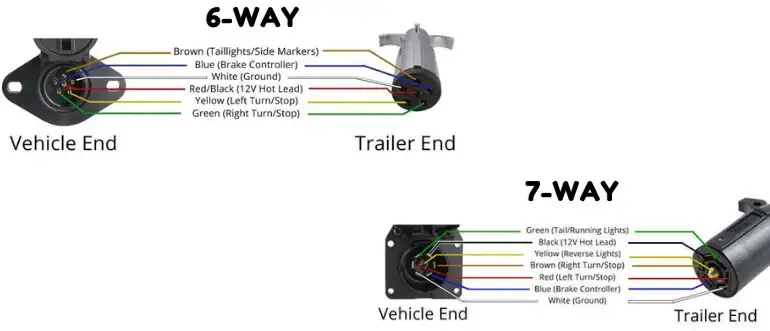 Sometimes you need to zoom in on wiring diagrams to examine every detail.
Observe closely that the 6-pin type only has round pins, but the 7-pin variants feature both round and flat pins.
This is where all the secret lies.
Utilizing 6-Wires with a 7-Way Plug:
This is not impossible, and in all likelihood, it takes place rather frequently.
There are a lot of trailers on the market manufactured, many years back, with a 6-pin plug only.
But our state-of-the-art vehicles typically have 7-pin plugs in their tow hitches!
So, how do we pull those trailers using these 7-pin plugs?
Well, we link up a 7-way plus with 6-wires to pull them by contemporary automobiles.
Connection is safe:
It is possible to make the connection; however, one of the 7-pin adapter's pins will undoubtedly be inoperable.
It can't transmit signals because it can't reach anything to transmit.
A better understanding of the pins:
It's also a good idea to have a complete understanding of the roles that each of the pins on the side of your trailer plays.
Knowing them in-depth will assist you to eliminate some of the troubles that you may experience
You have to pull your tricks:
When you discover that an essential component is not receiving any power, what will you do?
You will need a 12-volt battery to test each individual pin or wire on your trailer.
By hooking up the battery, you can what each of the pin and wire powers.
For instance, putting power on the green wire will activate the right turn signal and brake light.
So, you'll know what it's for.
6-Pin Trailer Connector vs 7-Pin Trailer Connector:
According to the findings of our investigation, the 6-pin version doesn't have backup lights pin, and the 7-pin version has it.
And that's all. This is the sole distinction between these two plugs. So, the laws of your jurisdiction will determine whether or not this poses a liability.
If it is not a violation of the law in your state for your trailer to lack backup lights, then utilize an appropriate adaptor to hook it up.
Get the adaptor that works with your 6- and 7-pin connectors by visiting any neighborhood hardware store.
It can be a big-box retailer, or any other online retailer, e.g., Amazon preferably.
The price of these adapters might differ from one retailer to another.
Stores that sell RV parts and accessories ought to stock at least a handful of these adapters in some capacity.
In case of doubt, take a picture of what you require using your phone, and show it to the person working the register.
6-pin trailer plug vs 7-pin trailer plug:
There are times when a 6-pin design makes sense.
However, we did discover that it is possible to have issues with your trailer's lights, controls, and other features.
Backup lights on a trailer are usually the culprit. However, as we have clarified, some states may not require backup lights by law.
So, having a 6-pin will not be an issue there. But what if your state legal systems require such light?
The 7-pin version includes an extra pin for connecting the tow vehicle's reverse lights to the trailer's backup lights.
So, this is a huge safety benefit you would like to upgrade to your system.
The yellow wire is typically connected to the center pin, but the AUX pin can supply power to any other component.
The 7-pin is color coded as follows:
For ground = 1 white
Brakes = 2 blue
To indicate running lights/operation = 3 green
To indicate 12v+ = 4 black
Left Turn = 5 red
Left Turn = 6 brown
The 7th one serves as the central terminal though not marked.
Trailer Wire color codes:
A trailer can be one of six different colors.
First off, brown will be the primary color. The taillights and parking lights get their power from this connector.
Both the black and white wires are important. The black one carries electricity while the white one serves as ground.
The right turn signal and brake light work via green wiring.
So, the turn signal and brake light on the left should be powered by the yellow wire.
At last, just the blue wire remains. The output of the braking controller is activated by this wire.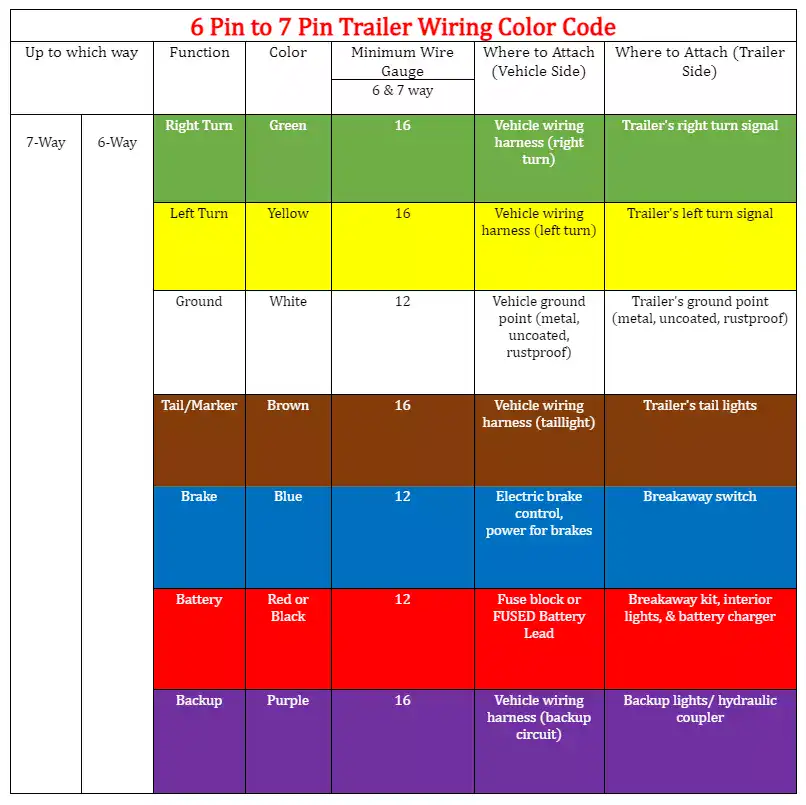 It is not a difficult system to comprehend. In order to successfully make the connections, all you have to do is make sure the corresponding-colored wires are lined up.
Another thing you need to keep an eye out for is the manufacturer of the adaptor or plug. Sometimes they may decide to flip the colors.
This may happen when you have an RV plug that has 7 pins as well as a utility plug that comes with 7 pins.
If you are purchasing new components, you need to make sure that the wires are compatible with the ones that are current trailer and plug have.
FAQs about 6 pin to 7 pin trailer wiring:
Is A 6-Wire Plug Compatible With A 7-Wire Plug?
As we have established, you only need the right equipment and expert hands to do so. 
Does Each Light On The Trailer Need To Be Grounded?
Both the mounting studs of each light and the trailer frame must be grounded.
Do You Need A Brake Controller With A 7-Pin Trailer Plug?
A 7-pin trailer plug operates the trailer's brake lights but does not apply to the brakes. So, a brake controller is a must.
Final Words:
Finding the appropriate adaptor is first essential for linking a 6-pin connector to a 7-pin plug.
The next and the most vital one is the 6 pin to 7 pin trailer wiring diagram so that you can indeed connect them securely.
And you have it in place now!
In the appropriate hands, and if the diagram is fully digested, making this link is completely secure.
To find a high-quality adaptor, look at your local electronics retailers.